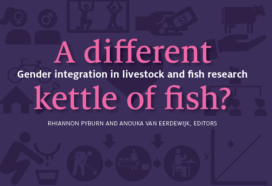 Gender integration in livestock and fish research
Gender analysis may look to be a radical departure from the traditional focus on technologies of agricultural research for development: veritably 'a different kettle of fish'. However, evidence shows that attention to gender equality and an understanding of gender dynamics leads to better science, more effective interventions and more inclusive development.
Acknowledgment of the relevance of gender analysis brings agricultural scientists to another question: how can it best be integrated into technical, systems and value chain research? The CGIAR Research Program on Livestock and Fish tackled this 'how to' challenge. Between 2012 and 2016, the program focused on livestock and fish health, genetics, feed and forages, systems analysis and value chain research in Bangladesh, Burkina Faso, Egypt, Ethiopia, India, Nicaragua, Tanzania, Uganda and Vietnam. While a gender strategy gave a basis for concerted gender integration, many scientists struggled to meaningfully operationalize gender in their own studies. Demand-driven coaching was key to progressing on gender integration.
The book explains the research program's approach, which targets projects, people and institutions. It illustrates how program scientists integrated gender across 14 research projects, and systematizes the findings and lessons. It also provides tools and ideas for other researchers facing similar challenges. The cases and examples show that gender can be integrated in agricultural research to meet objectives of good science, inclusive development and gender equality. They also demonstrate that gender analysis simultaneously challenges and enables scientists and practitioners to do agricultural research for development differently. It entails different skill-sets, different tool-sets and different mind-sets.
So, is gender-integrated research 'a different kettle of fish'? When it comes to the research process, it is indeed.
---
EVENT: A book launch  will take place on November 1, 2016 from 17:30 PM- 19:00 PM at CIAT headquarters in Cali, Colombia as part of the CGIAR Gender and Agriculture Research Network Annual Meeting.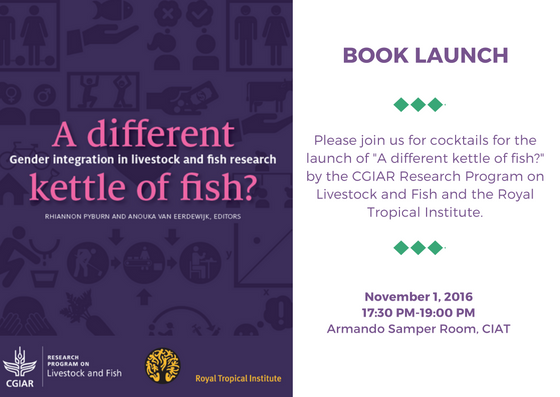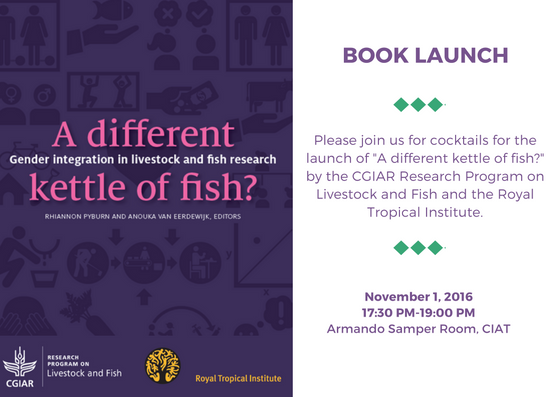 ---
COMING SOON: THE ELECTRONIC COPY WILL BE AVAILABLE ONLINE IN NOVEMBER. PLEASE WATCH THIS SPACE FOR FURTHER UPDATES