By Rose Otieno Ochieng, social scientist specialised in gender at NIRAS, Kenya.
Gender Action and Learning System (GALS) is a community-led household methodology that aims to give women and men more control over their personal, household, community and organisational development. It comprises role playing and visual tools to help farmers plan their lives and sustainable livelihoods. GALS is most often used to support farmers in more collaborative intra-household decision-making, and generally for development purposes.
In the climate-smart agricultural project 'Vuna' taking place in five countries of Southern Africa (2015-2018), we decided instead to use GALS as a qualitative research tool. We aimed to identify behavioural change activities, generate and synthesize country-specific qualitative data to produce research outputs. We used the GALS framework to generate qualitative data that shows evidence of how the Vuna model has or has not helped to increase women economic empowerment, reduce gender productivity gaps and increase food security and nutrition. We coined seven research questions around the research outputs and the GALS practitioners used the questions to facilitate data collection. The questions comprised information about whether the target beneficiaries were experiencing changes in women economic empowerment, gender productivity gaps and food security and nutrition at the household level and the extent of the contribution of the Vuna interventions to these changes. As a consequence the study sought to improve the application of gender tools within a selection of Vuna innovation models to enhance their contribution to gender equality. Implemented by Adam Smith International (ASI), Vuna worked closely with private sector grantees – private companies, associations and export trading groups in Southern Africa – developing and trialling 'innovation models' around seed systems, outgrower schemes[1] and livestock. Each of these 12 funded models was assisted to bring women into the projects either through gender-mainstreaming or gender-transformative approaches.
Action learning through Gender Action Learning System
In late 2017 Vuna worked with LTS International (now part of the NIRAS Group) to identify initial project outcomes through in-depth qualitative gender research, targeting five innovation models (one in each country). The research focused specifically on: women's economic empowerment, gender productivity gaps, and food and nutrition security.
The research team consisted of national GALS experts, LTS staff and independent gender specialists. They chose GALS as core qualitative research tool, backed by focus group discussions, key informant interviews and literature reviews. GALS was chosen because it enables households, communities and grantees to reflect on their current situation in relation to the opportunities and barriers faced by women and men. It does so through a series of participatory exercises (e.g. visioning, the Gender Balance Tree, and the Poverty Diamond).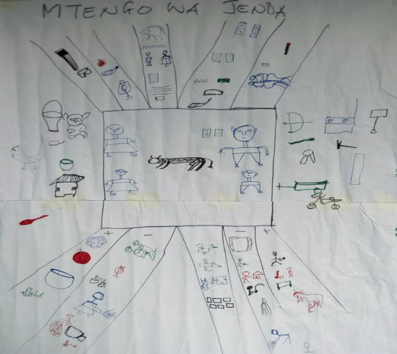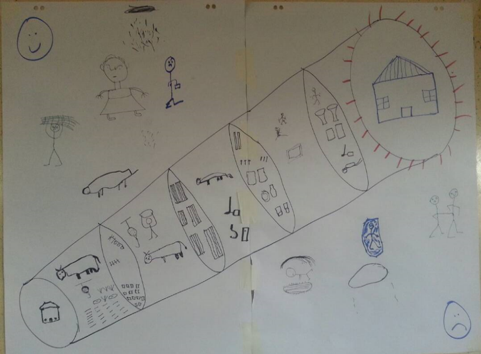 Farmers recorded the visual tools on flip charts through participatory processes during the training as well as in their individual notebooks. This allowed the research team to capture insights about the current situation of farming households from the target communities and identify their potential to deliver additional gender equality benefits. GALS also captured to the diverse ways in which women and men farm in sub-Saharan Africa – as household heads, spouses with individual plots or co-managing family plots.
The team analysed GALS data together with the farmers. This triangulation added rigour and helped correctly understand findings. The intention was to avoid extractive research and strike a balance between getting the data needed to address the research outputs – women economic empowerment, gender productivity gaps and food security and nutrition – and developing farmer capacity. We wanted to let farmers adapt analytical and planning tools in such a way that they would contribute to empowering women, improving intra-household decision-making and more efficient allocation of household resources.
Adaptive training and learning about success
The national trainers rolled out GALS in three stages: training, peer sharing and consolidation.
In the first stage, farmers discovered and were able to observe and identify gender inequalities within the household and how intra-household relations ultimately affect household productivity. They also envisioned the changes they wanted, identified household and community opportunities and developed strategies to address major challenges. They organised a coordinating committee to guarantee continuity when GALS trainers would leave.
In the second stage, GALS-trained farmers shared tools with peers they selected themselves: e.g. spouses, children, neighbours and friends.
In the final stage, GALS-trained farmers and some of their peers attended training. Unlike 'GALS as usual' (entirely participatory and farmer-led), GALS trainers and LTS staff challenged the farmers to use the tools to continue to analyse their own gender challenges and opportunities related to women's economic empowerment, food and nutrition security, and gender productivity gaps (in the household) in order to address household and community gender-based constraints and improve productivity.
Lessons learned about using GALS most appropriately
GALS enables household members to overcome challenges and identify opportunities that can enable them to improve their lives. It tackles underlying social norms, attitudes, behaviours and systems that perpetuate gender inequalities. Key to this process is that household members must come to the realization that gender inequalities contribute largely to them staying poor and therefore be willing to act upon the findings. Without the willingness to act upon the findings then GALS is not able assist the households to unlock their potential.
The GALS tools are implemented in a series of participatory exercises. The participants usually include government staff, extension officers, farmers etc. But it is important for all those engaged in the process to be able to participate freely and openly during the process in order to capture insights about the situation of farming households and challenge underlying structural norms and systems. It is therefore key for the facilitator to create an enabling environment for this process. Otherwise they will only capture the insights of dominant/formally employed participants and miss out on that of the farmers which is often crucial.
Finally, GALS is an inclusive framework that seeks to engage the less educated. It therefore uses drawings for illustrations rather than text. It is common for the literate participants to undermine the use of drawings and insist on text. It takes a very tactful facilitator to convince and actively engage both the literate and illiterate participants in using the drawings and be able to generate key findings.
Conclusions
GALS is an ideal gender research methodology because it is effective for understanding household relations and generating relevant data in relation to access to resources, the diverse ways in which women and men farm, and productivity. It creates a conducive environment for women and men to share their personal experiences and challenge cultural norms and systems that discriminate against and disadvantage women. As such, the data and insights generated are grounded in women's and men's realities and perspectives, and give voice to them. It also helps women and men see and understand each other's situation from a different perspective, creating a safer space for criticism and behaviour correction. The visual/role-playing tools used and the participatory nature of the process make the experience fun, serious and reflective, resulting in positive outcomes. Finally, it's a useful ice-breaking methodology and it makes the target community more receptive to the research process
We used GALS in a way that allowed the GALS team and LTS trainers to actively engage with the farmers; this explicitly invited and facilitated interaction between insider and outsider perspectives. The focus of the research was to understand existing gender roles and responsibilities in the target sites, and to attribute changes (if any) to the innovation model. LTS examined changes to women's economic empowerment, gender productivity gaps, and food and nutrition security. GALS was trialled in 5 projects as part of the research process. This was conceptualised as an action research approach, because it engaged GALS participants (farmers, grantees, other value chain stakeholders) to discuss and learn about their opportunities and challenges in relation to the research outputs. At the same time, the farmers learnt to use tools, which will help them plan their lives beyond simply participation in the projects.
---
Notes:
[1] Private sector grantees have contractual agreements with their farmers. The agreements provide farmers access to credit in the form of inputs (seeds, fertilizers and herbicides and pesticides), secure markets for their produce, technical support in the form of extension advise and services. As a result the farmers are likely to generate net returns that are higher than the alternative enterprises.
Further Reading
LTS International. 2018. Lessons from Gender Action Research in five Vuna Innovation Models. Vuna Research Report. Pretoria: Vuna. Online: http://www.vuna-africa.com.
GALS overview. Gender Action Learning System (GALS). Written by Linda Mayoux as part of Hivos, GALS@Scale project, September 2014. www.galsatscale.net.
Rocky Roads to Diamond Dreams. GALS phase 1 visioning and catalysing a gender justice movement implementation manual, v. 1.0 – March 2014. Weman and Oxfam.
About the author
Rose Otieno Ochieng is a social scientist specialised in gender with eight years' experience working in Eastern and Southern Africa. She has worked as a research and project assistant as well as project manager providing support in several projects, programmes and consultancies on land reforms, gender, social inclusion and poverty, agriculture including climate smart agriculture (CSA), rural development, monitoring and evaluation and climate change. Rose has extensive experience in gender related issues. She has supported several gender assignments including research on women's social, economic and political participation, women's empowerment, women and agriculture and gender analysis in infrastructure. Her research interests are land tenure systems, gender and agriculture. Rose is currently working with NIRAS Africa a consulting firm based in Nairobi, Kenya.