Livestock is not only integral to mixed farming systems, but provides food and income to nearly one billion people, often those living in rural, under-developed regions, making the sector an important contributor for development. On the global market, livestock production represents 40 percent of agriculture's gross value. For many of the world's poorest, livestock also offers financial security in the form of collateral and wealth accumulation.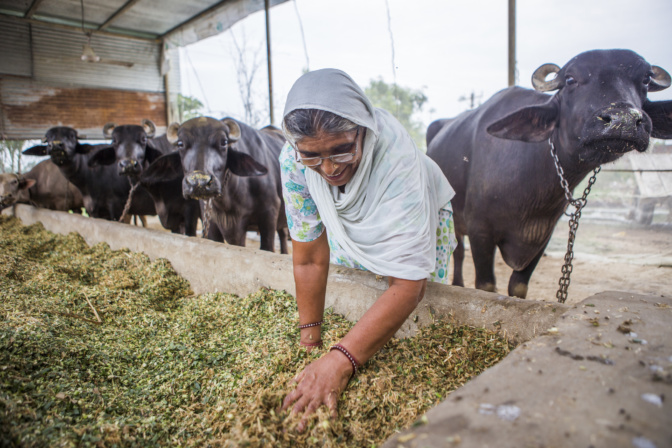 While men and women are both involved in managing livestock, they face different concerns based on a number of factors, including land ownership, availability of resources and knowledge, and the type of livestock raised. Women, for instance, tend to have less access to formal livestock commodity markets and livestock health information compared to men. In many communities, women are also responsible for a number of household and childcare activities, limiting the time they have to dedicate to livestock management. Additionally, policies tend to prioritize large-scale production compared to smaller holdings that women are more likely to manage, reifying gender power imbalances in intensification practices. Integrating a gender lens is critical to meeting the livestock needs of women, especially as the sector faces the challenges of climate change, of which livestock has a complicated relationship.
As global temperatures rise, as expected, it will be increasingly difficult to provide animals with food and water, prevent certain types of livestock diseases, and could cause health issues, such as overheating. At the same time, the livestock sector is responsible for 14.5 percent of greenhouse gas (GHG) emissions worldwide. Gender-responsive climate smart livestock production systems have the potential to provide gender equitable climate change adaptation and mitigation strategies. The Food and Agriculture Organization of the United Nations estimates that using more efficient livestock production systems could cut GHG emissions by 30 percent. Livestock production will remain essential to the development, health, and security of rural populations, especially women. Including a gender focus in climate change adaptation and mitigation livestock activities can support women, their families, and their communities while reducing the harmful effects of the sector on climate change.
Areas of potential research include
Identifying and addressing the different livestock needs, priorities, interests, and constraints of men, women, youth, and/or vulnerable household types considering diversity in age, culture, and socioeconomic status to improve livelihoods and support resilience building in the face of climate variability and related shocks.
Identifying what climate-smart livestock technologies and practices are appropriate to women and men, youth and other vulnerable groups in terms of breeding more productive and resilient animals able to better cope with climate related stresses (e.g. through improved breeds) and improving manure, pastures, and/or diet management.
Analyze gender and socially differentiated costs and benefits from climate resilient livestock interventions (e.g., livelihoods, labor, incomes, and access to resources, food, and nutrition security etc.)
Identifying opportunities in livestock value chains where women, youth, or vulnerable groups have integral roles, such as dairy and poultry.
Identifying the more suitable and relevant strategies to ensure women, youth and vulnerable groups' access to improved technologies, practices, and knowledge to transition into more intensive, sustainable, and climate resilient livestock systems.
Identifying pathways for enhancing women's skills and knowledge.
Assess to which extent current climate change policies and regulations might support or constrain women producers and processors compared to men and provide actionable recommendations for improved action.
Identifying the opportunities for women farmers to get involved in productive activities contributing to low emission development and national determined contributions (NDC) targets.
Gender and livestock resources