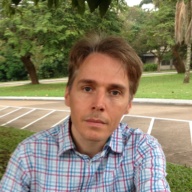 Béla Teeken
Béla Teeken joined the International Institute of Tropical Agriculture (IITA) in Ibadan, Nigeria as a gender postdoctoral fellow in September. He is especially interested in how agricultural technology development (including plant material) is related to the local ecology, community and society- how the natural environment, local institutions and culture shape and determine local innovations and agricultural practices and in turn how these innovations and practices relate to those of formal scientific research.
He worked shortly at the NGO SRISTI in India to study local innovations and the possibility of upscaling them, before pursuing his PhD research. He has an interdisciplinary background covering an MSc thesis in social science (rural sociology/anthropology) and in agricultural science (agronomy and plant physiology); both with fieldwork in West-Africa. His PhD research at the chair group TAD (Technology and Agrarian Development), now called Knowledge Technology and Innovation (KTI) part of the social science department of Wageningen University, combined these disciplines, working within a larger project on farmer rice seed innovation and adoption in West Africa.
The project included research within six West-African countries. He covered field research in the Togo Hills in Ghana and Togo and carried out socio-anthropological quantitative as well as qualitative research to study farmer seed selection strategies. This included close monitoring of farmer preferences among different ethnic minority groups and the criteria they use while developing, adopting and selecting rice varieties. He also set up and managed field trails to study rice physiology, genetics (AFLP analysis & morphological analysis) and agronomy for different rice types.
In addition, he also set up and managed field trials with rice varieties together with farmers and within farmers' fields in both countries. This especially included working with women farmers as they traditionally have had an important role within rice cultivation. Within the NextGen Cassava project at IITA he is now focused on studying gender dynamics within the cultivation of cassava in West Africa in order to develop better breeding strategies for cassava through connecting cassava farmers', processors' and consumers' preferences to agronomic, genetic and food science data.