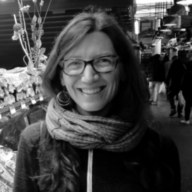 Krista Isaacs
Krista's research interests combine crop ecology, human nutrition, and participatory research in order to co-create sustainable agricultural systems with smallholder farmers. As a Doctoral Fulbright Fellow, she worked in northern Rwanda with farmer associations to identify ideal plant characteristics for beans in bean-maize intercropping systems; assessed changes in crop diversity due to government policy shifts and interviewed farmers to understand how this impacted their households.
Since completing her dissertation, she has co-authored a USAID nutrition-sensitive agriculture online training course, consulted on a qualitative impact assessment of scaling-up orange-fleshed sweet potatoes in Malawi, and worked for a year with ICRISAT Mali on farmer trait preferences for sorghum varieties, on-farm variety trials, and supporting decentralized seed systems.
The outcomes and potential impact of all of this research are dependent on understanding the context, knowledge, resources, and perspectives of women and men farmers. Her new role as a Gender Post-doctoral Fellow, based at ICRISAT Mali, will provide the opportunity to learn and apply more systematic gender analysis to ongoing and new research in the West and Central Africa region.
She has a PhD in Crop & Soil Sciences from Michigan State University, an MPS in International Agriculture & Rural Development from Cornell University, and a BA in Rural and Environmental Sociology from University of Montana. In addition, Krista was also a Peace Corps Volunteer in Paraguay.