By Nitya Chanana, consultant gender and social inclusion at the CGIAR Research program on Climate Change, Agriculture and Food Security (CCAFS).
Gender researchers are often required to work on large projects covering multiple locations, each with unique socio-economic, agricultural, climatic and geographical features. We often shortlist the logistically most suitable research areas, often based on our organizations' presence. This common practice may, however, duplicate development and/or research efforts. Gender research often requires bottom-up solutions (i.e. based on locally relevant demands and needs), because socio-cultural and economic conditions dictate basic gender norms and issues. Yet we may achieve potentially more impactful development outcomes when combining this approach with a top-down methodology (i.e. that is relevant from a macro perspective) to select regions for research and development.
---
This idea motivated us at CCAFS South Asia to develop a methodology that would identify locations related to women in agriculture and climate risks. Our hypothesis was that areas with large number of female farmers facing higher degrees of climate risk could potentially be better targets for effective large-scale implementation of climate smart agriculture (CSA) and gender-related interventions. We defined and identified 'hotspots' as regions with the highest concentration of women farmers impacted by higher degrees of climate risk. This methodology can be applied for first level targeting, focusing on broad geographical regions for implementing climate change adaptation measures for female farmers.
---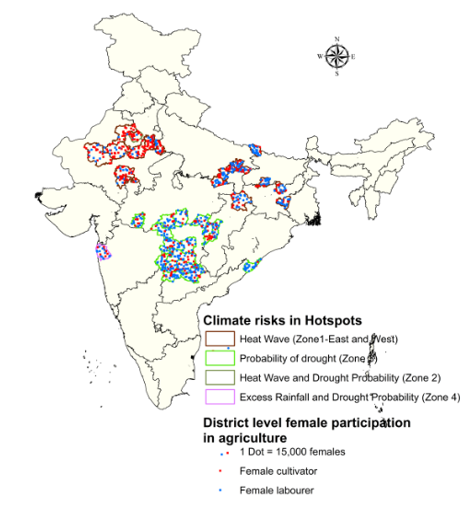 ---
We first illustrated the methodology for India and then replicated it for Nepal. For the India study, we identified hotspots using two parameters: a) female participation in agriculture and b) climate risks.
Female participation in agriculture was derived by compiling data on female cultivators and agricultural labourers at district level. The dataset is for 2011 for 641 districts across 29 states and 7 Union Territories from the population census of India.
Three types of climatic risk – drought, extreme rainfall and heat wave – were mapped using grid data from the Indian Meteorological Department. The concept of 'hotspots' isn't unique, but the use of GIS tools to identify gender and climate risk hotspots is relatively new.
We conducted this analysis at a district level only and couldn't go down further at sub-district level. Indeed that would have required gender disaggregated data as well as the spatial boundaries at that level. For India, disaggregated data is available down to the village level, but obtaining spatial boundaries for mapping proved so costly that it was not financially feasible. So we strongly suggest that researchers who have access to multiple layers of spatial boundaries (e.g. sub-district level) should definitely try and apply this methodology at the lowest possible administrative level, so they can identify hotpots right up to the village level.
In our paper, we have also conducted a literature based analysis on the kinds of problems that women farmers are facing due to climate risks and suggested potential CSA solutions. However, it would be interesting to conduct primary studies to assess the ground realities in these hotspots and also compare their results with other non-hotspot areas. This will greatly add to the knowledge base (on gender and climate change in agriculture) and a comparison with the regions outside the hotspots will further strengthen the basis of the methodology.
---
Related resources: