The European Commission is designing a €5 million project, 'Taking gender transformative approaches to scale for impact on SDG2 – food security, nutrition and agriculture'. This project aims to embed Gender Transformative Approaches (GTAs) in policy dialogue, programs and working modalities of the United Nations Rome-Based Agencies (RBAs). It will do this by strengthening understanding of GTAs of relevant staff and partners, by increasing collaboration, complementarities and synergies between the RBA interventions around GTAs, and by promoting an 'institutional mind-set' shift within each RBA to engage with these approaches.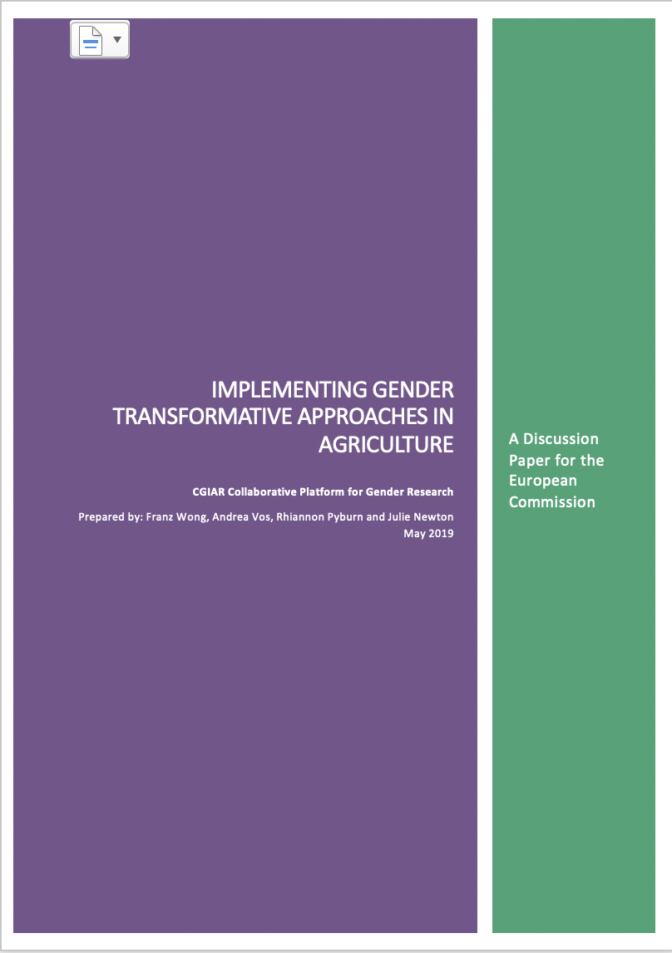 The CGIAR Collaborative Platform for Gender Research was asked to draw on the significant wealth of experience and material around GTAs in the rural sector – specifically, in aqua/agriculture and natural resource management domains – to lead the development of a discussion paper. It is based on a literature review as well as interviews with GTA researchers and practitioners supplemented by experience of the authors.
The purpose of this discussion paper is to provide an understanding of GTAs and highlight implications for their implementation by the RBAs. Serving as a basis for the project, this discussion paper was presented at an Inception Workshop (May 6-8 2019), which acted as the interface between CGIAR's work on GTAs and the commencement of the RBAs' work.
As a follow-up activity, the CGIAR Collaborative Platform for Gender Research is organizing a webinar on June 20, 2019 on the topic 'Reflections on Gender Transformative Approaches in agriculture – the promise and cautionary tales'.
This page syndicates all information related to this project, webinar and discussion paper.
Read also the annexes to the paper.
Download the discussion paper + annexes (all in one)
---