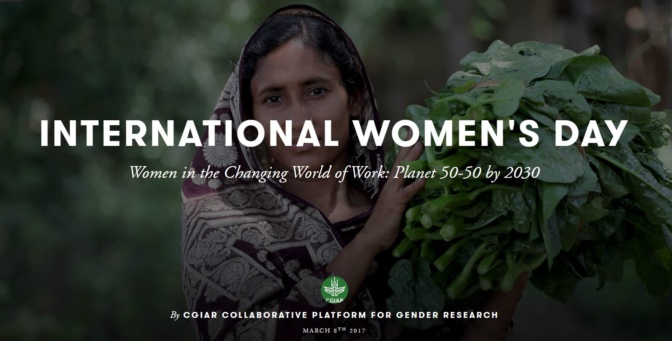 Women face new challenges and opportunities in agriculture and natural resource management. Climate change and resource constraints mandate innovations in primary production and disrupt traditional gender norms. New roads and power lines bring markets closer to formerly remote villages, and change relations between and among people. Diversification of rural economies creates off-farm jobs and increases the flow of cash. Migration, whether by choice or necessity, alters family relations. Each of these changes can bring improvements in general well-being and specifically in the lives of women, but positive outcomes are not preordained. The gender researchers of CGIAR help clarify the issues and work with men and women throughout food systems to open opportunities and craft solutions.
The 2017 theme for International Women's Day, 8 March, is: "Women in the Changing World of Work: Planet 50-50 by 2030". The CGIAR Collaborative Platform for Gender Research celebrates this day by reflecting on how gender scientists are engaging with the changing world of work for women in agriculture. Click here to learn more.
Join the campaign on social media by tweeting @CGIAR #Genderinag #WomensDay. Click here to view the 2016 campaign.