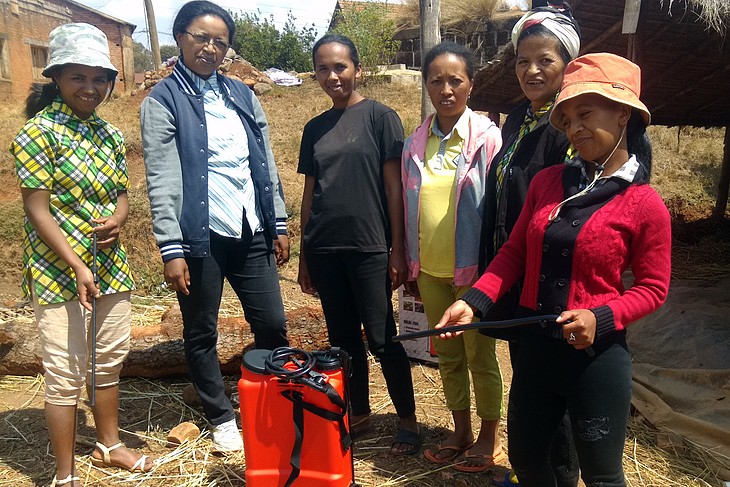 Exactly one year ago, on the occasion of the International Day of Rural Women 2019, the AfricaRice team had visited three lead women rice farmers in Vakinankaratra region in Madagascar, who received training and technical backstopping in the use of good agricultural practices (GAP) such as certified seeds, planting in lines, application of organic and inorganic fertilizers and use of mechanical weeders, thanks to the Technologies for African Agricultural Transformation (TAAT) Rice Compact.
A year later, on the occasion of the International Day of Rural Women 2020, we had a follow-up discussion with two of the women leaders of local women's associations in Antsirabe II in Vakinankaratra, Madagascar, as well as a few other members of their associations. This year's emphasis was on the wider dissemination of GAP to the community and members of the associations.
Ratisobonne Nasolonjanahary Hortense, who leads the Manovosoa association and Ravoniherimanantsoa Haja Claire, who leads the Avotra association were trained in GAP in rainfed rice cultivation. They established and managed demonstration plots, which were visited by neighboring rice farmers and association members.
Both the leaders were very satisfied with the effectiveness of these practices and the yield despite the climatic risks and the delay in the start of cultivation. They expressed their willingness to continue and expand the cultivated area under GAP.