By Floriane Clément, senior research fellow at Institut National de la Recherche Agronomique (INRA) and Corey O'Hara, researcher at the International Nutrition Foundation.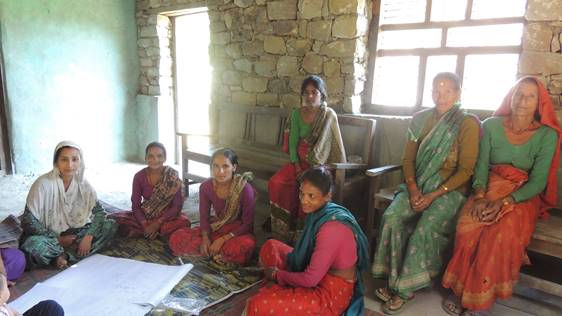 Introduction
Agricultural programs are increasingly measuring women's empowerment at the household level through standardised tools that can be used across countries and over time. In this blog, we argue that such tools should go beyond agency. Feminist theory has long considered the power within – the critical consciousness that makes individuals aware of their ability to make their own life choices – as a critical element of empowerment. Our recent research findings support a greater consideration of critical consciousness in quantitative measures of empowerment.
Methods
The data considered here come from the Market Access and Water Technology for Women (MAWTW) project funded by the United States Agency for International Development (USAID). The project aimed at promoting gender equality and food security by supporting rural women's involvement in small-scale vegetable production and sales, through enhanced access to both water and market.
Data analysis is based on:
baseline survey data collected in Western Nepal for the MAWTW project, and
qualitative data collected through focus group discussions (FGDs) and semi-structured interviews in two of the project's target communities.
In our survey, we used two different empowerment indices to capture women's empowerment. The first one is the Women's Empowerment in Agriculture Index (WEAI). This index captures decisions about agricultural production, access to and decision-making power over productive resources, control over use of income, leadership in the community, and time use. We developed the second index ourselves; it is a value-based index that captures attitudes towards women and their level of 'critical consciousness' and perception of their range of choices. Male and female respondents were asked to rank their level of agreement with six statements that reflect domains representative of deeply entrenched gender norms in Nepal. These domains are: gender-based violence and corporal punishment; subordination to men; women's involvement in politics; work and household responsibilities; and girls' education.
For the quantitative technical researchers amongst us, we now give some methodological background on the data set and survey. The non-quantitative specialists might prefer to go to the next section to see the results of our analysis.
The baseline survey consisted of a household and WEAI survey where both the primary male and female decision-makers were interviewed to assess their individual empowerment and gender parity in the household. Our sample included 152 households. We compared our survey results with traditionally identified correlates of empowerment in the South Asian context, such as age, education, household composition, mass media exposure and male child, using multivariate ordinary least squares (OLS) regression. We examined the relationship of explanatory variables to the WEAI empowerment score and to our self-developed values-based index designed to develop elements of critical consciousness.
Variables affecting empowerment
Our analysis provided four interesting insights:
First, we did not find evidence of a significant relationship between traditional empowerment determinants (identified by earlier studies, notably in South Asia) and the WEAI empowerment score, with the exception of higher education and wealth.
Second, in other cases (e.g. household composition), we see that the difference in empowerment levels between the male and female respondent within a household is more useful for understanding these associations.
Thirdly, critical consciousness appears to be associated more closely with household composition factors: living with the husband's family was negatively associated with critical consciousness whereas the absence of one or more men due to migration was positively associated. These two factors are broadly considered essential to understanding empowerment processes in the Nepalese context.
Finally, a model that combines both WEAI and critical consciousness in a single index provides a better model of empowerment than each index alone: for the model with the combination of the two scores combined, we find statistical significant associations with greater range of correlates.
Contextualised meanings of empowerment
The qualitative fieldwork informed our interpretation of the (quantitative) survey results. Firstly, we found that there are distinct meanings and values given to men's and women's power. During FGDs, empowered men were described as those who bring development projects to the village, are engaged in politics or hold top positions in local influential groups such as community forest user groups. Empowered women also hold leadership positions, but in different local groups, namely saving groups or vegetable farming groups, which exclusively target women. Women derive less power from such leadership positions than men from theirs, because these organisations are not influential and tend to keep them entrenched in female domains.
Secondly, what development programs envision as agency was not necessarily perceived locally as a form of power. For instance, in theory, growing vegetables and selling them at the local market checks a box for several indicators of agency: decision-making, mobility, and control over income. However, in practice, it means women have to carry their produce on their backs to the market and then home again, sometimes walking for an entire day. This is a job that no man would consent to doing, as they would find it degrading to carry a basket on their backs. Women's control over the income from vegetable sales was seen as helpful to cover petty cash expenses without requiring permission but not enough to challenge intra-household power relationships. Yet those relationships are largely shaping women's empowerment pathways, especially young married women living with their in-laws.
Conclusion
Our results clearly suggest an avenue of further study. The two indices we highlighted may capture different aspects of the complex task of measuring women's empowerment. The critical consciousness index may be subjective, yet it proves more significantly associated with several traditional correlates of empowerment in our data set than the WEAI empowerment score. It also appears to align well with several of the qualitative findings. It may capture elements of context-specific understandings of empowerment.
Our index is only in its first iteration, but its results suggest the importance of considering critical consciousness along with measures of agency, as recently acknowledged in the pro-WEAI, an adaptation of the WEAI designed for agricultural development projects. Even when women enhance their agency, they may choose not to use it for improving their well-being and that of their families if they have not developed a certain level of critical consciousness. Rather, they might perceive some decisions to be inappropriate because of social norms, feelings of inadequacy, or prioritization of family needs over personal experience.
Furthermore, improved agency might not lead to forms of collective action that would allow women to challenge oppressive structures. To achieve this would require promoting deeper changes in how women perceive their own positions and range of choices within society.
We hope that considering critical consciousness as a central component of measurements of empowerment will support different types of agricultural development interventions. Indeed, it could stimulate collaborative problem-solving, deliberative methods and engaging men as well as women in critical reflections on gender roles and the structural causes of inequalities. Yet we recognise that considering critical consciousness is a challenging task for standardised tools, as it requires locating choices within the cultural context that shapes values, meanings, and identities.
Read the research paper: https://doi.org/10.1016/j.worlddev.2018.02.002
---
Floriane Clément currently works as a senior research fellow at INRA in the research unit Dynafor. She was a senior researcher, Nepal country representative and IWMI Gender Focal point when the research highlighted in this blog post was published. Her research explores gaps between the intentions of agricultural and environmental policies and development programmes and their outcomes on the ground, drawing on institutional and discourse analysis, political ecology and feminist political ecology.
Corey O'Hara has worked in agricultural development in Nepal since 2006. Currently researcher at the International Nutrition Foundation and Managing Editor of the Food and Nutrition Bulletin, his research focuses on the link between agricultural development and dietary quality in marginalized and vulnerable communities.