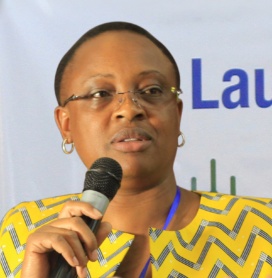 Building on the work of three phase 1 CGIAR Research Programs: Grain Legumes, Dryland Cereals and Dryland Systems, the CGIAR Research Program on Grain Legumes and Dryland Cereals (GLDC) officially launched on February 14, 2018, in Ethiopia. The Ethiopian Minister of Agriculture and Natural Resources, the Chair of the Governing Board of the International Crops Research Institute for the Semi-Arid Tropics (ICRISAT) and ICRISAT Director General broke 'diffu' bread in the opening ceremony. Ethiopian communities share wheat-based 'diffu' to mark the beginning of a relationship. This special loaf was made from sorghum and millet flours and garnished with different legumes. This moment marked the start of program implementation with a view to impact positively on nutrition, incomes and environmental sustainability in the drylands of Africa and South Asia by 2022.
'Gender Integration and Social Inclusion' is a key component of GLDC's research agenda. GLDC target crops are often considered 'women's crops' although men and women play complementary roles in farming, processing and trading them. Strategic gender analysis will focus on designing and testing innovations that lead to gainful participation of women in GLDC value chains; ensuring women's 'voice' is heard in setting breeding priorities for GLDC crops; closing of gender gaps in seed access, production, productivity and marketing of GLDC produce; and, equitable economic, nutritional and environmental outcomes that lead to women's empowerment.
GLDC also focuses research on youth as 330 million youth are in the Program's primary target countries. Being young is not a uniformly experienced phase in life between childhood and adulthood, but a highly gendered one, that intersects with other identities such as marital status, ethnic affiliation, class, education or employment status. Young people's embeddedness in families, social networks and communities, as well as norms and expectations related to age and gender, influence their agency as well as livelihood decisions and outcomes. A global priority of GLDC is understanding the diverse pathways by which young people engage with value chains and the potential that GLDC value chains offer to create opportunities for engaging young people.
Delivering on the gender and the youth research agendas, despite limited resources, requires collaboration and partnerships across many scales. We need continuous discussion, learning, and to push frontiers to address the challenge of 'context-specific' interventions. We also need to 'scale out' across communities and countries. Reaching women and young people means engaging with strongly held 'norms' and 'culture' in each community. These are powerful social forces that define opportunities, rights and privileges. Research – across CGIAR – needs to understand how to develop the agency of and empower women and youth, and how cultural norms may support these changes.
Esther Njuguna-Mungai is Gender Research Coordinator for the CGIAR Research Program on Grain Legumes and Dryland Cereals.