With increased generation of sex-disaggregated data across multiple themes, such as mobile financial services targeted at women, provision of (extension) information via short message service (SMS) etc., there is a great opportunity to analyze and understand gender constraints in a deeper way than was possible a few years ago. Moreover, many data gaps that would require traditional household surveys could potentially be filled using innovative data streams. Big data (characterized by volume, velocity, variety and veracity) is unearthing opportunities for many, including in gender research.
Join (and co-create) the conversation on this dedicated Slack group (sign-up/in required).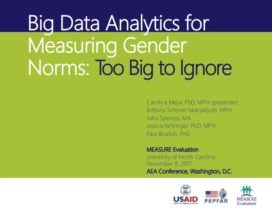 The CGIAR Collaborative Platform for Gender Research is actively working with qualitative and quantitative data generated by combined CGIAR gender research activities. This platform and the CGIAR Platform for Big Data in Agriculture are keen on collaborating to integrate gender research perspectives into big data opportunities and vice-versa, particularly in the community of practice on socio-economic data (#CoP_SED) of the Big Data platform (BDP). The ultimate goal of this cooperation is to unlock new and smarter ways of understanding the causes of gender inequality and of identifying ways to address it by harnessing the potential of big data.
The challenge?
So far there has not been structured exchange between Big Data and Gender communities. There is mutual interest but also limited understanding about each other's ways of working. Not many researchers operate at the gender-big data interface to provide an informed opinion. Not yet, anyway. Gender research involves complex social-economic concepts which might make it difficult to apply usual Big Data approaches. On the other hand, the data richness of interviews transcriptions in insights from focus groups discussion make it very unexplored land from the big data point of view.
All the more reason to explore options ahead.
The opportunities?
Big data presents various opportunities that should be approached as strategic conversations by the gender research community. Here are some emerging conversation starters. Warm thanks to Leland Glenna and colleagues at Pennsylvania State University for sharing very useful thoughts on this topic.
Big data shapes the framing of research questions among funding agencies and research institutes
This trend means that Big data cannot and should not be ignored, or the 'rules of the game' will be changed against an informed opinion by gender researchers. Whether a trendy 'buzz' or a longer term approach to work, big data is influencing the behavior of major players.
Big data may well favor quantitative research based on large data sets – but what is the place for and value of interpretive and contextualized research focusing on smaller data sets?
Big data creates opportunities to analyze much larger data sets. The risk is that indeed funding agencies and research organizations tend to favor research based on larger data sets and find it increasingly difficult to justify research that looks at small data sets in a given context and tries to elaborate a more ethnographic approach towards understanding gender relations. The gender research community has much to say about this and should defend its stakes. Some other thoughts for consideration: if gender research data sets were interoperable and for instance interviews transcribed, the gender community would end up with a gigantic dataset; A lot of non-gender research which has sex-disaggregated data can also lead to a gender analysis; Organizations like Data2x, the International Food Policy Research Institute (IFPRI), The international Center for the Rights of Women (ICRW) do have some good quantitative datasets that could be mobilized and better linked to big data analyses.
Is transparency and open data good everywhere, all the time, for everyone?
Big data assumes that it is. Gender researchers know that there are real ethical risks associated with making small scale data too widely accessible, to the extent that the people concerned in any data set can be recognized and tracked down. Following a longer tradition of 'Do no harm', the gender research community has to inform where, when, and how data can and should be made widely accessible, and when not because the life of some people may depend on it. Where can ethical boundaries be laid to safeguard gender research in the age of big data?
No FAIR data standard is in place for gender research (yet)
FAIR stands for Findable Actionable Interoperable and Reusable. Everyone agrees on the principle of FAIR data. But practically this means paying attention to the way data is tagged, stored and shared with other repositories and users. That practical hurdle is still too big for many researchers, but there lies a real opportunity to make gender research benefit from the sirens of big data.
Isn't there a middle way (between latest data-crunching technology and no-nonsense ethnography, between large and small data sets, between open / transparent and semi-open / protected)?
The ultimate opportunity is to inform the debate around the potential of big data so that it takes into account the best methods of conducting research depending on the context and purpose at hand. Most intelligent innovations integrate existing options rather than replace them. Gender scientists can support the growth of big data with evidence of what research methods work and which don't, in their field.
Intrigued? So how to contribute?
We welcome everyone and anyone who is keen on dedicating time and thoughts to make this inter-Platform collaboration work and to help us understand and harness the best opportunities for gender research.
If you would like to join the small group of people working on connecting gender research and big data, please contact Ewen Le Borgne (ewen [at] cgiar.org). One of the spaces where some conversations might be taking place is on the discussion group for CGIAR gender scientists – you can also request (to Ewen) to join that discussion.
Recent news on the topic
Cracking potential and lowest common denominator: Marcelo Tyszler on the Big Data-Gender Research collaboration