Gender considerations in climate-smart crop production is essential in meeting the needs of both men and women and mitigating crop-based agriculture's contributions to climate change.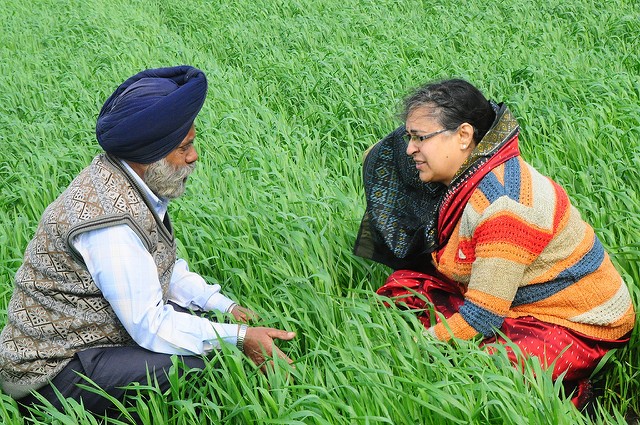 Climate change will alter temperatures, rainfall, droughts, floods, seasons, and extreme weather events throughout the world, all of which will negatively impact crop productivity, especially in the tropics and sub-tropics. Simultaneously, crop production is a leading contributor to greenhouse gas (GHG) emissions and, subsequently, climate change.
In Africa, the reliance on rain-fed agriculture makes the sector especially vulnerable to climate change. Research suggests that, based on current warming trends, Africa will experience a decrease in yields for key crops, including maize, millet, and sorghum. About 25 percent of land in Asia is degraded due to unsustainable resource use and, if current rates of degradation continue, a quarter of the world's food supply capacity could be lost. In Latin America, forest loss, often due to the conversion of forests into farmland, is the leading cause of GHG emissions in the region. Women are especially vulnerable to the impact of climate on crop production as they are less likely to migrate when compared to their male counterparts. Women are also less likely to have access to weather information and decision-making institutions and processes.
The implementation of a number of climate-smart agriculture (CSA) strategies can serve a dual benefit: farms become more resilient and adaptable and the GHG emissions are reduced. For instance, no-till agriculture reduces soil degradation, runoff, and cuts down on the use of fossil fuels needed for crop-based agriculture. Similarly, agroforestry, or the integration of trees and crops on the same land, reduces erosion, promotes healthy soil, improves water systems, and provides carbon sequestration. It is important, however, to take gender into consideration when implementing climate-smart crop production strategies as these approaches often increase women's labor loads, reducing the likelihood of widespread adoption.
To provide an evidence-based understanding of how gender and climate-smart crop production systems interact, studies are needed to provide details empirical knowledge on how gender relations influence access to crop production resources and decision-making processes. This evidence will be useful in targeting crop production practices that are gender responsive, supporting wide-scale adoption.
Potential research areas
Identifying, developing, and designing crop production practices that increase women's access to resources skills, and knowledge and reduce labor demands;
Identifying appropriate and gender responsive criteria that smallholders apply in intra-household decision-making processes regarding the selection and implementation of climate-smart crop production technologies and system;
Identifying and designing gender-sensitive business crop model frameworks and crop interventions that can be implemented through service providers and in which women are able to access and adopt;
Examining the skills and knowledge needed to strengthen the capacity of women to participate in intra-household decision-making in male- and female-headed households and build resilience;
Examining gender-responsive innovative platform opportunities for increased productivity, adaptation, and mitigation across crop production systems;
Examining the gendered opportunities, constraints, and trade-offs of various climate-smart crop production portfolios;
Examining new and existing environment and policy conditions needed to increase climate-smart crop investment and enhance women's technology adoption;
Understanding how new methods of crop breeding for resilience affect current crop production strategies and their impact on gender in crop production;
Examining gender responsive sub-national and national policies that support women farmers and promote gender equitable outcomes.
Gender and climate-smart crop production system resources: