Why is this method important?
Around the world, multi-stakeholder forums have been promoted and adopted as a method for more open and equitable decision-making, consultation and dialogue. They aim to bring together diverse groups of people to share ideas and make decisions.
Many researchers believe multi-stakeholder forums help foster equity by inviting under-represented people along.  However, many forums fail to address the potential for power inequalities among participants, which affects the quality of the participation and representation.
Who is the method for?
The guide would be useful for anyone interested in or focusing on including women and Indigenous Peoples in natural resource management and governance.
The case studies analyze forest user group committees, co-management groups and forest commodity roundtable meetings.
How can I use the method?
The guide will help you to:
understand how to meaningfully include women, Indigenous Peoples and other under-represented groups in multi-stakeholder forums
learn how different dimensions of social groups intersect in practice, through case studies
use tools to trigger actions at specific points to engage with under-represented people most effectively.
The guide presents ideas, not solutions, because the challenges of each multi-stakeholder forum are complex and unique. You may end up with:
reflections on how to organize a multi-stakeholder forum
tools to monitor the process
guidance on how to reflect on progress
input for a roadmap to change.
When and how was it developed?
The Center for International Forestry (CIFOR) published this method in 2021.
Getting it right expands and complements prior work that developed a monitoring tool for multi-stakeholder forums more broadly, with other versions developed for specific situations.
Where can I learn more?
Explore the publication below or contact CGIAR gender expert Iliana Monterroso.
Publications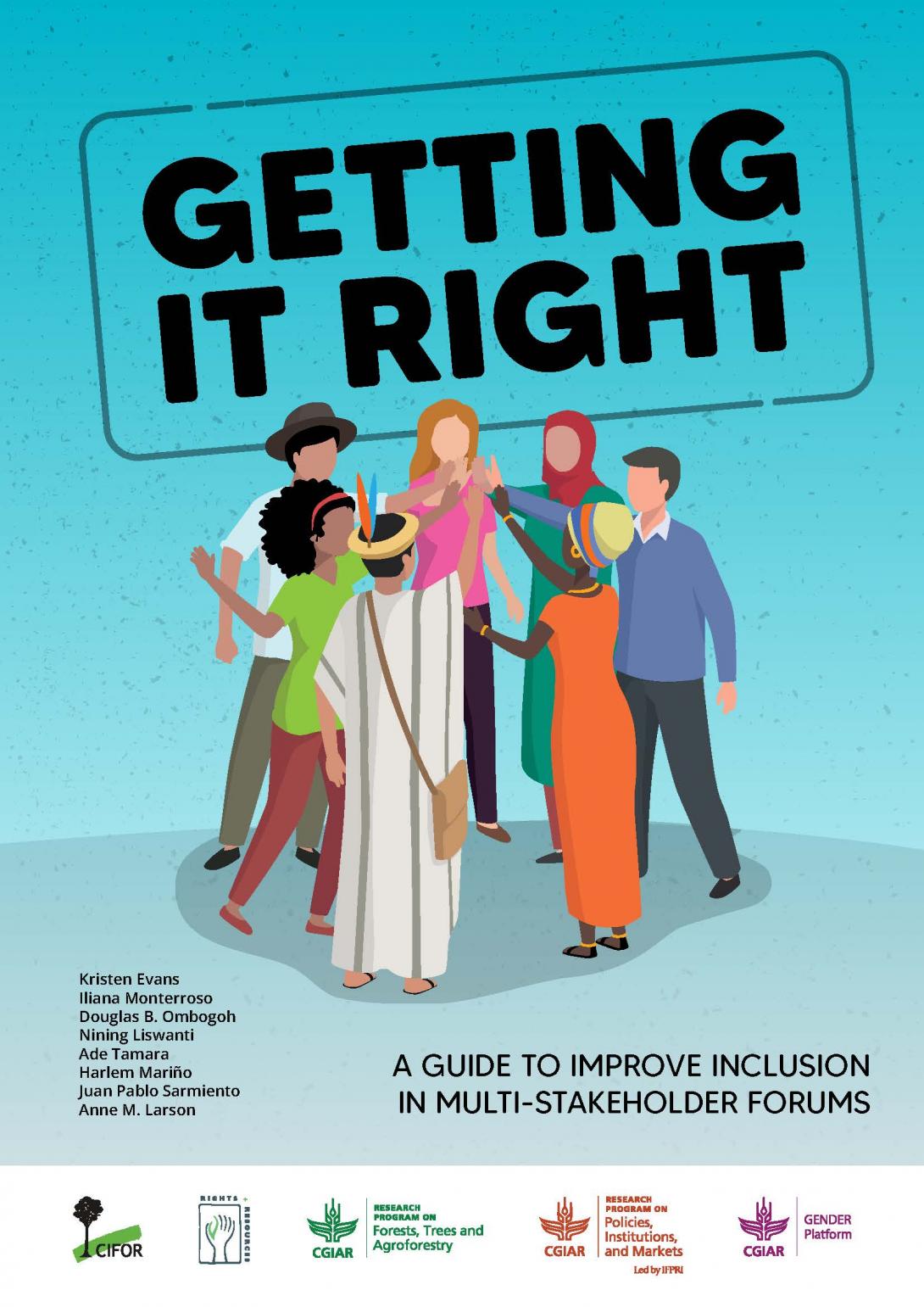 Book / Monograph
Evans K, Monterroso I, Ombogoh DB, Liswanti N, Tamara A, Mariño H, Sarmiento JP and Larson AM. 2021. Getting it right, a guide to improve inclusion in multi-stakeholder forums. Bogor, Indonesia: CIFOR. https://doi.org/10.17528/cifor/007973