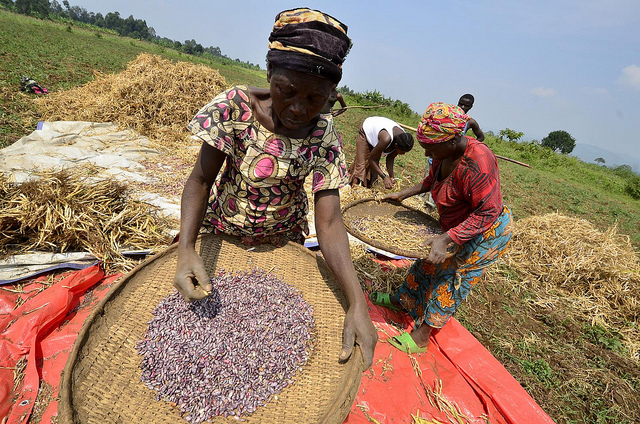 Transformational gender approaches in legumes research and development: cases of excellence
Concurrent plenary session
Date: Wednesday, March 2, 2016. Time: 16:00 hrs 
Duration: 90 minutes
Chaired by Dr Esther Njuguna-Mungai, Gender Research Coordinator, CGIAR Research program on Grain Legumes, the plenary will address the questions about best practices in integrating gender analysis in more technical research areas such as  breeding.  The plenary session will highlight the various perspectives of three international researchers who have dealt with this issue from its different aspects, using varied approaches, yet achieving success.
Presenters:
Dr Sally Humphries, a scholar from the University of Guelph, has been working closely with farmers in Honduras.  She will share her experiences of how she and her team institutionalized participatory research and plant breeding over a period of 22 years.  She will also focus on the impact this process has had on women members of the comités de investigación agrícola local (CIALS), who make about 42% of the membership.  Her presentation will also include the  varieties that have been developed through this process.
Dr Stephen Beebe, a renowned bean breeder, currently working for the International Center for Tropical Agriculture (CIAT) in Colombia will talk about integrating gender responsive traits into a breeding program. Cooking time has been identified as a key driver in the adoption of bean varieties in East Africa.  Benefits have realized in terms of both household cooking time and industrial pre-cooking of beans where time is saved [and firewood].  Part of this advantage could be gained genetically and they are testing this out in their breeding program.
Dr Jacqui Ashby, the Senior Advisor for Gender Research at the CGIAR Consortium Office will takes us through why gender is not just about  'impact'. Thus far, impact assessment has been the predominant area of analysis where gender enters the regression model as a variable.  However, there is MORE than can be done to integrate gender analysis into research program design.
For more information visit the conference website here: http://gl2016conf.iita.org/
Presentations will be shared as they become available. You can also follow the conversation on twitter #IYP2016, #legumes4africa