Date: July 13, 2017
Time: 3 – 4.30PM Central European Time (CET)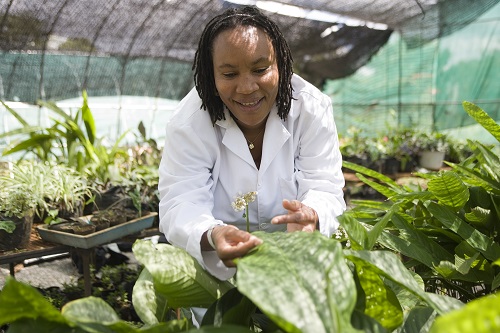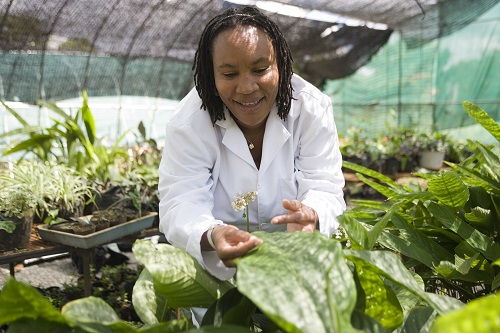 JOMO KENYATTA UNIVERSITY, NAIROBI, KENYA, 7th May 2007: Wariara Kariunki, Senior Lecturer, Faculty of Agriculture, examining plants under study in a sceen house.
(Photo by Mike Goldwater)
Webinar recording
Did you miss the webinar? Access the webinar recording by clicking here. Use the password aJejaTZ8 to open the recording. The webinar presentations will be posted shortly.
Presentations
Click the photos below to download the webinar presentations.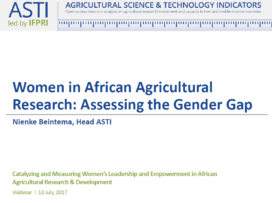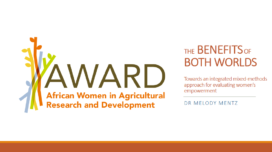 Q&As
Below is the list of questions that the presenters did not have time to answer during the webinar.
Q:How does AWARD match fellows with the mentors? Do fellows participate in choosing the kind of mentors they need?
A: Good question. Fellows use an AWARD guide to select their own mentors. There are a few instances where AWARD might inquire from the fellow regarding the alignment between the fellow's purpose road map and the mentors' expertise, as well as advise accordingly.
Q: How is this data, analysis, and insights being embedded in policy-making?
A: The AWARD generated programmatic data has been reflected on extensively by stakeholders, and used in shaping AWARD's phase 3 strategy. AWARD's prioritization of the work with institutions is largely based on what we've learned from this programmatic data.Truly, there is need for evidence targeted at policy makers-beyond the AWARD program. Policy makers within African Agricultural Research, for example, need to understand the benefits of gender responsiveness. So far, these benefits have been demonstrated by anecdotes. AWARD aims to address this issue within the new phase.
Q: What was the percent of female researchers in 2000, and what is the rate of increase? What has influenced this increase?
A: It was 18%. However, it is comparing "apples and oranges" because the country coverage was different. Furthermore, as emphasized, the regional average masks a large variation across countries. The increase is the result of relative more women being hired by research agencies. More women have enrolled in universities, including agricultural sciences, over time.
Q: Do you have data on the number of publications women researchers have, compared to men? Or maybe funding they attract compared to the men?
A: No, we do not have that data available. Many agencies have no databases on publications of researchers and, when they have, it is mostly not disaggregated by gender. Same constraints on funding data.
Q: What was the scope of the research that Nienke did? Did she visit all research institutions or specifically only KARLO. I believe many organization contribute to agriculture.
A: As indicated, we collect the data through institutional survey rounds and include close to 800 government, higher education, and nonprofit agencies involved in agricultural research. For example in the case of Kenya – yes KALRO is included, KMFRI, KEFRI, KIPPRA, KIRDI and all the universities that have faculties/schools/colleges on agricultural sciences (incl. also veterinary, fisheries, forestry, natural resources, etc.)
Purpose
This webinar was developed based on a special issue of the Journal of Gender, Agriculture and Food Security on catalyzing and measuring women's leadership and empowerment in African agricultural research & development. The webinar was led by African Women in Agricultural Research and Development (AWARD), together with the CGIAR Collaborative Platform for Gender Research. Experts discussed a range of topics, including:
Introductory remarks on the special issue and an overview of the AWARD program (by Dr. Wanjiru Kamau-Rutenberg).
Dr. Nienke Beintema discussed "An assessment of the gender gap in African agricultural research capacities", using recent survey data to provide an updated measurement of women's participation in agricultural research and development. Beintema will highlight various demographic details of sub-Saharan Africa's agricultural research capacity, disaggregated by gender and across countries and time. Beintema will also give an assessment of the participation of women in African agricultural research within a broader global perspective.
Dr. Melody Mentz presented "The benefits of both worlds: Towards an integrated mixed-methods approach for evaluating women's empowerment", exploring the value of employing mixed methods both for the purposes of increasing the credibility of results, and for improving understanding of the ways in which the AWARD fellowship facilitates and enables change to happen. Mentz will describe the development and implementation of, a multi-phase, parallel convergent mixed-methods design applied by AWARD in implementing monitoring, evaluation and learning to understand not only the empowerment of the AWARD fellows, but to identify in which ways (and to what degree) the fellowship contributes to empowerment.
AWARD contributes to women's empowerment because of the variety of its interventions that combine to uniquely build different skills and capacities within individuals. Dr. Apollo Nkwake looked at the three complementary components of AWARD, which encapsulate its various activities that are aimed at fostering mentoring partnerships, building science skills, and developing leadership capacity:

Designing effective leadership capacity development programs for women agricultural researchers in Africa.
Building science skills to improve the contributions of women to agricultural research and development in Sub-Saharan Africa.
Strengthening mentoring partnerships for African women scientists in the agricultural research and development system in sub-Saharan Africa
Background:
While women are a vital force in Africa's agriculture, agricultural research and higher education are disproportionately led by men. Only one in four agricultural researchers are women and even fewer – one in seven – of the leadership positions in African agricultural research institutions are held by women. This special issue focuses on a range of approaches to build the scientific and leadership capacities of women scientists, the outcomes of these interventions, and methodologies for measuring women's empowerment at this professional level.
The volume builds on the work of AWARD, which invests in African women scientists and institutions to deliver innovative, sustainable, and gender-responsive agricultural research and development solutions to tackle the biggest challenges facing African smallholder farmers. Since 2008, AWARD's tailored career-development fellowships have equipped top women agricultural scientists across sub-Saharan Africa to accelerate agricultural gains by strengthening their science and leadership skills. More than 1000 African women scientists (465 fellows, 398 mentors and 297 mentees) at over 300 institutions have participated in the program since its inception.
Resources:
Presenters:
Dr. Wanjiru Kamau-Rutenberg: Dr. Wanjiru Kamau-Rutenberg is the Director of AWARD program. Prior to joining AWARD, Wanjiru founded and served as Executive Director of Akili Dada, an award-winning leadership incubator that invests in high-achieving young women from under-resourced families, who are passionate about driving change in their communities. She has received widespread recognition for her work investing in women, including being honored as a White House Champion of Change, named one of the 100 Most Influential Africans by New African magazines, recognized as a Ford Foundation Champion of Democracy, awarded the United Nations Intercultural Innovation Award, and named one of Kenya's Top 40 Women Under Age 40 among others.
Dr. Nienke Beintema: Dr. Nienke Beintema is head of Agricultural Science & Technology Indicators (ASTI) and has more than 20 years of experience in collecting and analyzing financial and human resource data of and examining institutional developments in agricultural research in low- and middle-income countries. Nienke has written numerous reports papers and briefs on regional and global developments in agricultural research, co-edited a book on African agricultural research in 2016, and has participated in many high-level debates related to agricultural research and agricultural development in general.
Dr. Apollo Nkwake: Dr. Apollo Nkwake is the Senior Manager M&E at AWARD. Over the years, he has held Senior M&E Advisor positions with the World Vision United States, University Research Co, and JSI Research and Training Institute. Apollo's work focuses on developing and testing theories of change for gender responsive and effective development assistance. He has authored three books and several peer-reviewed journal articles/book chapters including: Credibility, Validity, and Assumptions in Program Evaluation Methodology (2015, Springer), Working with Assumptions in International Development Program Evaluation (2013, Springer), and Changing Gender Roles? A Study on Fathers' Involvement in Childcare (2013, Tate).
Dr. Melody Mentz: Dr. Melody Mentz  is the owner and founding Director of Melody M Consulting (Pty) Ltd, a research, learning and evaluation consultancy based in South Africa. Founded in 2012, Melody M Consulting has grown from a one-person enterprise to a vibrant business with experience in projects at a national, continental and international level among a wide range of stakeholders – including universities, not-for-profit organizations, individuals and private enterprises. Melody has been a long-standing M&E consultant for the AWARD program.