The CGIAR Research Program on Roots, Tubers and Bananas (RTB) and CGIAR Collaborative Platform for Gender Research hosted the webinar "Design elements for gender-responsive breeding" Thursday 21 September from 4.00 – 5.30PM CEST.
Webinar recording
Did you miss the webinar? Access the webinar recording by clicking here, and enter the password vDT6C3qj. The webinar presentations will be posted shortly.
Presentations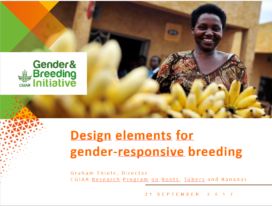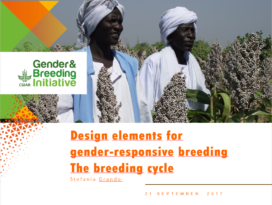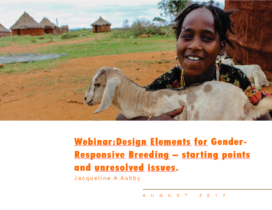 Background
The need for crop and animal breeding programs to consider gender is increasingly recognized, and many breeding programs are beginning to understand the negative effects of overlooking traits important to women users. However, applied methods and tools for gender responsive breeding are still lacking. This webinar will examine the stages of the breeding cycle and analyze entry points for breeders to make the best use of information about gender dynamics, including when to consider different preferences, needs, and objectives of men and women end-users.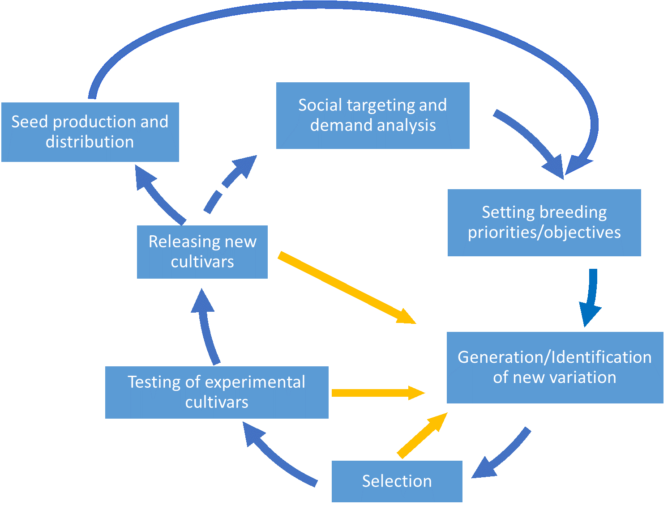 The second part of the webinar will present main outputs and conclusions from the Gender, Breeding and Genomics workshop held in Nairobi, Kenya in 2016. The workshop was supported by the CGIAR Gender and Agriculture Research Network, the predecessor to the current CGIAR Collaborative Platform for Gender Research. Outputs from the workshop included suggestions for "must-have" features for gender-responsive plant or animal breeding, as well as practical ideas to bridge the gap between awareness and practice.
This webinar sets the scene for an upcoming Innovation Workshop on Gender and Breeding to be held from 5-7 October 2017, in Nairobi, Kenya. Coordinated by the CGIAR Gender and Breeding Initiative, the October workshop will build on findings from the 2016 session. It will bring together a selected group of social scientists and plant/animal breeders who will contribute to the development of a strategy for gender-responsive breeding with supporting methods, tools and practices.
.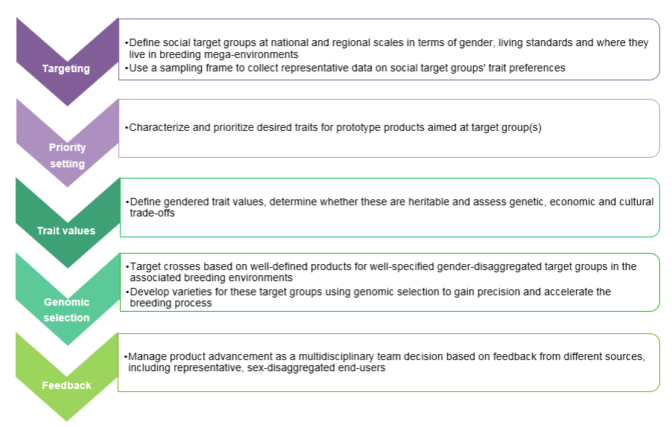 Presenters
Dr. Graham Thiele: Director, CGIAR Research Program on Roots, Tubers, and Bananas (RTB). Graham is a social scientist and expert in targeting, priority setting, and impact and adoption studies of new agricultural technologies. He spent 17 years with the International Potato Center (CIP), most recently as the Leader for Social and Health Sciences. Graham has worked in Bolivia, Ecuador, Peru, Tanzania, Kenya, Benin, Rwanda, Indonesia, and the Philippines. He helped develop, implement, and assess several, novel participatory methodologies designed to link farmers with markets, inform research agendas, and promote innovation in policies, products, and technology uptake. Graham holds a PhD in Social Anthropology and an MSc in Agricultural Economics.
Stefania Grando: Stefania Grandois a plant breeder with more than 30 years of experience in research for development spanning across Africa and Asia and research management and leadership, mentoring, inter-organizational relations and communication skills. Her research focused on crop (barley, sorghum, and millets) improvement for adaptation to difficult environments and users' needs, by an effective use of genetic resources and the development and adoption of participatory research methodologies. She is currently working as an international consultant. Stefania was a lead author in the International Assessment of Agricultural Knowledge, Science and Technology for Development and served on the Program Advisory Committee of the CGIAR System-wide program on Participatory Research and Gender Analysis.Stefania holds a Doctorate from the University of Perugia, Italy in Productivity of Crop Plants/Plant Breeding.
Jacqueline Ashby: Jacqueline Ashby is a development sociologist, researcher and teacher with international development experience in organizational change, technology development and poverty reduction in agriculture and food systems. She has worked as a researcher and in senior management in the CGIAR at the international Center for Tropical Agriculture (CIAT), the International Potato Research Center (CIP) and as senior adviser for research on gender at the Consultative Group on International Agricultural Research (CGIAR) System Office until retirement in 2017.  Her special interest is in participatory research and citizen science in agricultural R&D and she contributed seminal work to the application of farmer participatory research for use in plant breeding. She has also advised widely on gender mainstreaming. Dr. Ashby received her PhD from Cornell University and has served as a Board of Trustee member for several international research organizations.