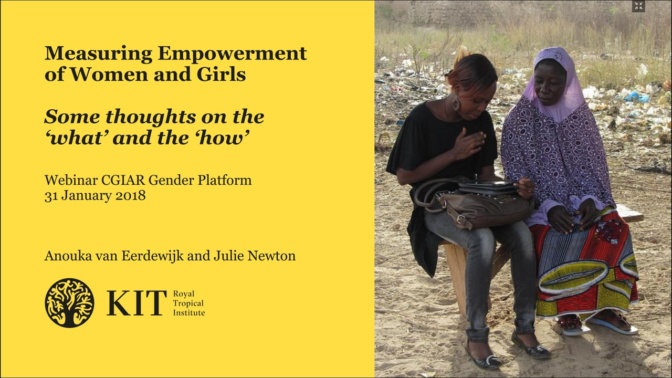 The CGIAR Collaborative Platform for Gender Research hosted the webinar "Measuring empowerment of women and girls: the what and the how" on Wednesday January 31, 2018. This webinar was organized in collaboration with KIT Royal Tropical Institute in Amsterdam, The Netherlands.
Webinar recording 
Did you miss the webinar? Access the webinar recording by clicking here and enter the password Ar3cvP3h
Presentation
The presentation featured excerpts from the White Paper 'Conceptual model of women and girls' empowerment.'. Find more information about the white paper. You can also access the white paper directly.
Background and purpose of the webinar
The measurement of empowerment of women and girls has gained renewed attention over the past years resulting in a host of new initiatives and improved efforts to further conceptualize/unpack what empowerment means and how you go about measuring it.  This has been accompanied by fierce debate, drawing attention to the importance of critical reflection  on what is measured and how empowerment is measured. In this webinar, we want to share highlights from our work regarding both the what and the how.
We start with sharing several key lessons learned from on-going debates on measuring empowerment of women and girls, and relate these to our conceptual understanding of empowerment. In this way,  the measurement of empowerment is put in its context. On that basis, we elaborate the 'what' and the 'how' aspects. With respect to the what, we look at multilevel and multidimensional aspects of empowerment, and how these can be incorporated in empowerment measures focusing on outcomes and indicators.
With respect to the how, we emphasize the importance of women's and girls' voice in empowerment processes themselves, and its measurement in particular. We reflect on the rationale of participatory approaches, and the different levels at which they can be used. These will be illustrated with examples of selected participatory methodologies.
Webinar discussants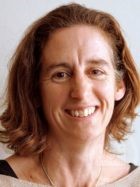 Anouka van Eerdewijk is a senior Gender advisor at KIT Royal Tropical Institute, in Amsterdam, The Netherlands. She has worked for 20 years in gender equality, women's empowerment and rights in international development. Some of Anouka's recent work includes gender mainstreaming and women's leadership in higher education and research institutes; gender analysis in agriculture (with CRP MAIZE as well as CRP Livestock & Fish); and sexual and reproductive rights. She led the KIT team working with the Bill and Melinda Gates Foundation on a conceptual model of empowerment of women and girls, and on guidance on how to improve measurement of empowerment. She currently leads a team preparing a report on the domestication and implementation of the AU Protocol on Women's Rights (the Maputo Protocol), with a specific focus on sexual and reproductive rights, gender-based violence and harmful practices.
She mostly worked in sub-Sahara Africa, and occasionally in Bangladesh and India. Among her publications is the co-edited volume Gender Equality Norms in Regional Governance (Palgrave, 2014), and a special issue on gender mainstreaming in the Journal of International Development (2014). In her capacity as Affiliated researcher with Institute for Management Research (IMR) of Radboud University Nijmegen, she conducts research and publishes on civil society, feminist transformative change, gender mainstreaming; international development and regional governance; and sexual and reproductive health and rights, and sexuality.
Julie Newto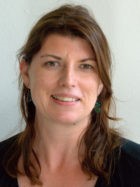 n is a Senior Gender Advisor at KIT Royal Tropical Institute with 15 years experience working on gender and social development issues in Africa and Asia. With a background in geography, her work focuses on operationalizing gender at the interface of research, policy and practice across food security, nutrition, social protection, natural resource management, sustainable livelihoods, wellbeing and child rights. Julie has expertise in gender analysis and mainstreaming, particularly in the context of integrating gender and women's empowerment in programme design, and monitoring, evaluation and learning (MEL) systems. This draws on extensive periods of research and advisory posts in South Asia (Bangladesh, Myanmar) on food security, nutrition and workers' rights involving partners from the CGIAR system.
Within KIT, she specializes in gender capacity strengthening in programme design and MEL within food security and nutrition programmes, women empowerment focused, and agricultural projects with different stakeholders (development practitioners, agricultural researchers from CGIAR system, policy makers). She was a key member of the team working with Bill and Melinda Gates Foundation on guidance on how to improve measurement of empowerment of women and girls. Her PhD thesis from University of Sheffield, entitled 'Gender responsive approaches to natural resource management in Namibia', focuses on gender mainstreaming in the agricultural extension system. She has a range of peer-reviewed and policy publications on well-being, gender, social protection and sustainable communities.