The CGIAR Collaborative Platform for Gender Research hosted the webinar 'Gendered barriers and opportunities in milk trading in peri-urban Nairobi' on Monday December 17 (3.00-4.30pm CET). The webinar was organized in collaboration with the International Livestock Research Institute (ILRI) and the CGIAR Research Program on Agriculture for Nutrition and Health (A4NH).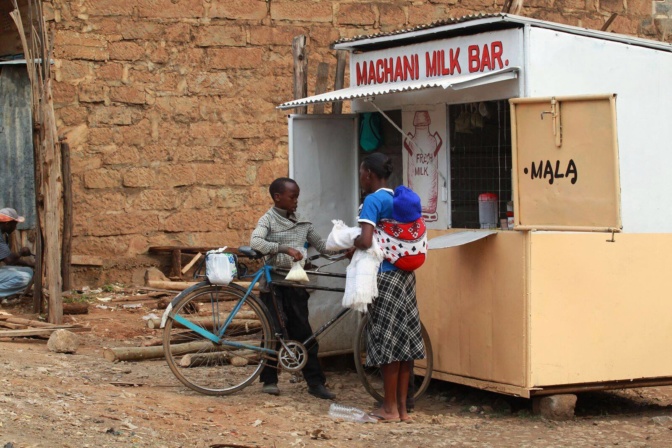 Milk bar at Maai Mahiu, Kenya (photo credit: North Star Alliance)
Webinar recording
WEBINAR recording Click on the link (left) and enter the password: pGV6qiwn
Presentation
Background and purpose of this webinar
Informal milk trading in peri-urban Nairobi plays a key role in supporting the livelihoods of milk traders. However, women and men seem to experience different constraints in milk trading. This webinar presents differences in women and men milk traders' participation along the dairy value chain through a gender lens. It discusses some of the reasons behind these gendered experiences in milk trading and the implications on livelihoods and nutrition security.
Webinar discussants
Alessandra Galiè works as a Senior Gender Scientist at the International Livestock Research Institute (ILRI). She conducts gender research in livestock value chains in the framework of empowerment, food and nutrition security, and livestock genetics. Previously, she has worked on women's empowerment, participatory plant breeding and seed governance at the International Centre for Agricultural Research in the Dry Areas (ICARDA). Dr Galiè obtained her PhD from Wageningen University, Netherlands, and an MA in social anthropology of development from the University of London.
Emily Myers joined IFPRI as a research analyst in the Poverty, Health, and Nutrition Division in July 2017. At IFPRI, Ms. Myers is involved with qualitative research about gender and development. She also facilitates IFPRI's Gender Task Force, a cross-institutional group that supports researchers incorporating gender into their work, identifies knowledge gaps pertaining to gender, disseminates IFPRI's gender research, and links relevant gender policy research within the CGIAR. Before joining IFPRI, Ms. Myers worked as a graduate research assistant on a mixed methods study sponsored by the World Food Programme and Emory University seeking to understand the relationships between women's economic empowerment, food security, and intimate partner violence. She has a master in public health from Emory University and a bachelor of anthropology from the University of Minnesota—Twin Cities.