The CGIAR Collaborative Platform for Gender Research hosted the webinar 'Can micronutrient training create women's demand for high-zinc rice? The case of Bangladesh' on Friday October 19 (11am-12.30pm CEST). The webinar was organized in collaboration with the International Rice Research Institute (IRRI).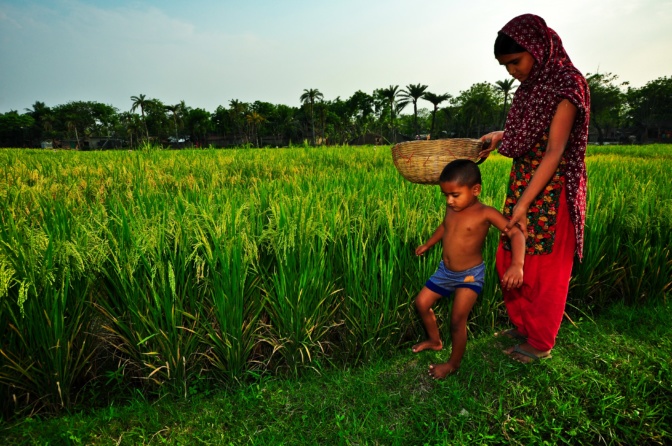 Webinar recording
WEBINAR RECORDING Click on the link (left) and enter the password: aQhDJjJ8
Presentation
Background
Zinc is one of the key micronutrients required for children's adequate growth. In Bangladesh, there is a high burden of zinc deficiency that affects 41% of children below 5 years of age. The goal of reducing zinc deficiency has made biofortification of rice with zinc a high priority in Bangladesh. Indeed, the International Rice Research Institute and the Bangladesh Rice Research Institute have developed high-zinc rice varieties to tackle this challenge. Growing and consuming zinc rice could improve the nutritional status of the poor. Zinc rice also has beneficial agronomic traits like high yield and short duration (Bouis and Saltzman, 2017).
Despite these potential benefits, the adoption of zinc rice has been limited. It is widely recognized that mothers could play a vital role in adopting zinc rice as they are responsible for nutrition of their children. However, rural consumers' willingness-to-pay for zinc rice has not been adequately examined. There is also scant evidence on the effects of micronutrient training and women's decision-making participation on the willingness to pay for zinc rice.
Purpose of the webinar
This webinar involves key thinkers and practitioners working in biofortification and on the gender and nutrition nexus in Asia, Africa and Latin America. The webinar discussed the impact of micronutrient training on zinc-rice demand among Bangladeshi mothers with young children, covering specific issues:
Biofortification of rice in Bangladesh
Micronutrient training among mothers based on randomized control trial study
Bidding process for zinc rice
Knowledge on zinc deficiency and women's participation in decision-making
The role of micronutrient training and women's participation in decision-making on zinc rice demand
Related resources
Banerji, Abhijit, Ekin Birol, Bhushana Karandikar, and Jeevant Rampal. 2016. "Information, Branding, Certification, and Consumer Willingness to Pay for High-Iron Pearl Millet: Evidence from Experimental Auctions in Maharashtra, India." Food Policy 62: 133-141.
Berry, James, Priya Mukherjee, and Gauri Kartini Shastry. 2012. "Taken with a Grain of Salt? Micronutrient Fortification in South Asia." CESifo Economic Studies 58(2), 422-449.
Bouis, Howarth E., and Amy Saltzman. 2017. "Improving Nutrition through Biofortification: A Review of Evidence from HarvestPlus, 2003 through 2016." Global Food Security 12: 49-58.
Cunningham, Kenda, Marie Ruel, Elaine Ferguson, and Ricardo Uauy. 2015. "Women's Empowerment and Child Nutritional Status in South A sia: A Synthesis of the Literature." Maternal and Child Nutrition 11(1), 1-19.
Webinar discussant
Harold Glenn A. Valera is a Postdoctoral Fellow undertaking gender research at the International Rice Research Institute in the Philippines. He is involved in projects understanding women farmers' demand for zinc rice in Bangladesh, women's land title ownership and decision-making participation in India, and gendered traits preferences for stress-tolerant rice varieties. He is a quantitative researcher with BSc in Economics, MSc in Agricultural Economics, and PhD in Economics.