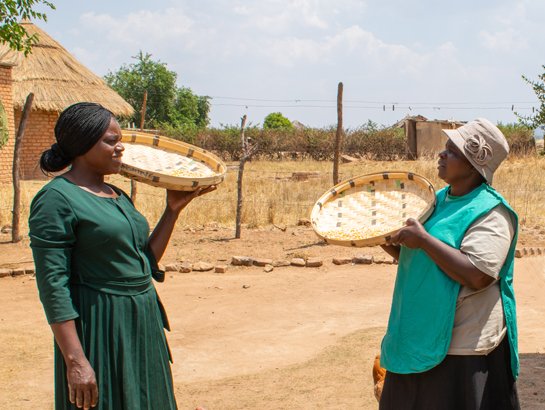 HarvestPlus is proud to be working with enterprising women around the world who have created businesses from the ground up, often with very limited resources initially. They chose to invest in better nutrition for their families and their communities and take the mission forward by producing and selling nourishing biofortified products.
Shais Foods in Zambia
Miriam Chipulu is all smiles when she talks about the humble beginnings of the now very successful Shais Foods Company. She is the founder, owner, and CEO of the agro-processing enterprise producing food products made with drought-resistant, nutritious crops that are grown locally.
In 2016, HarvestPlus Zambia started working with Shais Foods by providing 1000 kilograms (kg) of vitamin A maize as raw material to produce the Full Pack Cereal Blend that also included pearl millet and soya beans. HarvestPlus hosted seed companies and processors (including Shais Foods) during major exhibitions in the country. The signature Full Pack Cereal Blend was introduced on the market at national exhibitions, including a trade fair in Ndola and an agriculture and commercial show in Lusaka.  The product was a hit with consumers, and this prompted Shais Foods to start directly engaging farmers to grow vitamin A maize in order to meet market demand for the product.  Continue reading Miriam's and other women's stories on the HarvestPlus website.
View another feature photostory on Adobe Spark.