CGIAR Gender News
Empowering women in aquatic food systems: from 'helpers' to change agents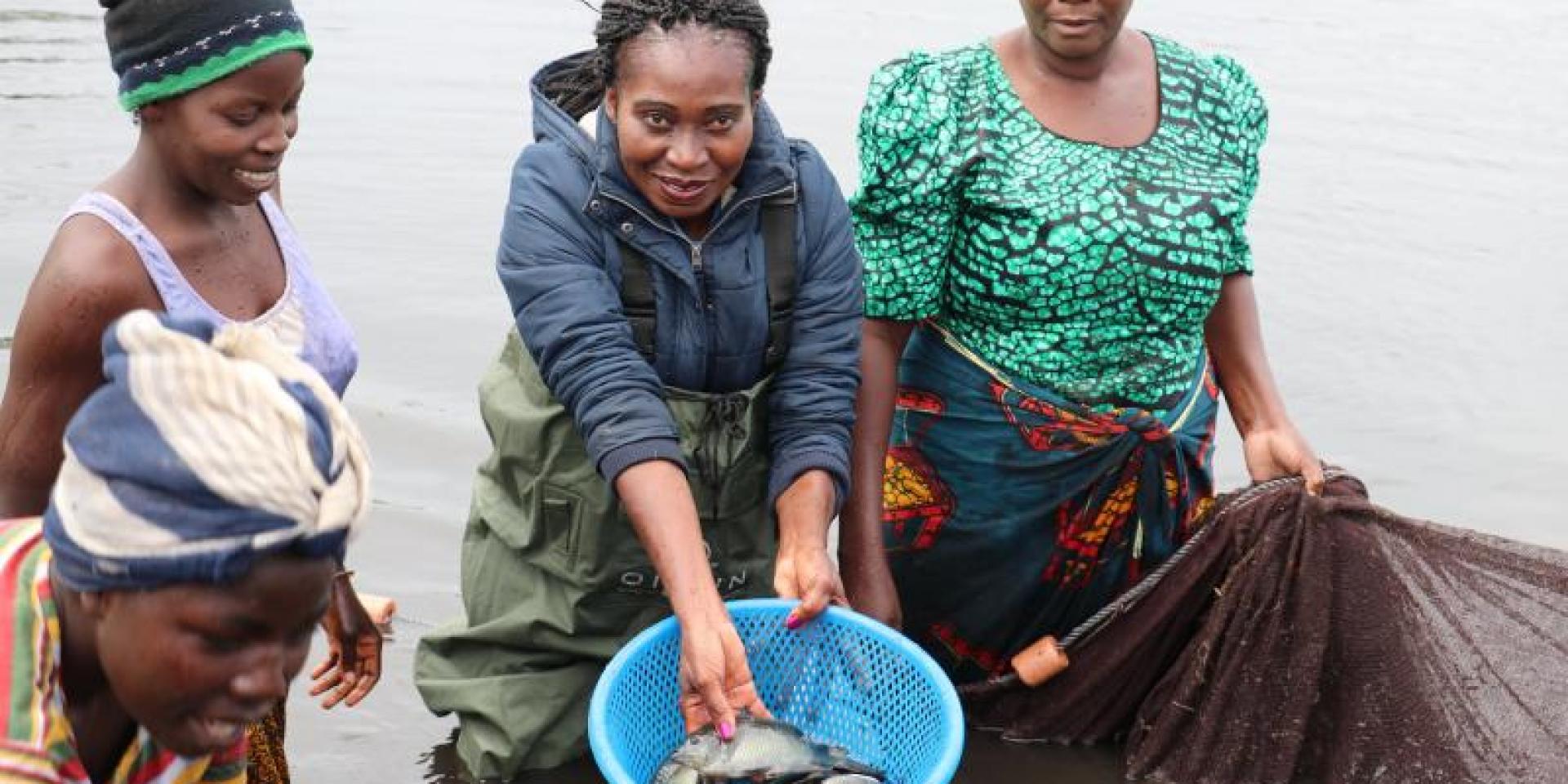 Highlights
The role of women in aquatic food systems is critical to the development of the sector, promoting nutrition, ending poverty and upholding the potential of aquatic food systems.
Women need to be recognized as change agents and not just helpers.
Through a number of impact pathways, WorldFish is addressing the invisibility and equity of women in aquatic food systems.
This blog post was authored by Agness Chileya as part of the CGIAR GENDER Impact Platform training on telling stories about agricultural solutions that work for women. This training took place, in part, during the 2023 CGIAR GENDER conference on October 9-12, 2023, in New Delhi, India. The blog post was first published by WorldFish, but it is re-posted in full below.
--
Despite making up around 50 per cent of the fisheries and aquaculture value chain workforce, women are largely invisible in the sector.
Speaking at the CGIAR GENDER Impact Platform–Indian Council of Agricultural Research conference in New Delhi, India recently, Rahma Adam, WorldFish gender focal point for the CGIAR Initiative on Aquatic Foods, pointed out that women participate in all parts of aquatic food systems (AFS) but are most visible in post-harvest processing and trade of fish.
"We see women in every node of the fisheries or aquaculture value chain participating, working hard in the production of fish, in the selling of fish, in the input supply of fish materials—as well as in the processing and consumption for nutrition by producing food for the family," Adam highlighted.
She added that women are seen more as 'helpers' in the economy, rather than in the front seat of producing wealth for the household and communities, and that the way societies view women—especially patriarchal societies in the global South—tends to marginalize them.
The invisibility of women in the sector is further exacerbated by gender and social norms that exist in these societies.
Speaking at the conference, Adams outlines three ways to empower women in Aquatic Food Systems.
Three Ways to Empower Women in Aquatic Food Systems
Financial Inclusion
Financial inclusion for women is currently insufficient to enable those aspiring to move from small-scale production or street vending to owning boats or establishing their own ponds. This hinders the women from participating fully and contributing in the higher nodes of the value chain, where there is more profit.
To help the women and build their capacity to be competitively involved in the sector, there is a need to advocate more for gender-sensitive budgeting to Ministries and Departments of Fisheries and Livestock.
Social Protection Schemes
Capacity building for women to be involved in multiple livelihood streams and strategies is key. Moves such as integrating agriculture with aquaculture or livestock will assist in cushioning women so that when one business is failing or not fetching a good price in the market, they can then rely on other income streams.
Adam mentioned that social protection mechanisms such as providing training for women in other avenues that have easily available markets should be created. She pointed out the promotion of eco-tourism as one of these avenues. She added that through capacity building, WorldFish has been promoting better resource governance and Community-Based Resource Management so that communities are able to work with donors and partners to attract tourists to these areas.
"Aquaculture, if well invested, is lucrative. There is so much that can be harnessed from that and to bring the visibility that women deserve," stated Adam.
Better and Gender-Disaggregated Data
As to how research can help to reduce the invisibility of women, Adam emphasized the need for sex- and gender-disaggregated data on each sector of the whole blue economy (economic activities related to oceans, seas and coasts)—for instance, data that reveals where these women are, what they do, and the challenges and opportunities that they face.
The data can be used to build a policy case for gender equality and social inclusion in the aquatic food sector. A recently published report—Illuminating Hidden Harvests: The Contributions of Small-Scale Fisheries to Sustainable Development highlights how such disaggregated data can be used.
Using 'Impact Pathways' to Address Gender and Social Equity
WorldFish is using a number of impact pathways for change to address gender and social equity in AFS in low- and middle-income countries. 'Impact pathways' is an analysis method that is used for planning and measuring the potential impact of research on development outcomes. 
"We are using these impact pathways through Research for Development (R4D) in order to improve women's economic empowerment and financial inclusion," Adam emphasized.
WorldFish has been able to measure women's empowerment with the Women's Empowerment in Fisheries and Aquaculture Index (WEFI) to see where they are in terms of agency, inclusivity and economic empowerment relative to men.
Sustainable Development Goal 5 clearly commits to "achieve gender equality and empower all women and girls" in their own right. Yet gender inequalities and barriers remain prevalent in rural areas of low- and middle-income countries, including where people rely heavily on aquatic food systems.
With the CGIAR Gender Impact Platform now having a specific remit in CGIAR to address gender inequalities, and youth and social inclusion, WorldFish can contribute to the identified gaps to ensure that women are not so invisible—especially women in aquaculture.
Conclusion
Women play a crucial role at the very heart of ending hunger and poverty. Harnessing the role of women could be one of the means to create a 'pull' effect for the aquatic foods sector to grow in similar ways to livestock consumption.
Unlike the agriculture sector, the blue economy is underrepresented in the gender narrative and has a lot of untapped potential to increase women's economic status, gender equality and social inclusion.