GENDER storytelling
Fodder technology chops backbreaking labor in half for Bangladeshi women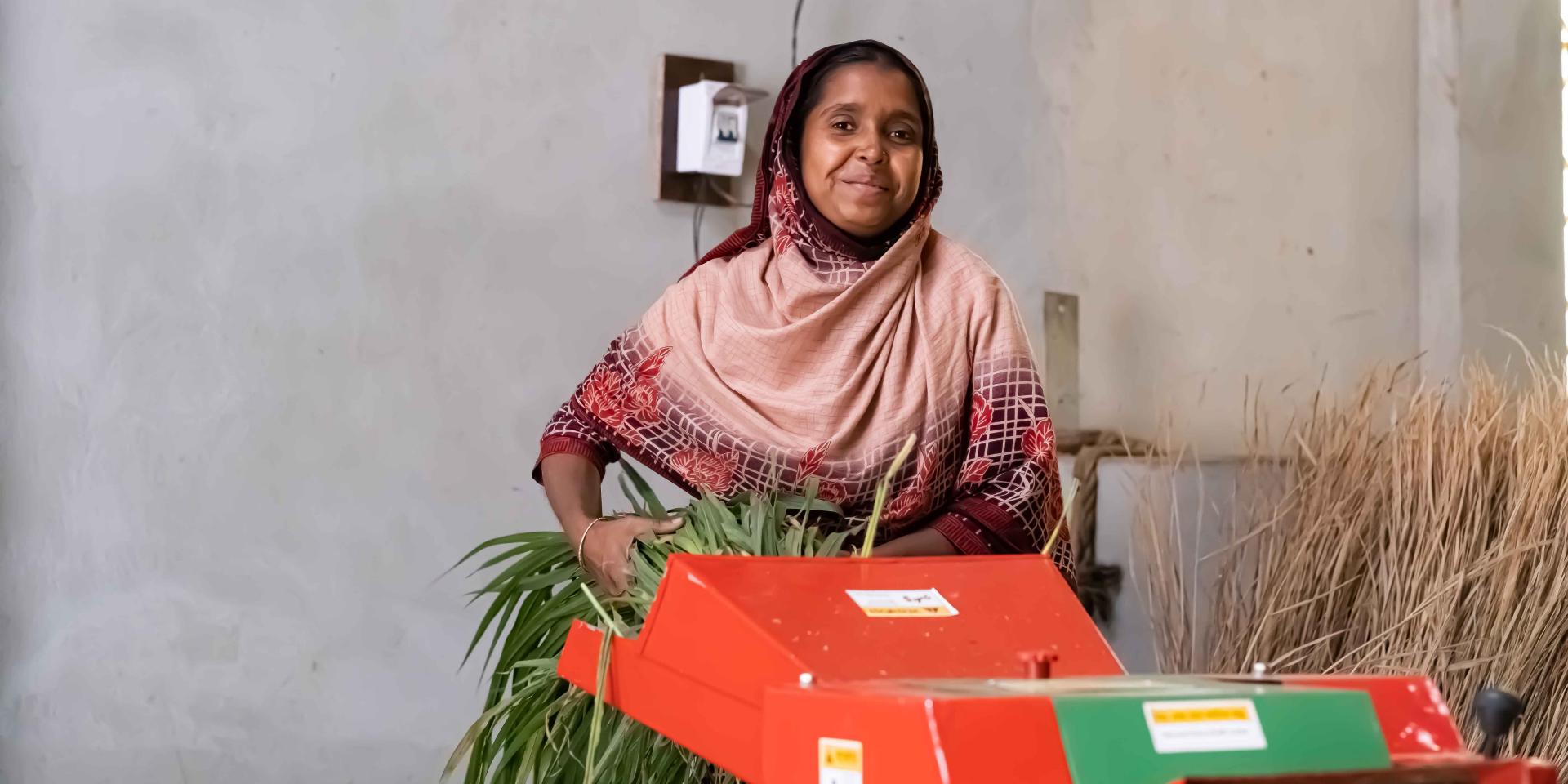 In early 2023, the CGIAR GENDER Impact Platform ran a series of virtual training modules for science communicators on how to develop and pitch stories on agricultural technologies that work for women.
The story below was produced by Mahajabin Khan and originally published by agrilinks.org as a result of this training. Enjoy!
Farming is a challenging profession, and it is even more challenging for women who face social constraints, gender discrimination and lack of access to resources. However, with the right support and technology, female farmers in Bangladesh can overcome these obstacles and achieve success.
The fodder chopper is one such technology that has recently revolutionized the way female farmers raise cattle and generate income.
In this article, we showcase the impact of the fodder chopper on Bangladeshi female farmers, based on the experiences of three women: a farmer, a manufacturer and an engineer.
The chopper cuts fodder, time and workload for women who farm
Salma Begum (35) is a remarkable farmer who has defied societal expectations and achieved financial independence in a male-dominated sector. With just one cow, she started her journey at home in Faridpur, and now her thriving business consists of eight cows, chickens, ducks, goats and pigeons.
Salma's interest in agricultural mechanization began when she visited her cousin and saw a fodder chopper in action for the first time. She was so impressed by how simple it was to chop grass using the machine that she knew she had to have one.
Salma purchased a fodder chopper that saved her about three hours a day, freeing up her time to tend to other cattle that she was able to purchase. With the fodder chopper machine, Salma can now prepare food for eight cows at once instead of just enough for one animal, as was the case when she did the work by hand.
This has not only saved her time, but also increased her income from sales of milk and baby pigeons, as well as by providing a grass-cutting service to neighbors. Salma now earns at least $400 per month selling milk and a further $40 from preparing fodder for clients.
"If I'd kept on cutting fodder by hand, I'd never have been able to get into this position, because it takes half an hour to chop enough for one cow, as well as being backbreaking," Salma stated. "The financial freedom I have achieved is beyond words."
Manufacturing and engineering women are proud of fodder choppers' benefits for rural women
Prior to the introduction of the fodder chopper, women would use a knife to chop grass, which was a backbreaking and time-consuming task.
Poli Rani (38), director of RK Metal Enterprise, a leading manufacturer of fodder choppers, highlights the benefits of the technology for female farmers: with newer, safer and more efficient machines, women can chop the feed quickly and with ease, reducing their workload and increasing productivity.
"Many women who care for cows frequently use the fodder chopper, which is particularly helpful for those who have multiple animals to feed," said Poli Rani.
Kaniz Tamanna (28), an agriculture engineer and machinery development officer in the Cereal Systems Initiative for South Asia (CSISA)-Mechanization initiative, believes that rural women who work in agriculture deserve to have a better quality of life.
She boldly led the modernization of the fodder chopper machine's blade in the Faridpur region (in southern Bangladesh). Her unwavering determination and expertise made the machine more efficient.
Tamanna knows that rural women start their day early in the morning and find it difficult to relax or spend quality time with their children, since making fodder for cattle demands hard labor and time.
"But the improved fodder chopper makes it easier for them to care for their livestock," she said, "and frees up time for self-care and family bonding."
The benefits go beyond individuals, to wider rural societies
The use of fodder choppers is not only beneficial for individual female farmers, but also for wider rural economies in Bangladesh.
The promotion of fodder choppers has resulted in a significant increase in interest in the machines, with sales nearly doubling in 2022 compared to 2021 (according to the USAID-funded CSISA-Mechanization and Extension Activity).
It is worth noting that, while the fodder chopper has been a game-changer for female farmers, there is still much work to be done in terms of gender equality in agriculture.
Women continue to face numerous barriers, including limited access to credit and extension services, and lack of ownership of land and assets. However, using technologies like the fodder chopper can help to alleviate some of these challenges, enabling women to increase their productivity and gain financial independence.
The fodder chopper is a prime example of women-friendly technology that is making a significant impact on the lives of female farmers in rural Bangladesh. By reducing their workload, increasing productivity, and providing financial independence, the technology is empowering women to take control of their lives and contribute to the local economy.
As the use of fodder choppers continues to grow, it is crucial to ensure that women have equal access to the technology and the resources needed to succeed in the agriculture sector — leading to a better future for Bangladesh.
--
Disclaimer: This story has not been reviewed by the CGIAR GENDER Impact Platform; the views expressed here are those of the author(s) and do not necessarily reflect the views of the Platform.