GENDER insights
Gender-based violence threatens food security but can be tackled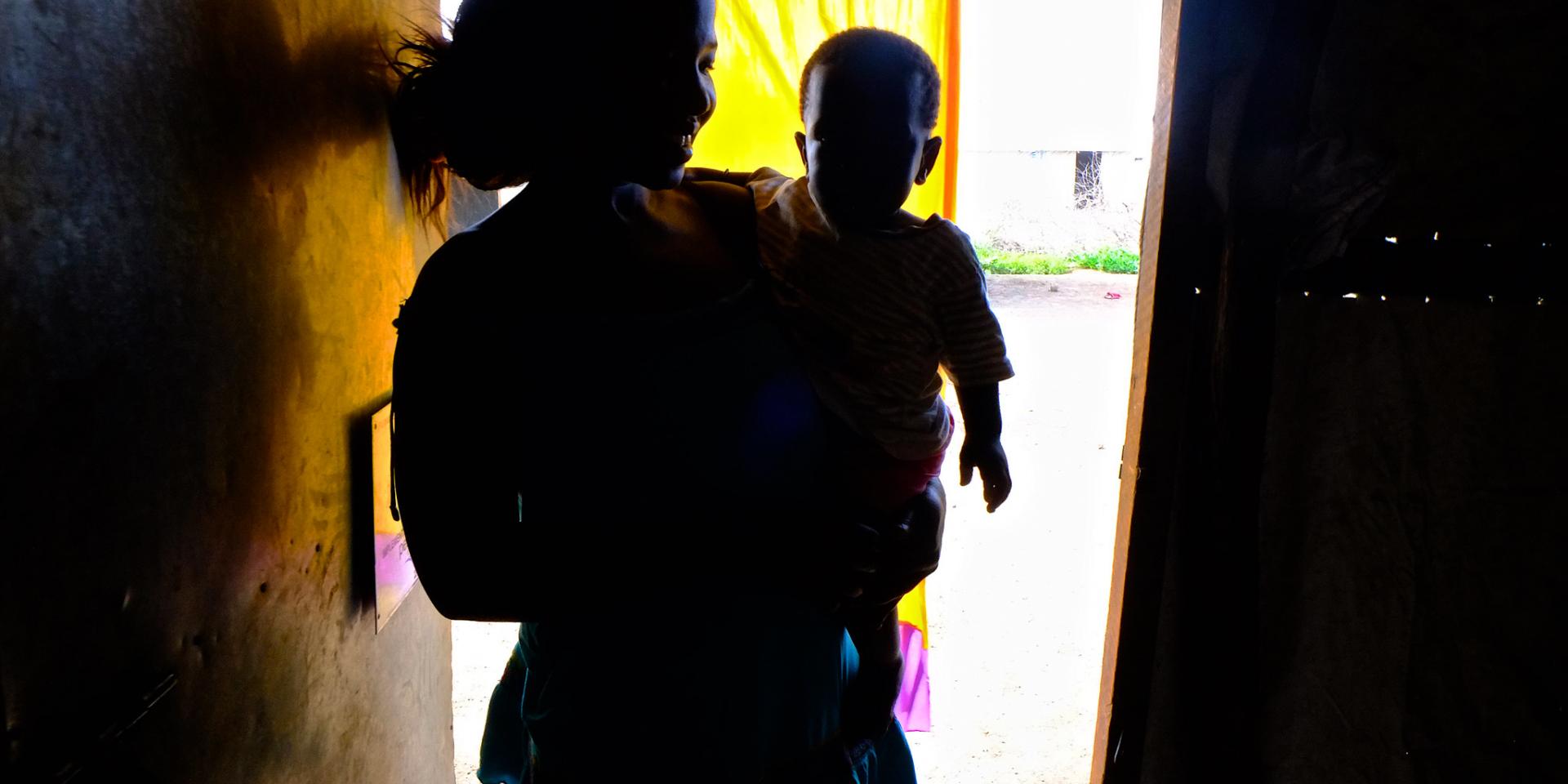 "Anything given to my wife is given to me", explained a man in a gender-dialogue group meeting that was held in Mushinga, a rural village in South Kivu, located in the eastern part of the Democratic Republic of the Congo.
Bukavu, the provincial capital that hugs the shores of Lake Kivu, has one of the highest reported incidences of gender-based violence (GBV) in the world.
"If you google Bukavu, South Kivu, DRC, gender-based violence headlines often pop up," says gender expert Dr Renee Bullock, during a recent CGIAR webinar. She shared lessons from a CGIAR International Institute for Tropical Agriculture (IITA) initiative that sought to improve women's financial capabilities in a quest to address GBV in Bukavu.
South Kivu's economy is precarious and there are limited employment opportunities for both women and men. Following years of civil war, many public institutions remain weak, compounding already high rates of poverty and instability motivated by a thriving trade in precious minerals.
Gender gaps in education, accessing and owning land and formalized banking have been persistent, though increasing rates of girls' education are encouraging. Women's empowerment has been recognized as an important development goal—however, traditions, especially in rural locations, often thwart efforts towards greater gender equality. Interventions in such contexts must be well thought out so they do not create or exacerbate gender-based violence.
"Trying to increase women's financial opportunities and bring more money into the household disrupts the balance of power in the household, which can increase gender-based violence in homes and communities," says Samantha Croasdaile, leader of the USAID Feed the Future Advancing Women's Empowerment (AWE) Program.

"Gender-based violence is really an umbrella term for a harmful threat or act," she explains. "It is towards a person or group because of their sex, gender identity, gender expression, sexual orientation or lack of adherence to masculinity or femininity."
Dr Bullock and Samantha spoke at a webinar in September 2021 run by the CGIAR GENDER Platform and the Feed the Future Advancing Women's Empowerment (AWE) Program: Addressing Gender-Based Violence (GBV) in Agriculture and Food Security Programs.
Gender-based violence (GBV) can be physical and sexual violence against people who diverge from their society's 'rules' about what it means to be male or female. It can also include emotional and economic acts of harm, as well as sexual exploitation, abuse, and harassment.
Samantha warns that GBV can have far-reaching effects for food security and agriculture by:
reducing on- and off-farm capacity
restricting access to extension and community support
increasing household costs
preventing participation in markets, community enterprises, and savings and loans groups
reducing economic output
contributing to decreased productivity.
Transforming gender in agriculture requires data and practical action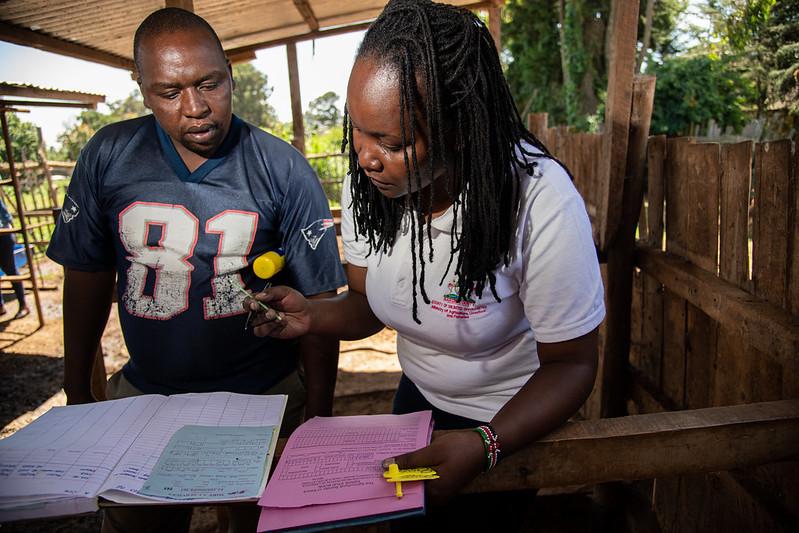 "Earlier in my career," says Samantha, "people were mainly studying women's portrayals in the media, for example—but not looking for evidence about causes of inequities or ways to make life better for real people."

"This made me realize why gender in development is so hard. We still didn't have enough strong evidence".
The data that researchers need ranges from who gets to decide on how to use household income, to when and how gender-based violence occurs or how this violence shapes so much of the survivors' and perpetrators' lives.
Without such data, Samantha notes, "it's hard to build understanding and develop the tactics or tools that could make change possible".
Good practices help develop a tool to combat gender-based violence
Katie Cheney, the AWE team lead at EnCompass LLC  who also spoke at the webinar, is working with a team of partners, including ACDI/VOCA, MarketShare Associates, FHI360, and an independent consultant to develop a toolkit to address GBV in agriculture and market systems development programs. As a first step, the team developed an annotated resources list to address GBV in agriculture.  
The first step for her team was to identify resources that were:
already used by practitioners or could be easily adapted for use
evidence-based
used for training, but could be turned into tools
widely recognised or gold-standard GBV guidelines or tools
Through a desk review, interviews, and profiling of papers, Katie's team identified nine resources featured in an annotated resources list, and that could inform developing a new tool.
She says they also pinpointed features of best practice within 'GBV in agriculture' resources—namely, tools that were survivor-centred, usable, adaptable, sustainable and scalable.
Their next step identified the needs and wishes of many experts and practitioners through interviews, focus groups, validation meetings and workshops.
"We could then reflect on our findings and prioritise information to develop our GBV prevention, mitigation, and response tool," says Katie.
USAID tool helps practitioners apply GBV work at any stage of a project
Friederike Strub of MarketShare Associates, a gender expert and analyst on the AWE team, shared more about the toolkit that the AWE team is developing. This toolkit is specifically designed to help agricultural specialists and market systems practitioners understand the complexity of GBV, and what to do about it.
"It is important that these specialists understand that GBV can run deeply from households through to workplaces and structural institutions," she says.
Part one of the toolkit is learning to see the links. It can help people identify where GBV happens in the value chains that their program works with, and how it can affect the success of the project activities.
Part two is a gift to practitioners already running a program: how to integrate GBV tools anywhere during a program's lifespan.
"The toolkit gives ideas and guidance on how to think about GBV mitigation at any point and spring to action, even if a program is already advanced in implementation," she explains.

"People think if they're already in the middle of the project, they can't do anything because the 'train has left the station'. There are tools and ideas for each different stage. Even where activities are already ongoing, there is something we can still do." Practitioners can use the toolkit during:
formative research
strategic planning
design and redesign
implementation
monitoring and evaluation
operational needs.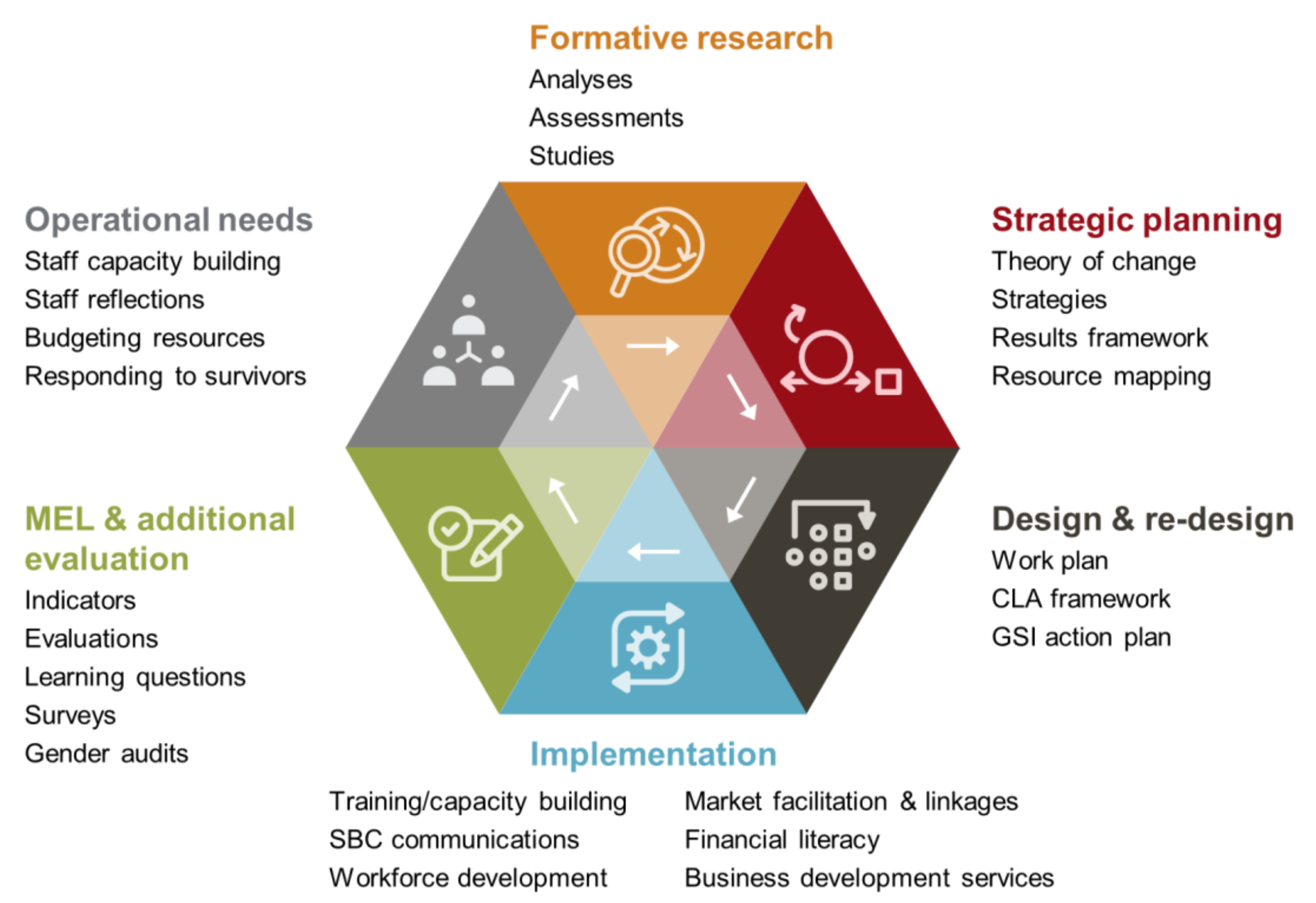 The AWE team is currently partnering with a Feed the Future project in Uganda to test and revise the toolkit.
"We are piloting it in Uganda to understand how readers seeing the tool for the first time—who aren't GBV or gender experts—move along from an initial level of awareness to applying worksheets and tools, then referring to and sharing their knowledge," explains Friederike.
After improving the toolkit and learning how to best support people using it, it is expected for release and publishing in mid-2022.
Training Congolese women in financial capabilities has reduced GBV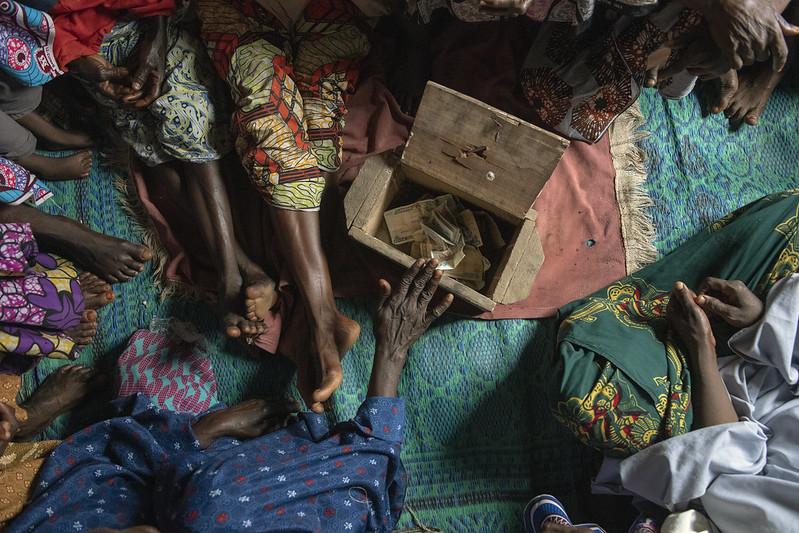 In 2017, Dr Bullock obtained funding to work with local women and vulnerable groups to empower women, improve their financial capabilities and to change gender norms to reduce GBV.
"Their ability to earn and manage economic resources is important to women's empowerment and independence," says Dr Bullock.
The pilot program worked for one year with 30 women who had been sexually assaulted. The program incorporated activities to address those behaviours in the household that could prevent women from benefitting from the cash transfers and technical training, which included livestock breeding and business development planning.
Women formed groups that still exist today. The groups were important for expanding their social networks, to motivate savings and to build confidence through peer-to-peer learning. A local facilitator, who was a champion for the women, was critical to the success of the project.
"She met with the groups each week but was on call any time for women in need, and even brought 'good husbands' to counsel those husbands who took their wives' project assets, for example."
Many NGOs in South Kivu work with women to increase their awareness of their rights and to improve adult literacy. Meanwhile, as in many other sub-Saharan African contexts, men engage more frequently in agricultural extension activities where possible. Strategically engaging both women and men from the same household is seldom a project aim.
Asking when women want to involve men is critical for success
As part of the goal to change gender norms, men were trained in how to better support women in their households, businesses and saving groups. Joint training session topics with men in households included how to negotiate disagreements, provide mutual support for each other and plan financial matters.
"It is important to engage men since it can make a positive change in our community," said a woman in Mushinga during Dr Bullock's study.
Qualitative methods were used to solicit women and men's perceptions of behaviour change impacts. Responses demonstrate men's increased support for women's financial activities.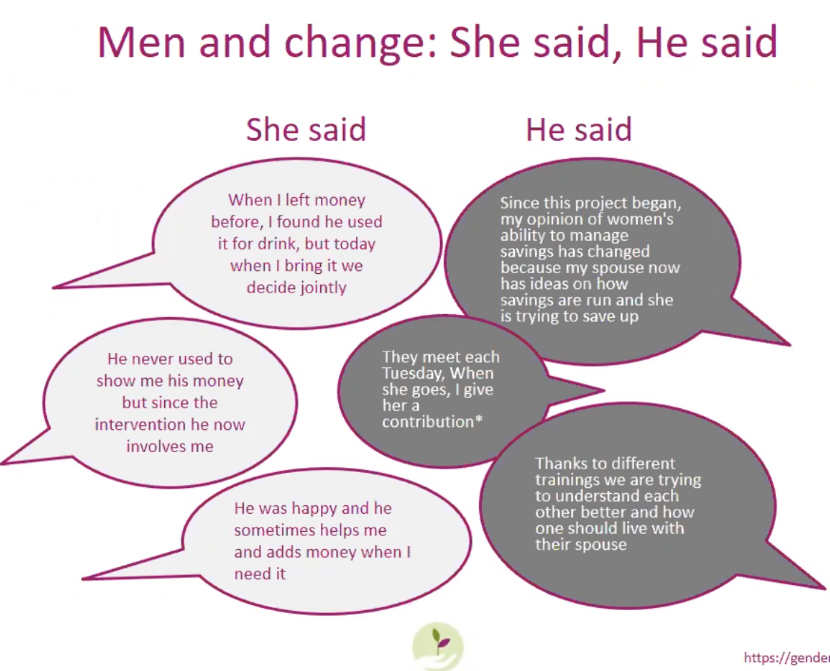 According to Dr Bullock, who currently works at the CGIAR International Livestock Research Institute (ILRI), important factors in the small pilot's success were:
ensuring safe spaces for discussions and to schedule time for feedback processes that can support iterative research for development approaches
trying different training modalities that may work with women and men separately and/or together—and consult the women about how and when to engage the men
preparing to try different methods—for example, with people who can't read or write
incorporating and listening to local champions who can provide immediate support to project participants
sensitize the research team about GBV and informed consent issues
allow for flexibility, change and responding to participants' needs.
Ensuring that project participants will benefit requires a holistic and relational approach to strengthen the agency and capabilities of participants.
In many cases, she says, "we might forget that we're working with individuals that are part of a household, a family network. Often, the actions taken with an individual don't stop there. It's really important to think about these relationships that can support or hinder a project's intended outcomes."