GENDER insights
Gender conversations, connections and capacities unleash the potential of plant health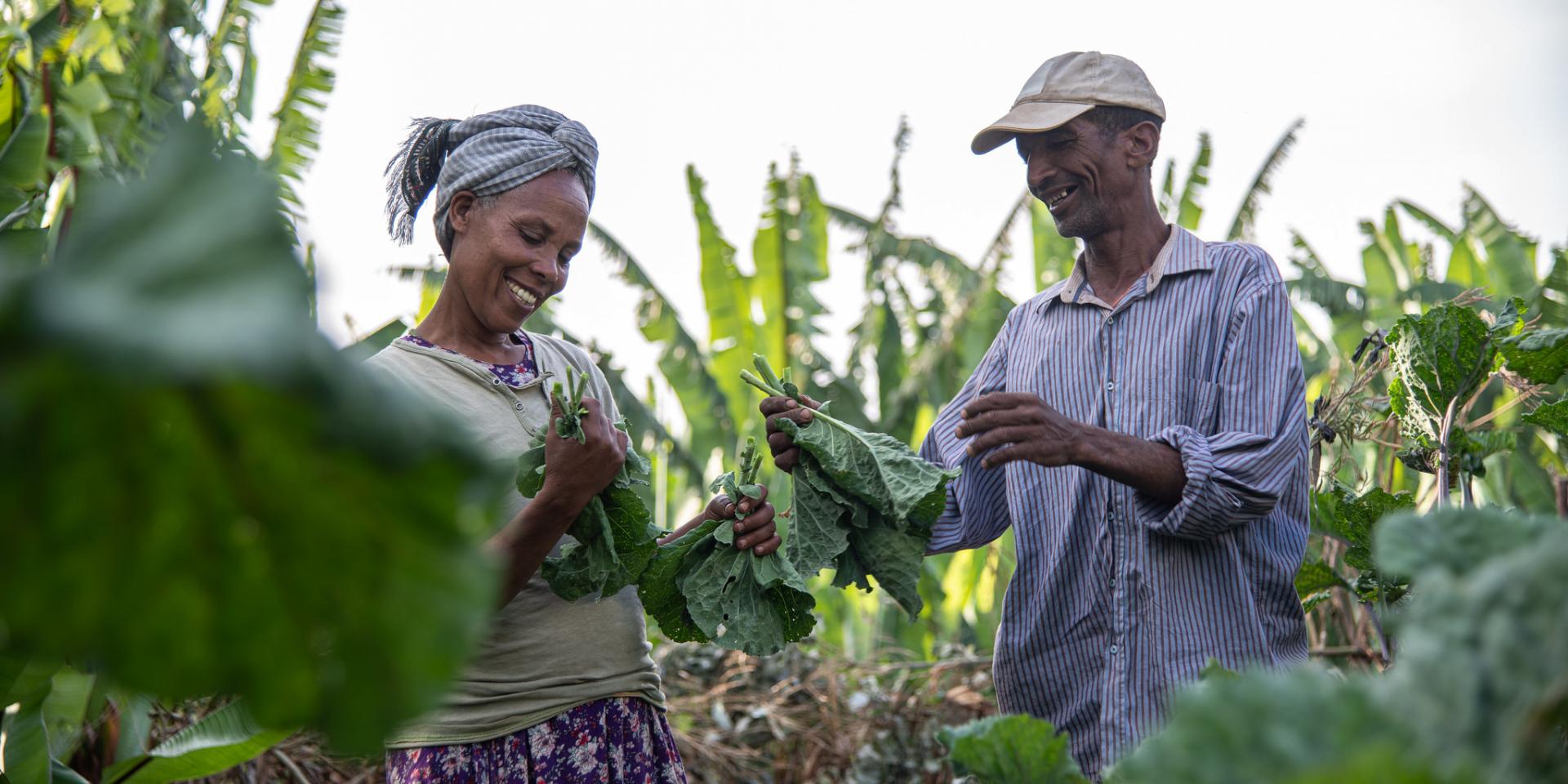 A series of webinars by CGIAR and partners —feeding in the 2020 UN International Year of Plant Health —  underscore the importance of gender and household relations in shaping plant health issues and responses.
Bananas in the East African Highlands are traditionally grown by men, which means training in disease management is provided only to men.
Nozomi Kawarazuka, a social anthropologist working at the International Potato Center (CIP), said this ignores the fact that men are often absent from villages due to migration. Women grow their beans by using the banana stems for support.
"My husband's bananas are sick, but my beans are doing fine." Clearly, the women also need to be trained to look after the bananas.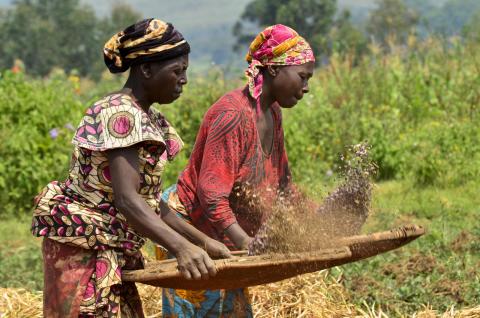 Nozomi explained the need for research to understand cultural and gender contexts when implementing initiatives to protect plant health. She was speaking in an event on integrated pest and disease management, as part of a series of four CGIAR webinars on the issue of plant health, held earlier this year.
More than 500 people participated in each webinar, which brought together experts from around the world to focus on plant health and its implications for food security, livelihoods and social development. The webinars contribute to global discussions following the 2020 UN celebration of the International Year of Plant Health.
Each CGIAR webinar recognized the foundational importance of gender and household relations in shaping plant health issues and responses.
Gender equality cuts across plant health issues
Plant health plays an important role in food security and nutrition, whether that be through food crops or plant food sources for livestock and fish.  But as our global food systems have evolved, so too have the challenges of climate change, germplasm exchange, pests and diseases, and international trade.
The stakes are high and at the webinar on climate change and plant health: impact, implications, and the role of research for adaptation and mitigation by Shenggen Fan, from China Agricultural University.
He noted: "because of diseases and pests, we lose about 20 to 40 percent of our food crops. Can you imagine how much food we have lost? How many people we could feed with that lost food? Climate change will make this even worse."
In dealing with these challenges, gender is a significant cross-cutting issue. It is important to consider two narratives: "women as marginalized, but also women as agents of change," said Jemimah Njuki, Director for Africa at the International Food Policy Research Institute.
"In times of crisis, women's assets are often the first to be sold, and therefore it takes even longer for them to recover," Jemimah said.
In considering gender equity issues related to plant health, it is necessary to look at all the people involved in the agricultural value chain: "…from producers, to processors, to service providers, to transporters, to marketers", said Janice Olawoye, who is the former dean of the Faculty of Agriculture and Forestry at the University of Ibadan in Nigeria.
"There are gender differences in the roles, constraints, responsibilities and challenges for the male and female stakeholders," she explained. "Gender roles are socially determined, and so they vary from one group to another, whether by ethnicity, religion or locality."
Conversations improve our understanding of gender issues
Understanding the gender dimensions to plant health depends on research that engages in exploratory conversations.
For example, in talking about germplasm movement and flow, Vivian Polar, senior specialist on gender and innovation for the CGIAR Research Program on Roots, Tubers and Bananas, explained how women and men have different ways of exchanging germplasm.
"Different Indigenous People have diverse cultural practices related to seed management and exchange… that has to be understood in depth in order to generate alternatives that bridge this gender and social inclusion gap," she said.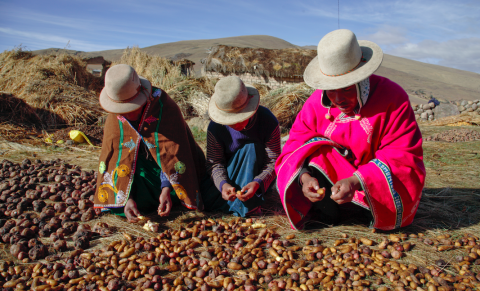 Collecting sex-disaggregated data is a first step. Nozomi offered examples of questions that extension workers and agronomists could ask women and men farmers to better understand gender differences. This means interacting with farmers through conversations. 
Taking this a step further, Jemimah stressed the importance of going beyond basic data to understanding people's different aspirations and imaginings for the future. In this way, "we can understand why they make the choices that they make," she said.
"We need to address gendered social norms. So, [we need] initiatives, interventions focusing on women and men as agents of change to challenge some of the underlying causes of inequality."
Conversations can also play an important role in strengthening "one health", meaning the health of plants, animals and people. Annet Mulema, previously a social scientist at the International Livestock Research Institute, commented on the importance of community conversations for reducing the risk of rural Ethiopian household members to zoonotic diseases. Zoonotic disease are infectious diseases that jump from an animal to a human. Due to gender-based differences in roles and power dynamics, they are most likely to affect women.  
"Community conversations create an informal interactive space for community members to find solutions," she explains. "Dialogue fosters understanding of the benefits of behavioral change in reducing zoonotic disease risks and women's labor burden. Behavioral change is most likely to follow when both the husband and wife participate in the conversations. They appreciate the information and knowledge shared, and jointly commit to implementing the proposed plans."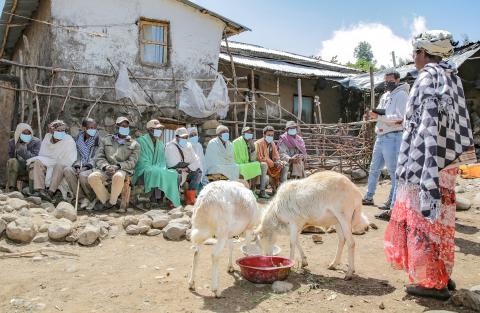 Connections enable us to address gender issues
The webinar series highlighted the importance of collaboration in addressing gender issues affecting plant health.
The distance between biophysical and social scientists through their differing languages and epistemologies creates a huge risk that gender and social norms will not be fully understood, explained Nozomi.
This "runs the risk of farmers rejecting your technologies, or your technologies not reaching the targeted social groups. Collaboration between social and biophysical scientists is essential."
For example, cassava disease is a curse to food security in places like West Africa where cassava is an important source of starch. In response, plant breeders have developed disease-tolerant varieties of cassava that are also high-yielding. Problem solved?
"No", said Nozomi. "The message is [plant] breeders' best choice may be rejected by women," she said. "Breeders can comment, 'This is the best disease-tolerant variety'… but the [women] farmers say 'No thanks. Yours is not suitable for processing."
The power of collective action was repeatedly referenced in the webinars. For example, protecting potatoes from disease in Ethiopia was enhanced when subsidies were provided to farmers rather than imposing fines. This happened after the whole community "realized that female-headed households… face particular challenges to follow the recommended measures," explained Nozomi.
In another example of collective power through collaborative connections, Vivian highlighted the positive gender balance deliberately included in the CGIAR Germplasm Health Units. These collaborative centers "build the multidisciplinary capacities of male and female scientists and create awareness of the importance of these cultural and gender issues," she said.
Capacity to improve plant health built through access to resources and support
It is crucial to address the gender gaps in access to technologies and knowledge in plant health.
"But do all farmers—in fact, do women—have the luxury of choice if we give them information," asked Janice. "One must consider which actions are likely to be available for men and women. For women, it may not be a matter of choice, as they might not be able to gain access to alternatives, or to better options."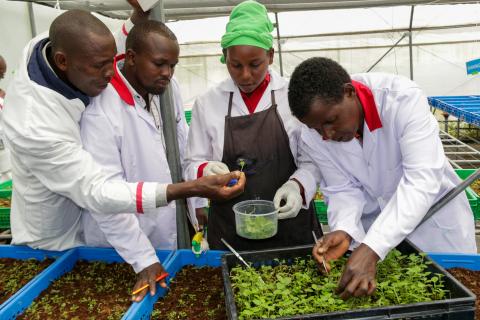 In talking about closing the technology gap for women farmers adapting to climate change, Jemimah said it was important for financial and advisory services to be targeted at women, especially young women.
"Programs that provide skill appropriate opportunities for young women, along with investments in other support infrastructure, such as childcare, health and education facilities, can actually increase the range of adaptation possibilities open to them," she explained.
Whole system solutions need to ensure health of plants, people and animals
In supporting plant health, it became increasingly clear across the webinar series that researchers from different disciplines need to work together with women and men farmers to consider who is most affected by their research.
As Nozomi explained, interventions that are co-designed with those people involved and affected by such interventions are much more likely to be successful. This means involving people in conversations right from the start, "not adding gender as an afterthought."
Janice asks: "Are we talking about poor or better-off stakeholders? Across generations, are we talking about younger or older producers? Who are the stakeholders at each point [in value chains], and who is doing what?"
"It is not acceptable to say, 'Women do this' or 'Men do that'. How do we protect the health of people, and what do people need to do to protect the health of plants, animals, environment and other people?"
The answer lies in creating whole system solutions that include all these elements.