GENDER insights
Harvesting equality means sowing partnerships and cultivating in groups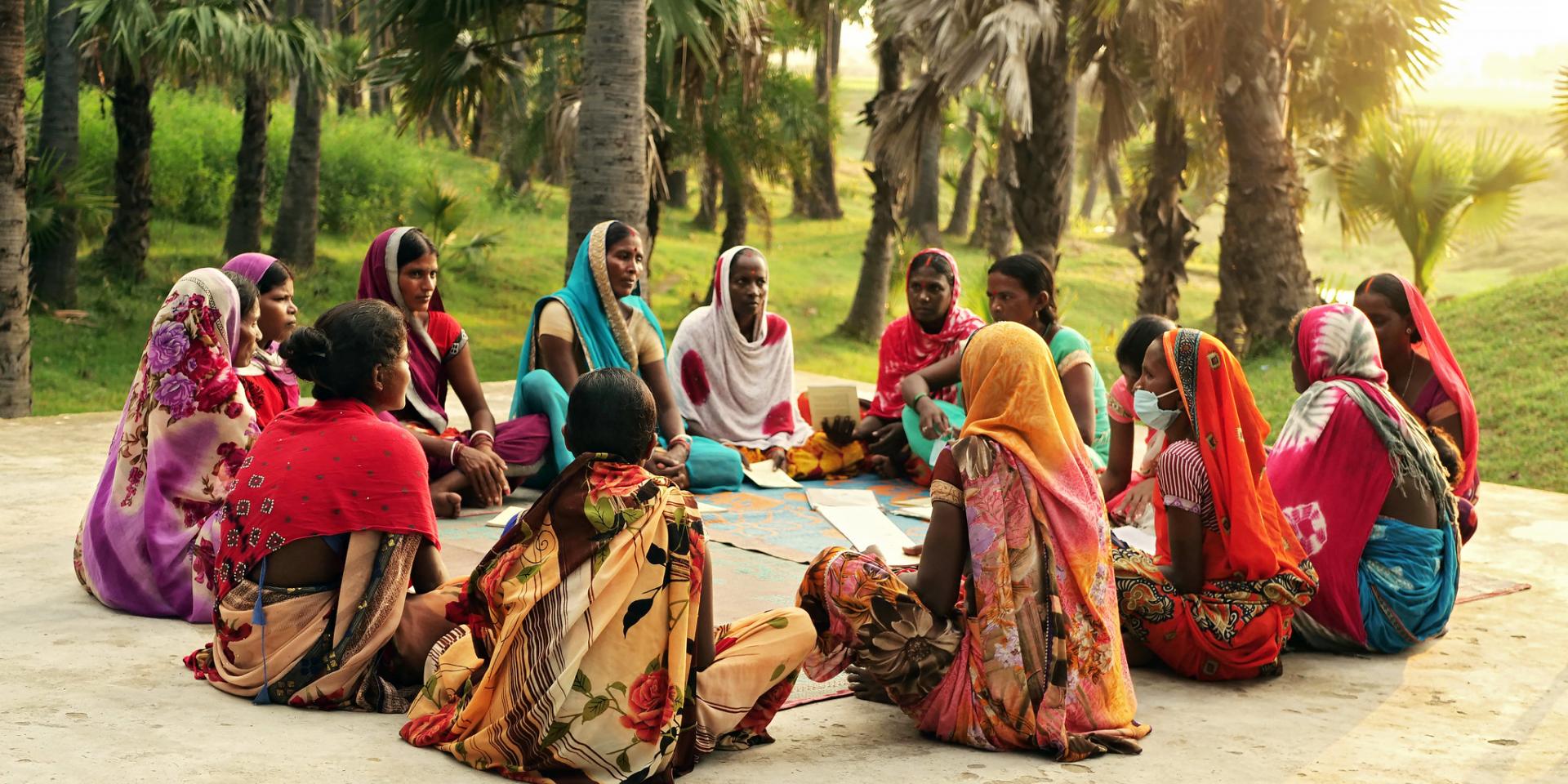 Group farming can benefit rural women by providing greater access to land; economies of scale; savings on hired labor; better access to credit, inputs and technical information; a diversity of skills; and greater bargaining power.
Bina Agarwal, Professor of Development Economics and Environment at the University of Manchester, made a strong case for group farming to empower rural women economically and socially at the opening plenary of the Cultivating Equality 2021 conference, organized jointly by the CGIAR GENDER Platform and Wageningen University. More than 1,100 delegates from over 100 countries registered to participate in the 60 sessions of the conference.
Also speaking at the opening session, Dr Claudia Sadoff, CGIAR Executive Management Team Convener and Managing Director, Research Delivery and Impact, said that partnerships like the one between CGIAR and Wageningen University were "key to delivering world-class research driving real systemic change and ultimately the transformation of food, land and water systems in a climate crisis."
Sadoff was preceded by Professor Arthur Mol, Vice-Chancellor of Wageningen University & Research, who emphasized the importance of the conference for progressing such discussions, debates, research and education on the gender dimensions in agriculture and food.
Sadoff went on to say that inclusivity is crucial in the race to transform our food systems:
"The World Economic Forum's most recent gender gap report concluded that it would take 135 years to achieve gender equality. This is an outcome we cannot accept."
That's why, added Dr Nicoline de Haan, CGIAR GENDER Platform Director,
"We desperately need to fill these gaps at a global level to be able move forward, and not continue talking about women being overburdened, but being more nuanced in this, and thereby moving the dialogue forward."
Professor Agarwal's keynote address did just that, focusing on the situation of rural women in India and her research on the power of groups cultivating together to transform smallholder farming.
Gender gaps in land ownership persist in India, despite gender-equal legislation
"I found that huge inequalities still persist between men and women in the ownership of farm land, despite significant legal reform," Agarwal said, referring to her analysis of the ICRISAT longitudinal data that followed households in 30 villages in nine states from 2010 to 2014.
Just 14 percent of landowners are women, and they own only 11 percent of the land in India, she said.
"This is surprising. In India, inheritance laws are today gender equal for almost 85 percent of the population. And yet, on the ground, the situation is very different. Social norms, especially those governing post-marital residence, and notions of social legitimacy continue to trump the implementation of gender-equal laws."  
"The question is: do women have other alternatives to accessing land?" asked Agarwal. "We tend to focus too much on women seeking to access land and inputs as individuals", she argued.
"What about accessing land in groups?" She suggested that women could lease in land collectively and farm it jointly. Group farming would involve pooling land, labor and capital, and sharing costs and benefits equitably.
Women leasing land to farm in groups has many benefits, but they aren't assured
Agarwal spelled out the many potential benefits of group farming for smallholders, such as providing greater access to land, economies of scale, saving on hired labor, better access to credit, inputs and technical information, a diversity of skills and stronger bargaining power in markets and with governments.
In addition, for women, Agarwal explained, group farming could bring further benefits by enabling them to overcome social restrictions on public interactions and providing them greater control over farm decisions. Overall, working in groups could empower women to overcome market failures and improve their productivity and profits.
Professor Agarwal also shared a photo of women belonging to a group farm in Kerala, India, operating a power tiller in a field. This photo, she explained, literally illustrates women's empowerment. 
"In most pictures you see women farmers bent over double in the field. These women are standing up, not bending over doing back-breaking work," said Agarwal.
Agarwal then presented findings from her detailed empirical research in two Indian states, Kerala and Telangana, in which she had examined if the all-women group farms could economically outperform individual family farms (95 percent of which were male managed). She had also examined if group farming empowered women socially and politically.
In Kerala, for example, she compared 69 women's group farms with 181 individual farms in the same districts and found that the groups did extraordinarily well. They had five times the net annual returns per farm and almost twice the annual value of output per hectare compared with individual farms. They did especially well in banana cultivation.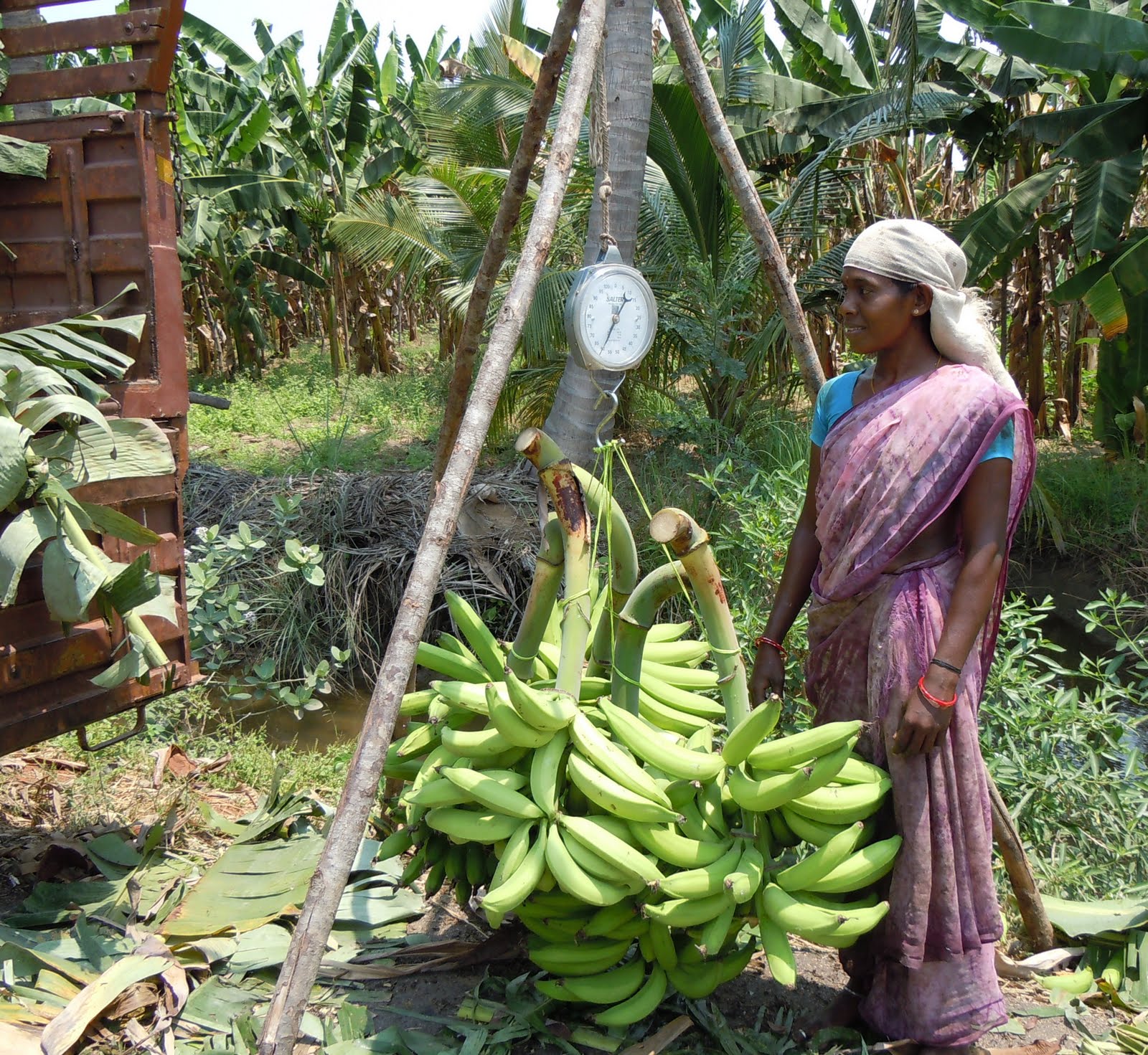 Telangana's group farms, however, did less well than individual farms in terms of productivity (their annual value of output per hectare was lower), but they did equally well in their annual net returns per farm, especially by saving on hired labor.
"Why did Kerala do so much better than Telangana?" asked Agarwal.
Ingredients for success: Ongoing state support, supportive institutions, small diverse groups and commercial farming
"Group farming is not just a magical innovation, it needs to be carefully nurtured and designed," explained Agarwal.
Kerala's groups had consistent and committed state support. They were connected via independent community development societies with strong negotiation powers on behalf of the women farmers. In contrast, state support for the Telangana groups ended after five years, and the groups lacked the kind of supportive institutional structures that Kerala had.
The Kerala groups were also small, with an average group size of six. The women were all literate, but came from different castes and religion. However, the Telangana groups had an average of 22 members, with a lower literacy rate (62 percent), and came mostly from disadvantaged Hindu castes.
"Importantly, the Kerala groups were heterogenous by religion and caste," Agarwal said. "This goes against the common assumption that homogeneity is necessary for effective cooperation. Here, heterogeneity provides a wider base of social capital in accessing land, and ensures leadership."
Agarwal explained that caste differences initially caused tension in some of the Kerala groups where upper caste women did not want to attend meetings in the homes of lower caste members. However, the problem was solved. The reluctant women were told that if they did not attend the meetings they would have to leave the group, which they did not want to do.
"They found that the benefits of cooperation were high and not worth losing over caste prejudice… Cooperation works when the advantages of cooperation are more than the disadvantages of putting up with people you don't always like or agree with."
Another factor differentiating the two states, Agarwal explained, was that in Kerala, commercial farming, including banana cultivation, was encouraged, while in Telangana there was an overemphasis on food grains, which were not best suited to the local ecology.
"Despite this, in both states, [the women] did well in terms of social and political empowerment," Agarwal noted.
Agarwal clarified that collective action does not necessarily involve conflict. Here the members belong to neighborhood groups and know each other. "This creates trust and reduces the likelihood of free-riding. They share the benefits equitably, as well as the costs."
"Working in groups also makes for happier farmers!" Agarwal added with a smile.
Women involved in group farming are more resilient when faced with COVID-related hardships
Agarwal's more recent research looks at the impacts of COVID-19 on Indian women. She found that women involved in group farming enterprises, like those of Kerala, did not suffer economically in the way individual farmers did, or their urban counterparts.
"Group farms did much better than individual family farms in terms of economic survival and food security under the COVID national lockdown in India," she said. "Most (some 87 percent) of the 30,000 women's farming groups in Kerala that had been cultivating collectively before the pandemic survived economically while large numbers of individual farmers lost out."
She explained that adequate labor for harvesting and the ability to sell their produce to women-run community kitchens gave the groups an edge over individual farmers who lost produce due to labor shortages or a lack of buyers.
Agarwal also pointed to newer group farms in east and west India that had formed during 2015-18 and were based on the principles outlined in her workshops and papers.
"These groups also report being more food secure than those doing individual farming," she said.
Elsewhere, Agarwal has noted that "these examples of working in groups hold important lessons for reviving livelihoods as India seeks new pathways for economic recovery. They highlight the critical importance of strengthening women-centered groups through government and NGO support."
Research needs to reach policy makers and the media to have widespread impact
At the end of her opening address, Agarwal was asked how she has had such a remarkable impact in changing policy and practice toward gender equality.
"It is important to take your research beyond academic forums to civil society and policy makers," she responded. "For example, when I write an academic paper, I also usually write an op-ed piece [for national newspapers] explaining my findings in simple language. Some of these efforts don't always get you academic brownie points… but if you want your work to have an impact you have to spend time sharing it in multiple forums."

"I have also directly engaged in policy making for many years, using my research. For instance, for my book on land rights, I taught myself inheritance law. So, in 2005, when an opportunity arose with a bill in Parliament, I was able to lead a civil society campaign to lobby for comprehensively amending the Hindu Succession Act. This is now gender equal and effectively covers as many as 500 to 550 million Indian women."
Researchers need to interact and learn from each other to create impact
Dr Sadoff echoed Professor Agarwal's ideas in her opening address when she talked about the great wealth of research and insights on gender that had been done—but warned of the need to do more to reach the UN's Sustainable Development Goal 5 to achieve gender equality and empower all women and girls. This is a goal that Agarwal is proud of helping develop.
"Continued investment is one key," said Dr Sadoff. "Understanding local communities and local actors, both men and women, and the embedded nature of gender relations is at the core of what we do."
The Cultivating Equality conference aimed to make the most of the power of diverse researchers coming together.
Dr Margreet van der Burg, Senior Lecturer and Researcher at Wageningen University and co-coordinator of the conference, summed it up when she said the conference offered opportunities for
"learning from each other, especially from all the inspiring approaches developed in lower- and middle-income countries to meet the challenges in higher-income countries in Europe. We need these to help us to advance our concepts, knowledge, methodologies, practice… for achieving our goals worldwide."
Through these interactions, our research will be "more relevant, more impactful, higher quality and will strengthen our capacities and networks," she said.
Dr Marlène Elias, co-coordinator of the conference and Leader of the Alliances Module of the CGIAR GENDER Platform echoed that
"What is exciting about this conference is that it is brought to life by all of you … from around the world; and will encompass research from around the globe, in the recognition that it is relevant to hear about each other's work even if it is rooted in a different region, country or continent; and that the commonalities and differences that we find each bring important insights to our work."
Read Professor Agarwal's recent papers: