GENDER insights
Learning from experiences in implementing gender transformative approaches in the fisheries and aquaculture sectors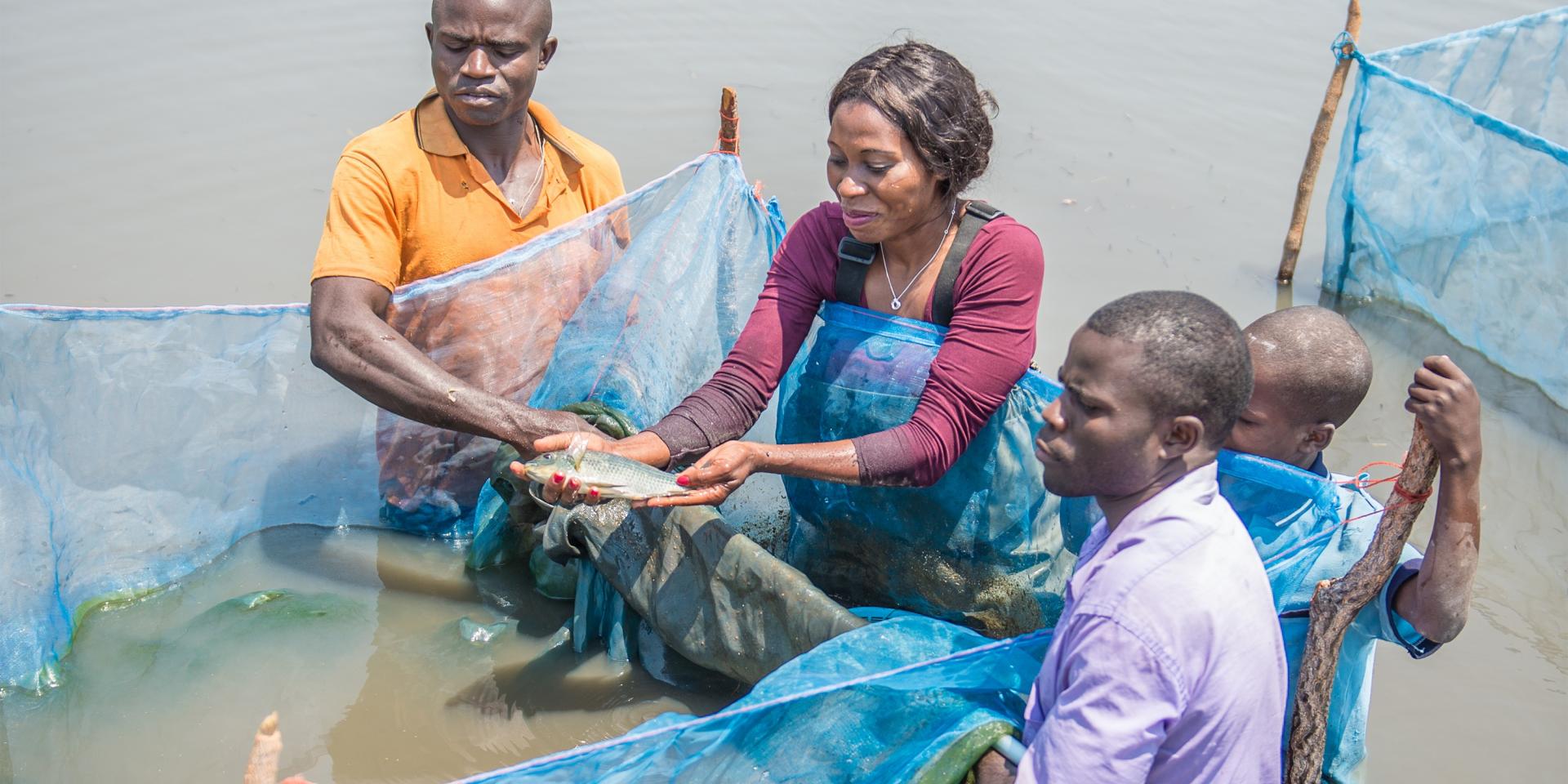 FAO and the CGIAR GENDER Platform hosted a technical learning webinar focused on sharing tangible results of gender transformative approaches (GTAs) applied in the fisheries and aquaculture sectors.
On 16 March 2021, FAO and the CGIAR GENDER Platform hosted a technical learning webinar organized in the framework of the European Union-funded Rome-based Agencies Joint Programme on Gender Transformative Approaches for Food Security and Nutrition (JP GTA).
The webinar focused on sharing the tangible results of gender transformative approaches (GTAs) applied in the fisheries and aquaculture sectors. The expert panel, moderated by Susan Kaaria, Senior Gender Officer, FAO, presented specific examples of how to apply and upscale GTAs for wider impact and to achieve gender equality and food security. It was attended by more than 150 participants, underscoring the interest of development practitioners in how to integrate these approaches in their own projects and programs.
Creating the grounds for institutional commitment
Ilaria Sisto, FAO's Gender and Development Officer, welcomed participants and explained how FAO's new Policy on Gender Equality 2020-2030 "underlines the need to go beyond 'business as usual' and to tackle the root causes of gender inequalities. In line with this imperative, the Policy recognizes the importance of adopting GTAs to ensure equal opportunities for all and sustainable food systems." She also highlighted that the use of GTAs is being widely promoted in FAO's new Strategic Framework 2022-2030 and stressed the need for continuous capacity development for staff and partners on this topic.
Speaking in her role as leader of the newly launched Working Group on GTAs of the CGIAR GENDER Platform, WorldFish Gender Research Leader Cynthia McDougall described how the Platform is facilitating collaboration between gender researchers. Running across all 14 CGIAR centres, the GENDER Platform enables researchers from a wide range of sectors to work together on generating evidence, creating methodological innovations and engaging in capacity development on the contribution of GTAs to gender equality and women's empowerment.
"Over the past decade it has become very clear, through research and M&E, that gender mainstreaming has not achieved the lasting impact we sought. That is where gender transformative approaches can make a difference and initiatives such as GENNOVATE that support the understanding of gender norms, and the design of interventions and policies, can help to address gender disparities in a more powerful way."
Presenting the JP GTA, Global Coordinator Hajnalka Petrics highlighted how,
"the socio-ecological model for gender transformative programming emphasizes that to achieve substantive gender equality and for norm change to be sustainable, the transformation has to happen across different scales – individual, household, community, organizations and policy – and involve multiple actors."
She also underscored the difference between GTAs and gender responsive or accommodating approaches that do not directly address the root causes of gender inequalities; in stark contrast to GTAs, which seek to understand, challenge and, ultimately, change discriminatory norms and practices to allow women to have the same opportunities as men.
Starting on the right foot
"I think of GTAs not as a tool or a method, or a specific approach, but rather as a process, a cycle with different phases of work," said Steven Cole, Senior Scientist at the International Institute of Tropical Agriculture.
He explained that GTAs imply the deep understanding of the norms and power relations that cause gender inequalities and gave an example on how GTAs in a small-scale capture fisheries project in the Western Province of Zambia yielded significant results to advance gender equality.
Steven Cole also explained that when designing gender transformative interventions, a strong emphasis needs to be placed on using different behaviour change communication strategies, including tailor-made drama skits, to bring together a diverse stakeholder group and trigger critical reflection on gender norms. He added that setting up a robust monitoring and evaluation process to assess changes over time in attitudes, norms and behaviour, was also key. Two years into the project, the use of GTAs resulted in a significant change in gender attitudes and women's participation in income generating activities, from processing to trading of fish.
Reducing normative barriers to embrace innovation
Discussing aquaculture technology projects in Bangladesh, WorldFish Senior Gender Specialist Afrina Choudhury shared insights from projects that sought to deliver new technologies to women at the homestead. Studies found that the women do not engage with new technologies in a vacuum, and there are influences from other actors and institutions.
"Technology interventions that target women alone may not necessarily enhance women's contributions to agriculture outcomes nor the benefit they derive from them," she explained. "Without social change, sustainability of impacts will also be limited. Gender power relations at every level affect the extent to which women can actually use and benefit from these innovations."
Afrina gave an example of nets that were piloted in 18 villages, designed specifically to help women catch nutrient rich smaller fish without taking much time or physical exertion. However, this new harvesting technology did not resolve the social stigma associated with catching fish, which is considered a man's job. In response, gender transformative tools were introduced to spark critical reflection and dialogue at the individual, household and community levels around the norm-related barriers that were hindering women's ability to use and benefit from this technology. As a result, men became more positive about women's involvement in aquaculture in general, and collaboration between women and men increased. This included men helping women with fish harvesting and helping out with household work.
Adopting a continuous learning approach
Applying GTAs requires time commitment, passion and the belief that transformative changes are possible, along with continuous capacity building and learning by all stakeholders. Implementers can expect some form of resistance to change, particularly from institutions that have not yet made the link between their sector, gender equality and food security, underlined Steven Cole. Since social change is a lengthy process, another challenge facing organizations is the relatively short timeframe within which agricultural development projects are implemented.
Audun Lem, Deputy Director for the Fisheries Division, FAO, closed the event by placing emphasis on the "strong commitment of the FAO Fisheries Division to achieve gender equality and to embed gender transformative approaches" in its technical work, as well as his "personal commitment to contribute to the gender transformative agenda". He noted the importance of achieving gender equality to deliver greater impacts for the sustainable livelihoods of women and men involved in the fisheries and aquaculture sector and welcomed the collaboration with the JP GTA and the CGIAR GENDER Platform to "make the work of the FAO Fisheries Division even more innovative and impactful in the coming years".
This post first appeared on FAO.org.