Canada's concept of Gender-based Analysis Plus
This awareness-raising course introduces an analytical process introduced by the Canadian Government to help people identify inequalities built into policies, programs and initiatives so they can be removed to make them inclusive.
The course is available in English and French.
What will you learn?
The key concepts of Gender-based Analysis Plus (GBA+)
Understand that how people define themselves can influence their experience of government initiatives
Identify how applying GBA+ can improve how effective and successful initiatives are
Understand how GBA+ concepts and processes might work by applying them in a scenario
What resources do you need to do it?
You need an internet connection and a computer with a web browser. You do not need an account or login.
More about this training
This self-paced course takes 2 hours to complete.
There are five modules, followed by a quiz to test your learning and three optional modules. The course is supplemented by several short videos (called microlearning videos on the site). The course works through a definition of Gender-based Analysis Plus (GBA+) an analytical process used in some Canadian Government agencies to assess systemic inequalities, and assess how women, men and gender-diverse people may experience policies, programs and initiatives. It shows how it might be applied to improve the design, implementation and effectiveness of initiatives.
Who can I contact for more information?
You may contact Women and Gender Equality Canada.
Access this course now in:
Publications
Training Material
Paris, T. R, 'Promoting gender equality and empoweringn women in agriculture', Presented at the Gamma Sigma Delta 50th Celebration, SEARCA, March 6, 2007, 2007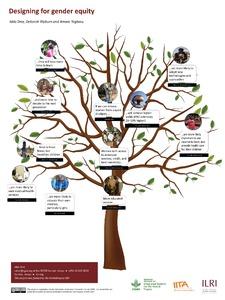 Poster / Presentation
Dror, I., Wyburn, D. and Tegbaru, A. 2016. Designing for gender equity. Poster. Nairobi, Kenya: ILRI.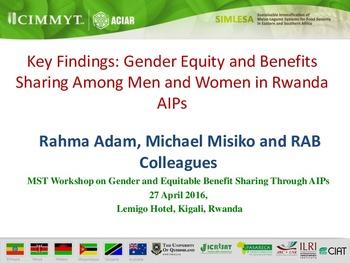 Poster / Presentation
Adam, R; Misiko, M, 'Key Findings: gender equity and benefits sharing among men and women in Rwanda AIPs', CIMMYT, 2016