GENDER insights
Evidence, participation and policy inclusion key to making women agents of change in global climate responses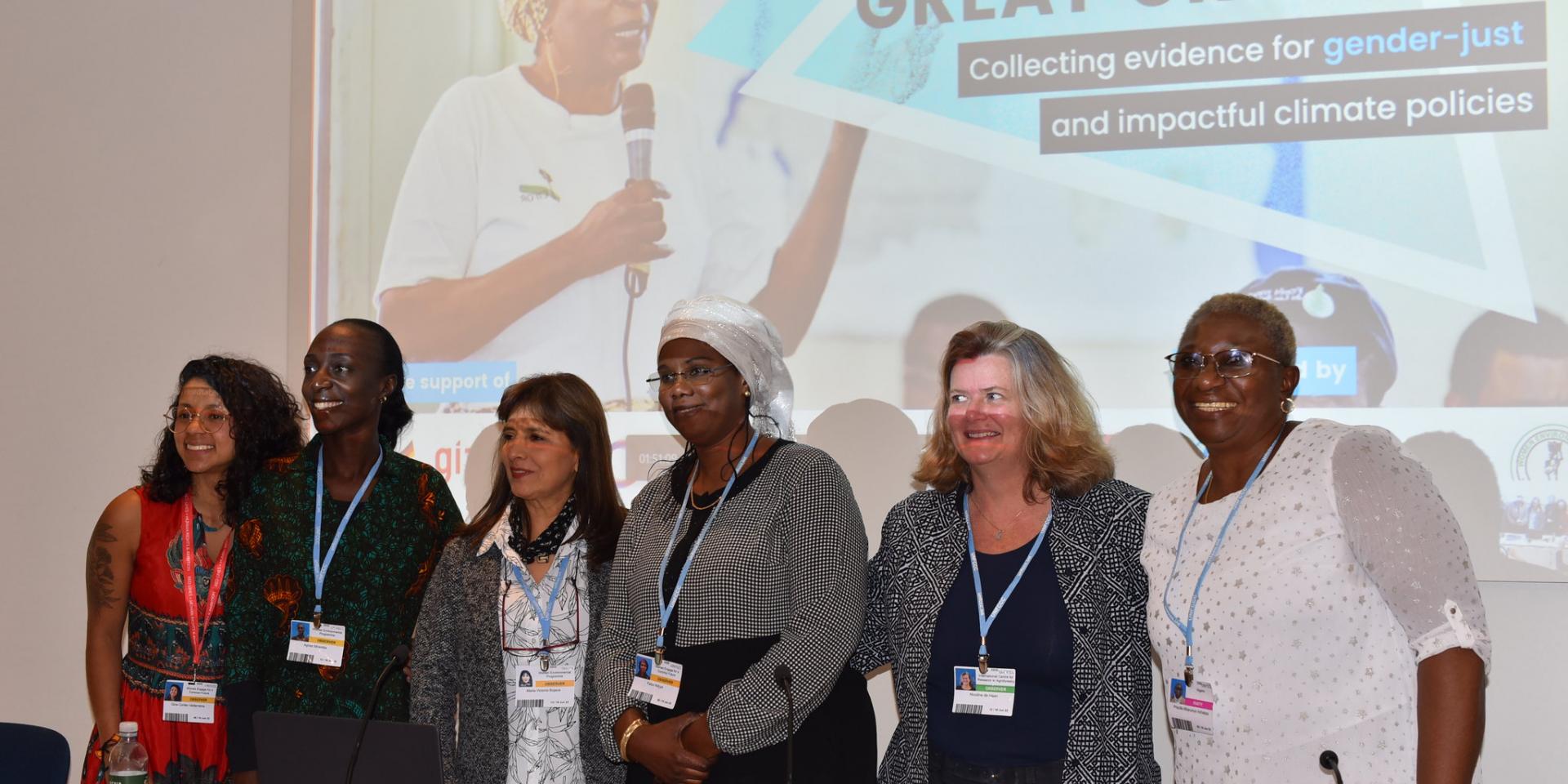 Climate change is devastating for the communities of Senegal's Saloum Delta, as it increases soil salinity, erodes coastal mangroves and reduces biodiversity, including fish populations.   
The depleted coastal fisheries, along with the boom in fish-meal factories that provide for the world's farmed salmon and sea bass, means there is less fish available for the 700,000 Senegalese workers who depend on this industry. 
This fishery depletion affects Senegal's food security, given 80 per cent of the protein consumed in Senegal comes from fish. With men migrating away from the coastline to find work, this reinforces hardships for women.
In situations like this, women often find themselves alone dealing with multiple crises related to climate, social and economic impacts. 
But in Senegal, according to Ms Fatou Ndoye from Enda Graf Sahel, women have been actively putting in place strategies to adapt to and reduce the impacts of climate change.
Ndoye was speaking on the 14th June at a live streamed official side event to the United Nations Bonn Climate Change Conference: High stakes, great urgency: collecting evidence for gender-just and impactful climate policies. The event was co-organized by the CGIAR GENDER Impact Platform, Women Engage for a Common Future (WECF) and the Women Environmental Programme (WEP).
Change in women's ability to tackle climate change requires an evidence base
Women are often the most overburdened by climate change impacts, noted another speaker Dr Nicoline de Haan, Director of the CGIAR GENDER Impact Platform.
"But women are strong agents of change, despite this added burden," she said. "This is why data and research are so important. We need this to move the conversations forward from being only emotionally based."

"We need an evidence base and rigorous methodology, otherwise there will not be transformative change," de Haan said.
One such evidence base is GENDER's new climate-agriculture-gender map of inequality hotspots. The map reveals the regions women are hit hardest, with the 15 hottest spots being in Africa. 
"This map provides evidence of where inequalities are growing, which means we can pinpoint where to invest scarce resources to benefit the most at-risk populations, including women," said de Haan.
Women's inequality results from power imbalances, patriarchy and political challenges
The challenges for women, especially those working in poor rural areas, are many said Ms Agnes Mirembe, Executive Director of Action for Rural Women's Empowerment (ARUWE), also speaking at the Bonn event.
"The role assigned to women in Uganda is to make sure everything in the household is attended to, including food preparation, which needs energy," she said. "Most women need to walk up to two to three kilometres to look for firewood. They spend so much time looking for firewood, cooking and caring for children."
This overburden of household work means women lack time to access information on renewable energy and significantly participate in the renewable energy value chain. 
"Men dominate, which makes it very difficult for women to participate," added Mirembe. "Women lack access to tools, resources and technology."
This social inequality is also reflected in the situation for poor women in Colombia who seek to recycle urban residues to gain an income.
Ms Maria Victoria Bojacá from ENDA in Colombia explained that these women lack any form of social security and are subject to strong discrimination due to patriarchal norms and cultural stereotypes.
"They feel fear working on streets due to the violence that is there and also within their home and households," she said. "Violence is normalized for them."
These Colombian women also lack time, working 10 hours a day on the street as well as caring for their family and children. 
"The political system is very patriarchal and there is very little support for women," explained Bojacá. 
Providing opportunities for women to participate is key to creating change
In Senegal, Enda Graf Sahel has been active in using evidence of women's workload to help create change. They ran focus groups with male and female community members and surveyed 200 households to document the burden of domestic tasks that women are overloaded with. 
"We looked at women's daily routine and found they started work at 3am and finished at 9pm," said Ndoye. 

Enda Graf Sahel presented this information to the men in the communities who then "realized they could share some of these responsibilities, such as irrigation, collecting wood and taking children to school."
This has freed up women to be better able to participate in local policymaking and use their ancestral knowledge in actions such as replanting mangroves. 
In Uganda, WECF worked with ARUWE to help set up women's cooperatives for producers of maize and greens. This included building women's capacity in renewable energies and ability to use fuel alternatives. For example, they were able to replace wood with briquettes made from agricultural residues and organic materials like rice husks, sawdust and chaff. 
"We have also trained them in installing solar PV and small biogas equipment so they can construct their own water pumps and stoves," added Mirembe. "We encourage them to test the technologies themselves."

"If there are 50 households, they can support each other to build a biogas plant, for example," she added.
In Colombia, a community solidarity model tested in Bogota enabled women to participate more equally in their area. Here women learned about women's human rights, public participation, and sustainability, gaining confidence and autonomy to protect their territory.
The women are "breaking the patriarchal structures and tackling multiple causes of discrimination. They are officially being recognized as public and environmental agents of change," said Bojacá.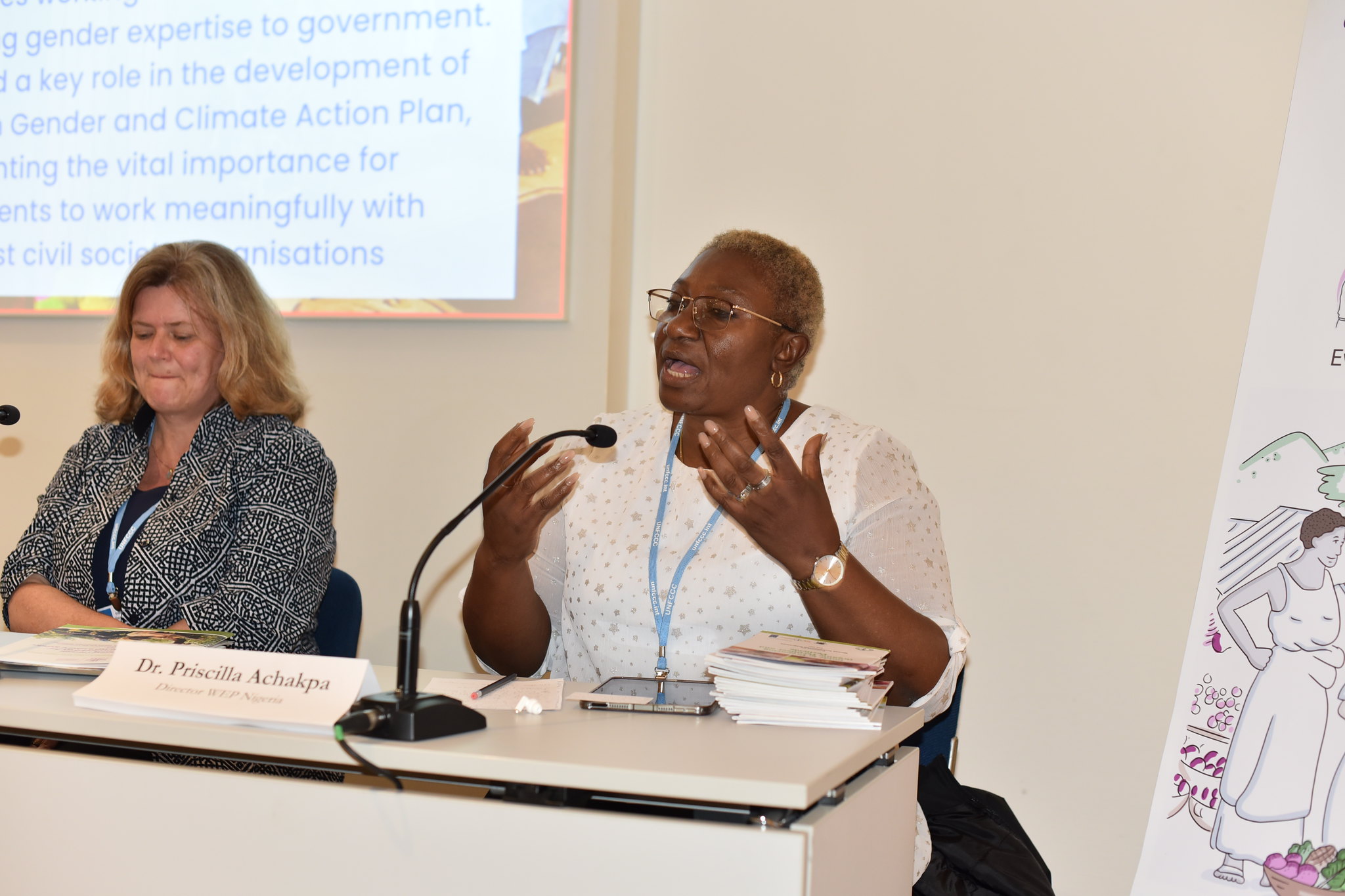 Once women can participate in climate change policies, they are better able to promote policy and societal change. 
Dr Priscilla Achakpa from WEP in Nigeria underscored that it is important for civil society and governments to work together. With the Nigerian government, WEP consulted civil society, feminists, businesses, and academics. 
Over five years, this led to the Nigerian Government adopting a Gender Action Plan (GAP) on gender and climate change. 
"A lesson we learned is that if civil society is able to push government along with activists there can be change," explained Achakpa. "We continued to push and push and were the first country in Africa to have a GAP." "Grassroots engagement is so important for national action… People need to be at the center of policies for them to happen," she continued.
In Uganda, rural women have increased their ability and right to participate in lobbying for renewable energy to be put on the national agenda. 
"They are participating locally, but also nationally in demanding safe renewable policies," said Mirembe. 
Likewise, the solidarity model in Colombia is supporting women's political advocacy. 
"These women have achieved recognition in local policies about the importance of recycling," recounted Bojacá. "Each kilogram of waste is generating USD$20. They have demonstrated and lobbied about this work and how it has delivered climate change benefits."
For Senegalese fisher women with more time available, it means they can be trained in policy matters.
"They have started to be elected in local fisheries committees, when before it was only men," Ndoye said. "They are now in fishing and public policy committees and can defend their rights."
Such stories are important for creating transformational change. But they need to be backed up with rigorous evidence, especially from qualitative data, de Haan said.
"For example, we still do not know a lot about whether today's agricultural climate change solutions actually work for women or if they have been designed only with men farmers' needs and preferences in mind," she explained. 

Having both stories and evidence will mean "making the invisible visible, which is when real transformation can happen."