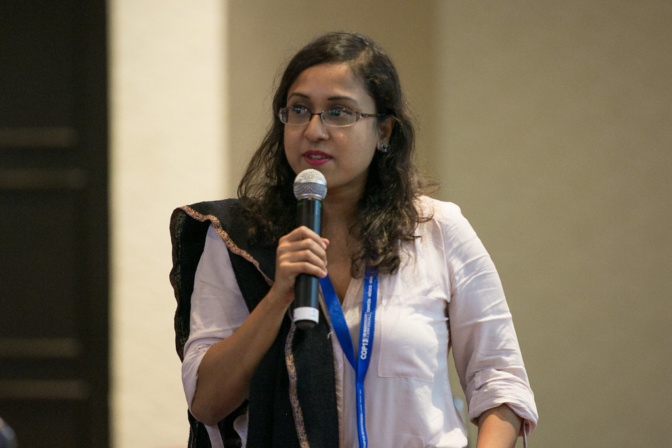 During the Seeds of Change conference, we approached several personalities from the 'Gender in Agriculture' crowd to interview them on their work, on their insights about the conference and their outlook on the next frontiers of our field of research. Find an overview of all conference related outputs here.
In this interview, we feature Afrina Choudhury, research fellow and senior gender scientist at the WorldFish Center. She reflects on the need to draw inspiration from the wider field of gender research and adopt novel ways of operating.
What is exciting about this conference, its contents and the fact that for the first time the CGIAR community is also mixing up with the wider 'GenderInAg' community?
It was really exciting to have this conference hosted by an external academic institution where so many like-minded CGIAR and non CGIAR gender scientists and practitioners gathered and networked. It was also inspiring to be able to hear from renowned scientists like Naila Kabeer, Carolyn Sachs, and so many others.
What have been your conference highlights and what has inspired you to try back home/to your work?
I always get inspired by these conferences organised by the Gender Platform. This was the third conference I attended and I always go back with new ideas, be it on my presentation, my methodology or my fieldwork. I really enjoyed the views expressed from male scientists on masculinities and took back great insights about gender in value chains, an area I am interested in.
What do you see as one of the 'next frontiers' of gender in agriculture research in the next few years?
I see intersectionality as something really important and that still needs to be systematically picked up and utilised. Gender Transformative Approaches are also picking up and there is a lot of interest in better understanding this approach and collecting the evidence that this approach also works better. One thing that rung in my mind was a comment made by one of the participants who said something about the need to be more disruptive in our work. I couldn't agree more.
We need to do try new things, things that are maybe even shocking and these can maybe spark change.