GENDER insights
Why climate finance for agriculture and land use must be more gender responsive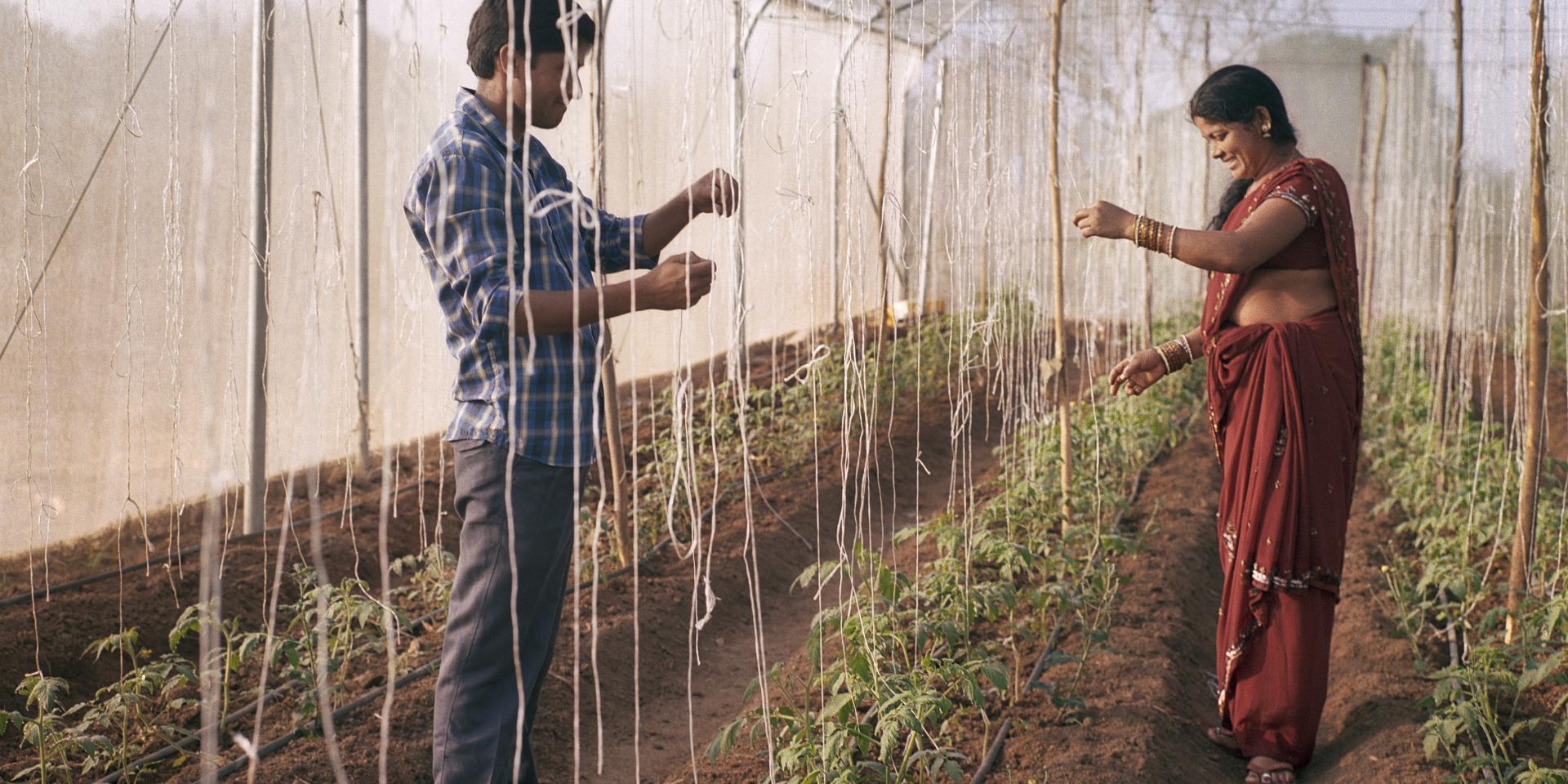 If climate finance becomes more gender responsive, agriculture and the women engaged in it can deliver critical climate change action. Here are the top three things to know.
Climate finance directed to the agriculture and land-use sector—despite the sector's obvious and extreme vulnerability to climate-related stressors like droughts, heat waves and flooding—is currently far below the levels necessary to meet the goals of the Paris Agreement and limit global warming to 1.5 °C.
This shortfall is even more notable considering the sector's significant contributions to climate change itself. While the sector produces around one-quarter of all annual greenhouse gas emissions, climate finance to the sector totaled about 2.5 percent of all climate finance in 2019 and 2020 (just US$16.3 billion) [using tracked finance information].
However, climate finance committed to the sector has the potential for 'triple benefits', because adopting climate-smart agricultural practices and technologies can:
reduce resulting greenhouse gas emissions (mitigation)
improve resilience to existing climate impacts (adaptation)
improve socioeconomic conditions for agricultural workers and their communities through increased income and productivity
Such outcomes are particularly desirable in emerging markets, with the agricultural and land-use sector playing a major role in economies that are on the frontlines of the climate crisis.
Given the current lack of financing, it is critical that climate finance committed to the sector, including that which will need to be committed in the coming years, is deployed in the most effective manner possible to those who need it most.
Since women make up about 45% of workers in the sector (often a higher proportion in places like sub-Saharan Africa), gender-responsive climate finance—that is, climate finance that specifically takes into account the different realities, needs, strengths and vulnerabilities of women and men—has a major role to play.
Below, we present three key findings regarding the current state of gender-responsive climate finance in agriculture and land use, touching on key challenges, important opportunities and resources for improving how gender considerations are integrated into climate finance for the sector.
1. The economic and environmental benefits of gender-responsive climate finance in agriculture and land use are well understood, and a business case is emerging.
Women's roles within their own businesses, households and communities means they are uniquely positioned to further amplify the triple benefits mentioned above.
Evidence shows us that women are more likely to adopt climate-smart agricultural practices than men, reinvest more of their own income into their families/communities, and may even adopt more resilient cropping strategies based on their insights into household resource management.
There is likewise growing evidence for the business case of gender-responsive climate finance in the sector. By improving women's access to financing, advanced inputs and other services (like weather forecasting), climate finance can help to close the gender gap in agriculture.
This could raise global agricultural yields by as much as 30 percent—representing not only an impact opportunity for addressing food shortages around the world, but also a business opportunity for people throughout agricultural supply chains.
Women-owned businesses currently face a financing gap of approximately US$1.7 trillion, meaning they also represent an untapped market for financial service providers.
This is especially noteworthy considering recent evidence that loans to women in agriculture may be less risky than those made to men. For example, a 2022 report from Root Capital, a nonprofit impact investor, describes how the organization's loans to women-led agribusinesses were less likely to default, and therefore more profitable, than those made to comparable businesses led by men. Nonetheless, additional research is necessary to fully convince still-hesitant investors.
2. While institutional approaches are still developing that integrate disparate gender and climate strategies, a strong community of practice and cross-stakeholder initiatives can help ensure that promising approaches, benchmarks and lessons are discussed
Public financiers often have separate strategies related to gender, climate and agriculture, meaning financing seldom targets the nexus of all three. Development finance institutions, national government agencies and multilateral climate funds are still exploring strategies to address these challenges in tandem but, not surprisingly, the current lack of unified approaches or shared definitions for gender-responsive finance poses a challenge.
Without agreement on fundamental details like the definition of a woman-led business, programs are difficult to compare, benchmark, report on and evaluate.
Fortunately, public and private investors alike appear to be moving toward a more unified state of affairs. Cross-stakeholder initiatives like 2X Global (formerly 2X Collaborative) have made notable progress in encouraging institutional investors, development finance institutions and philanthropic organizations to sharing definitions, resources and approaches.
In particular, their 2X criteria have been widely adopted as a useful baseline for defining 'gender-lens investing'. The criteria illustrate that gender-responsive finance can take many forms, such as: improving access to finance for women and their businesses, supporting organizations that promote gender-inclusive employment practices, or supporting the design of goods and products that specifically benefit women.
Meanwhile, their other toolkits and communities of practice help to encourage gender-responsive investments in relation to specific sectors and disciplines, including climate.
3. While unified approaches to implementing and monitoring gender-responsive financing take form, major actors should continue to prioritize their support for locally experienced intermediaries.
Impact investors and locally based NGOs currently help to address a variety of challenges faced by higher-level investors like development finance institutions, thereby playing a critical role in the effective delivery of gender-responsive climate finance in the agriculture and land use sectors.
Thanks to the close relationships that develop through their ongoing work on the ground, these organizations support development by identifying promising and impactful investment opportunities.
Such investment groups also provide a convenient solution to challenges related to minimum 'ticket size' requirements. Many development finance institutions, for example, have minimum ticket sizes in the tens of millions of dollars—far larger than their ideal intended recipients (women-led agribusinesses, for instance) can manage.
Intermediaries like impact investors have a valuable role to play because they are well positioned to manage and distribute such large amounts of capital across their portfolios. For example, FinDev Canada, Canada's development finance institution, invested in a women-led impact venture fund which in turn allocates this capital to women-led small- and medium-sized enterprises working to support biodiversity and protect fragile ecosystems in the agriculture and agroforestry sectors.
Additionally, these groups hold valuable context-specific knowledge of local gender norms—such as those related to land tenure, which can be a significant obstacle for women in rural areas. Therefore, impact investors and locally based NGOs are well placed to design gender-responsive interventions that are adapted to the local context and avoid unintended consequences.
Next steps: gender-responsive climate finance will only increase in importance
As global institutions continue to adjust investment strategies in light of the climate emergency, gender-responsive approaches are positioned to play an increasingly important role in ensuring that climate finance is effectively distributed to the people and sectors that need it most.
Through initiatives like 2X Global, international investors must continue to:
seek alignment in the gender-responsive approaches they employ and the reporting that is expected of them
engage with financial intermediaries, government and academic partners
In doing so, investors can play an essential role in supporting and further illustrating the business case for gender-responsive investments.
Through these efforts, stakeholders of many types can take advantage of the reality that although the agricultural sector and the women within it are among the most vulnerable to climate impacts, they simultaneously hold the greatest potential to deliver the changes now needed.