Tool
Gender in Agricultural Mechanization: key guiding questions from design to impact
This tool guides researchers using key questions that encourage them to consider the gender implications of interventions involving farm machinery. 
Why is the tool important?
Research shows that farmers who benefit most from farming mechanization are wealthier, and usually men - despite women's strong interest.
To identify the best ways of expanding women and men farmers' access to mechanization, researchers need to carefully consider gendered needs and implications - from project design to impact assessment, and throughout the agricultural cycle - or risk contributing to inequalities.
Who is the tool for?
The tool is for researchers. 
How can I use the tool?
The tool provides a comprehensive list of questions and follow-ups; and five case studies on the interface between gender and mechanization in roots, tubers and bananas in Uganda, Nigeria, Peru, Bolivia and Vietnam.
When and how was it developed?
The tool was developed by the International Potato Center (CIP), as part of the the CGIAR Research Program on Roots, Tubers and Bananas (RTB), in collaboration with GENNOVATE 2018.
It is yet to be piloted.
Where can I get the tool? Who can I contact?
Access the tool here [1.6 MB]. 
Lone Badstue
Kawarazuka , N, Prain , G, Forsythe, L, Mayanja , S, Mudege , NN, Babini , C, and V Polar. 2018. Gender in Agricultural Mechanization: Key guiding questions. Lima, Peru: CIP.
Publications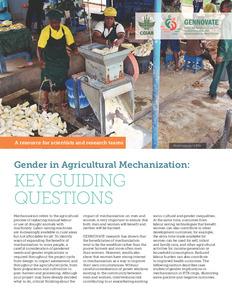 Brief
Kawarazuka, N., Prain, Gordon, Forsythe, L., Mayanja, S., Mudege, N.N., Babini, C., Polar, V. (2018). Gender in Agricultural Mechanization: Key guiding questions. Lima, Peru: CIP.
Scientific Publication
Theis, Sophie; Sultana, Nasrin; Krupnik, Timothy J, 'Overcoming gender gaps in rural mechanization: Lessons from reaper-harvester service provision in Bangladesh', International Food Policy Research Institute (IFPRI), Washington, DC, 2018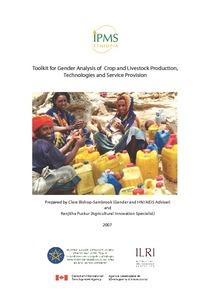 Training Material
Bishop-Sambrook, C.; Puskur, R. 2007. Toolkit for gender analysis of crop and livestock production, technologies and service provision. Nairobi (Kenya): ILRI.