Engendering Data Blog Post
GenderUp: a conversational tool for achieving more inclusive impact from innovations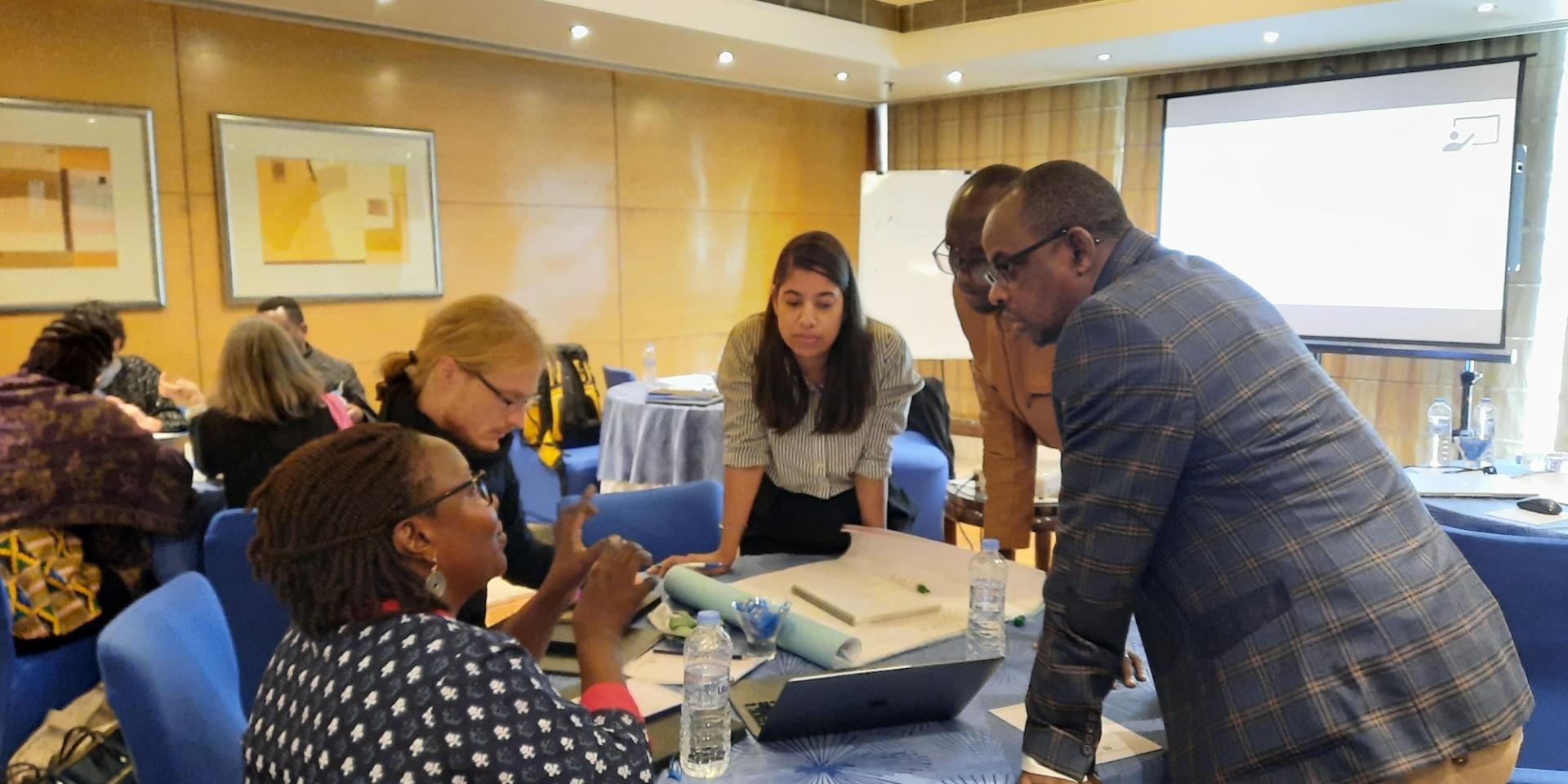 Although innovation scaling often focuses on the numbers for uptake, the quality and nature of impacts are a secondary concern. To improve the equity of scaling, we developed a tool that helps teams reimagine their scaling process to create responsible, inclusive, gender-responsive and tradeoff-aware strategies.
What is successful scaling?
Research and development project teams are consistently looking for ways to achieve sustainable and equitable impact. Achieving this impact often includes developing an innovation, testing that innovation and—if successful—scaling that innovation.
Discourses about successful scaling tend to be about quantity—the numbers of people that adopt an innovation—and usually have a single focus on achieving a certain outcome. The quality or nature of diverse impacts on users caused by adopting the innovation often remain underexposed.
Here, we argue that successful scaling is, first and foremost, responsible scaling. Responsible scaling strategies:
are inclusive and reflexive
respond to social differentiation and are thus gender responsive
anticipate the trade-offs which are inherently associated with doing things in a different way
aim to mitigate potential negative effects that large-scale adoption of a certain innovation might cause for particular user groups and for non-users
Several organizations have developed scaling support tools in the domain of agricultural research and innovation for development over the past decade (e.g., CIMMYT's Scaling Scan, CGIAR's Scaling Readiness, and U.S. Agency for International Development's Agricultural Scalability Assessment Toolkit). Although the methods are helpful for developing more effective scaling plans and strategies, they do not address key social considerations necessary to address SDGs focused on improving the lives of particularly vulnerable populations. To fill this gap, several CGIAR centers and Wageningen University partnered from 2020 onwards to develop GenderUp.
GenderUp is a conversational method which supports innovation teams to develop responsible scaling strategies, which we essentially perceive as detailed work plans to guide scaling efforts of an innovation in a specified context.
Over three interactive, short workshops, the 'GenderUp journey', innovation team members are invited to first formulate their scaling ambition, then to think through key dimensions pertaining to that ambition. The workshops include facilitated discussions, a survey-like exercise, and sensitization on topics such as scaling and gender to strengthen team members' capacities. This ultimately results in creating a new or improved scaling strategy—one that is responsible and inclusive—because it considers what different kinds of users need to make use of the innovation, and anticipates potential negative consequences for users and non-users of the innovation across different scales. Each of the three workshops requires 2–3 hours to complete. The three workshops can either be completed in one day or over the course of several weeks. The workshops are facilitated by a trained GenderUp facilitator and can be held either in person or virtually.
A key feature of GenderUp is the innovation team identifying what we call relevant diversity. Relevant pertains to the particular innovation to be scaled and the context in which it is to be scaled. The survey-like tool integrated into GenderUp helps innovation teams to distill and refine which social dimensions—individual or group characteristics—are most likely to affect adoption of the innovation and result in positive impacts of its use. Many dimensions beyond gender—such as marital status, geographic location, and land ownership (and whatever is relevant for the particular context), are explored in this way. The next step dives into how these dimensions intersect with each other and with gender to determine the impacts of the innovations; and brings out which social groups may be at risk of being missed by scaling efforts or of being harmed by the innovation's use at scale by others.
GenderUp has been piloted by three teams at the end of the development phase (2021–22): a private company in Rwanda marketing an innovation to determine if dry food is dry enough to prevent mold, and by two CGIAR teams to scale innovations in seed-potato value chains in Ethiopia and cassava-processing machinery in Nigeria respectively. Twenty-six prospective GenderUp facilitators were trained in December 2022, and some of these people have applied GenderUp in contexts and settings beyond the supervision of the GenderUp development team. In October 2023, an additional 16 prospective facilitators were trained, some with concrete plans to implement GenderUp in their projects.
To help further mainstream GenderUp, the U.S. Agency for International Development (USAID) Feed the Future Innovation Lab for Horticulture at the University of California, Davis, has joined to assist in scaling GenderUp. This will involve creating a more user-friendly version of GenderUp, updated sensitization material for capacity strengthening, and additional resources to train GenderUp facilitators.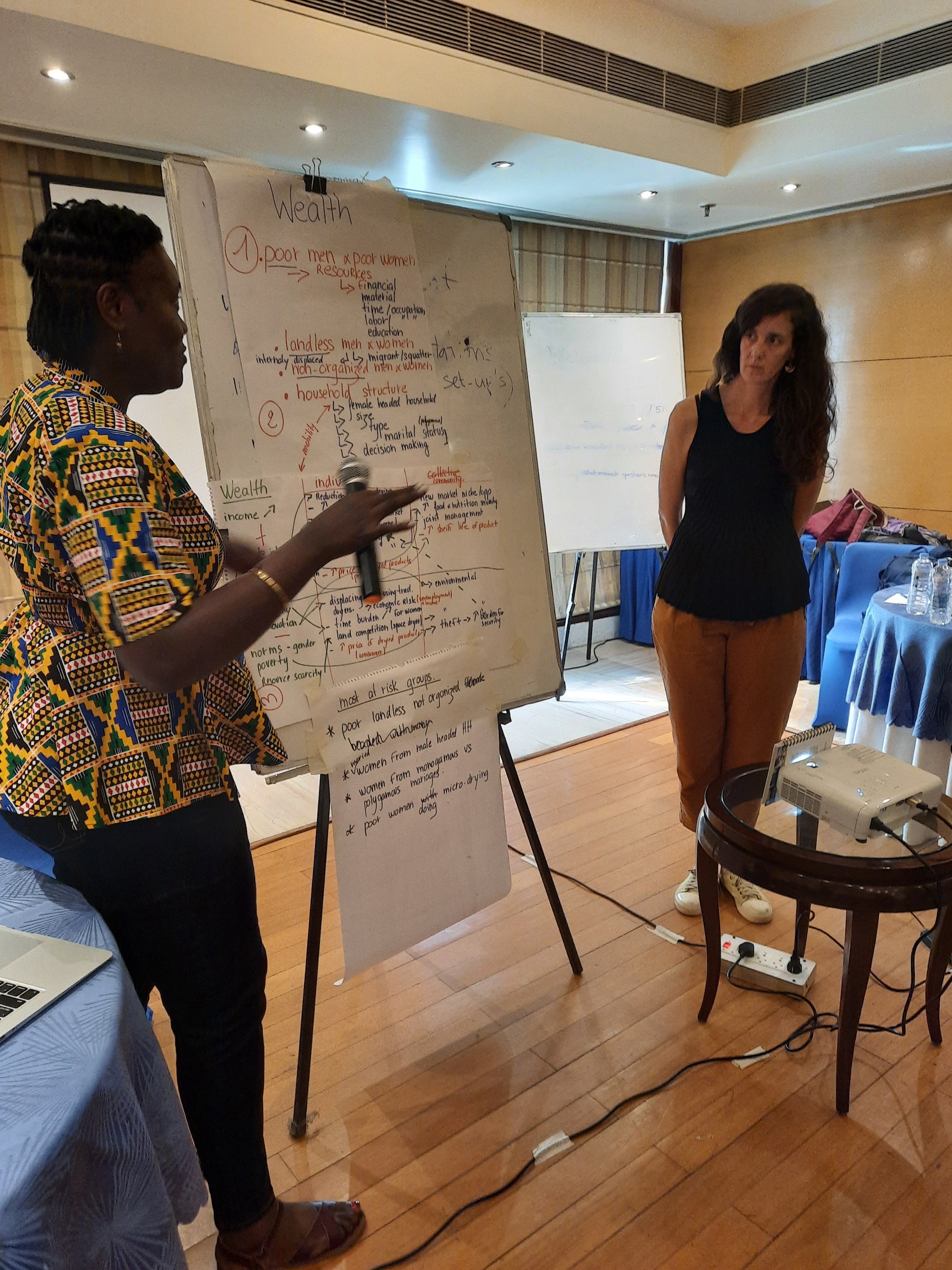 Applying GenderUp to scale an innovation in Malawi
Katheryn Gregerson (University of California, Davis) applied GenderUp to a project supported by the Feed the Future Innovation Lab for Markets, Risk and Resilience and led by a team of researchers at Lilongwe University of Agriculture and Natural Resources, Malawi. It is testing a digital marketplace app that connects smallholder farmers to buyers for their horticultural crops.
After taking part in GenderUp facilitator training led by the Innovation Lab for Horticulture, Katheryn was eager to see the impact this tool could have on the Malawi team's scaling strategy. GenderUp seemed especially relevant for the horticulture marketplace app, because the innovation is meant to help overcome limitations faced by producers, especially women, when transporting and selling produce in local markets.
Through the interactive and participatory GenderUp process, the seven-person research team from Malawi (including faculty researchers, graduate students and application developers) discussed what was missing from their existing scaling strategy and identified their purpose for scaling—something they had not done before the workshops. Through the survey-like activity, the team came to consensus on three user groups with different characteristics that were the most excluded from the full benefits of the marketplace app in their original scaling strategy (users with a low level of education, those under the age of 12 and over the age of 50, and those with low levels of income). The team then discussed further disparities those people might experience because of gender.
With these new lessons in mind, the team developed mitigating activities—such as changing the timing of training, developing a drama to better market the app to people with low levels of literacy, and forming partnerships with the private sector—that would help ensure the groups can equitably receive the benefits of the marketplace app.
The Malawi innovation team provided positive feedback after completing the GenderUp workshops. They wrote that they were more familiar with issues concerning gender, scaling innovations, and complementary innovations for their app. One participant came away with a powerful realization. She wrote:
"What I appreciated the most [about the GenderUp process] was that we received actionable strategies to include people from different social groups in using our innovation. It also made me think deeply about how important small inclusion activities are in making our innovation more scalable."
What next for GenderUp, and how can you get involved?
GenderUp has received widespread interest from gender experts, researchers and project implementation teams across the globe who are interested in scaling their innovations more responsibly and effectively.
If you are thinking about scaling an innovation and want to maximize the sustainability and equity of your impact, we encourage you to learn more about GenderUp by visiting our website at https://genderup.ucdavis.edu/
If you are interested in GenderUp facilitator training, please fill out the form on our website or email us at genderupforscaling@gmail.com