GENDER insights
Strategies and resources for addressing gender-based violence in agriculture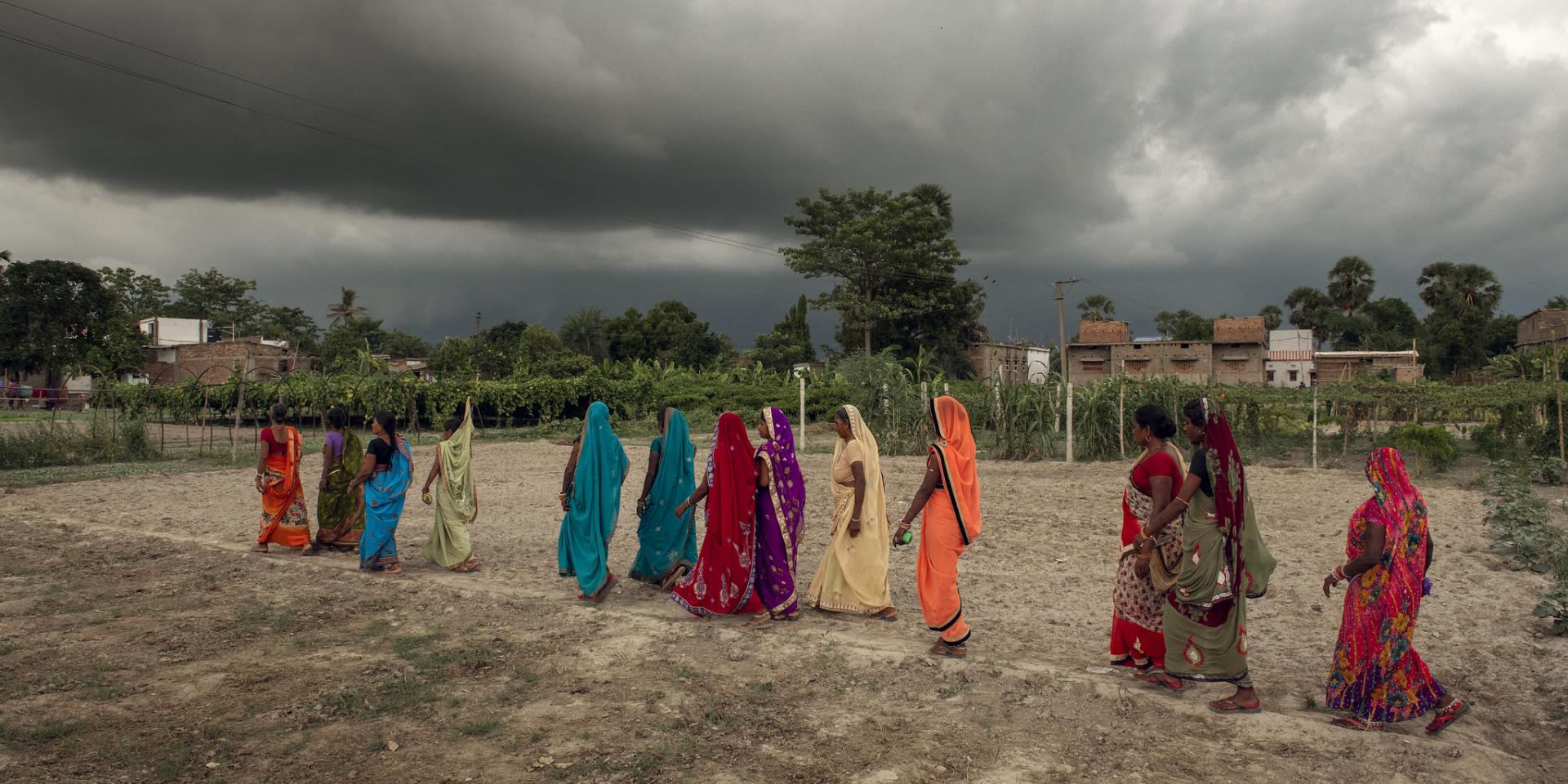 Gender-based violence is an underrecognized reality, and researchers and practitioners working in agricultural development need the right strategies and tools to address it.
"There are cases that a husband sells goods belonging to his wife without asking for her consent, and she cannot ask for any account, otherwise she will face the risk of being beaten," said Shalini Roy, Senior Research Fellow at the International Food Policy Research Institute (IFPRI), quoting qualitative research from Mali. Roy spoke in a recent webinar co-organized by the CGIAR GENDER Impact Platform and the Feed the Future Advancing Women's Empowerment (AWE) Program.
The webinar gathered expert speakers from both CGIAR and Feed the Future to shed light on what gender-based violence (GBV) is, what it looks like when encountered in agricultural development projects and practical steps for how researchers and practitioners can address it and help protect the survivors they meet in their work.
The World Health Organization (WHO) estimates that about 1 in 3 women worldwide experience physical or sexual violence from an intimate partner or non-partner sexual violence in their lifetime. Intimate partner violence is the most common form of GBV, accounting for 30 percent worldwide, one speaker noted.
According to Marlene Elias, Senior Scientist at the Alliance of Bioversity International and CIAT, who also leads the CGIAR GENDER Impact Platform Alliances module, GBV in agriculture takes many forms, such as psychological, physical, sexual and economic violence:
"GBV suppresses the capacity of those who experience it to thrive, live fulfilling lives and reach their potential. It hinders the well-being and development of entire families, communities and food systems generally," said Elias. She added: "It is widespread including across food systems where it has very negative effects, not only on people, but also on productivity, trade and so much more."
Elias concluded that GBV has received little attention in agricultural research for development:  
"Research teams and practitioners are often poorly equipped to mitigate and respond to situations where GBV surfaces in the course of their work in food systems."
Strategies for reducing gender-based violence
Speaking at the event, Roy cited research showing that common strategies aimed at empowering women through agricultural programs can fail if women avoid participation for fear of violent repercussions at home. That is one reason why GBV needs to be considered by researchers and practitioners implementing such programs.
Roy went on to share WHO's 'RESPECT women' framework: Seven strategies to prevent violence against women, summarized in the acronym RESPECT. "R" stands for "Relationship skills strengthened"; "E" for "Empowerment of women"; "S" for "Services ensured"; "P" for "Poverty reduced"; "E" represents "Environments made safe"; "C" is for "Child and adolescent abuse prevented"; and finally, "T" stands for "Transformed attitudes, beliefs and norms."
Roy highlighted poverty-reduction strategies, noting that research indicates poverty reduces social status, lowers educational attainment, increases stress and ill health, all of which are risk factors for intimate partner violence. Intimate partner violence in turn reduces productivity and engagement, increases out-of-pocket health expenditures and other costs to women and their households, reduces social capital and capabilities, and negatively impacts mental, physical and reproductive health. In sum these factors contribute to greater poverty. Therefore, the relationship between poverty and intimate partner violence is reinforcing, and addressing one can help address the other.
Roy further cited mixed-method evidence showing that cash transfers – a common poverty-reduction strategy implemented at scale – can reduce intimate partner violence. Cash transfers can improve economic security and emotional well-being of all household members, reduce intra-household conflict related to tight budgets for meeting daily needs and finally help women become empowered – all of which can lead to reductions in intimate partner violence. A case study in Bangladesh from the Transfer Modality Research Initiative (TMRI) showed that combining cash transfers with complementary programming helped to sustain reductions in intimate partner violence even after the program ended.
Lessons on how to address gender-based violence at the project level
Annet Namunane, Gender and Social Inclusion Advisor with Feed the Future, MarketShare Associates, Uganda, shared lessons on  addressing GBV at the project level, based on the Feed the Future Advancing Women's Empowerment (AWE) program's toolkit on how to address GBV in agriculture and market systems development, commonly known as the "GBV in Ag Toolkit".
GBV is overwhelmingly experienced by women and girls. The GBV in Ag Toolkit details that 35 percent of women worldwide have experienced either physical and/or sexual intimate partner violence or non-partner sexual violence. It also notes that boys and men also experience GBV, especially if they are seen to be living outside of specific definitions and cultural expectations of masculinity, and finally highlights that LGBTQI+ individuals are also commonly targeted for violence because they challenge beliefs in the gender binary and the social norms based upon those beliefs.
The GBV in Ag Toolkit provides practical guidance on how to address GBV in food and market systems programming. It provides information on how and where GBV manifests in agriculture and supports project staff to think through entry points to integrate prevention, mitigation, and response into project activities. 
Namanune shared several lessons learned from the Uganda Feed the Future Inclusive Agriculture Markets (IAM) Activity, which piloted the toolkit over the past year. Key learning from that experience included that most project staff had never used any tool or resource to address GBV before being introduced to the GBV in Ag Toolkit, although all participants had witnessed GBV in or outside of their work.
"After using this toolkit, some of the people now have a better understanding of different forms of GBV, where it occurs and how to respond," Namunanae stated. 
Namunanae also stated that practical uptake of the GBV in Ag Toolkit requires substantial time and resources. For example, after the initial orientation and dissemination of the documents, ten IAM staff members were selected as GBV champions and would dedicate 10 percent of their time to apply the toolkit, working with staff and partners. That is why it is also important to provide multiple orientations and training to build understanding and uptake: 
"Beyond the GBV in Ag toolkit introductory session, it's important we consider more time to digest different sections of the toolkit and also to make sure that it is useable and friendly," Namunane remarked. 
An institutionalized response, said Namunane, can allow staff to collectively address GBV, and can encourage and support technical staff to reference the GBV in Ag Toolkit in their work. Likewise, incorporating the GBV in Ag Toolkit into program work planning and assessments helps foster learning with partners and within the project team.
Finally, Namanune shared that additional customization and adaptation can further enhance the GBV in Ag Toolkit's relevance and usefulness, especially when driven by a dedicated group of GBV champions:
"The toolkit may not be relevant to different structures of market systems. For example, if you are working with farmer groups, there needs to be an easier way of any champion to interpret the user friendliness of the toolkit at that level." 
Namanune pointed out that the GBV in Ag Toolkit has been used by some project partners to explicitly identify and articulate GBV-related challenges and develop solutions to overcome them. The Mbarara Central Market Association in Uganda, for example, has adopted some of the toolkit materials for use among their vendors, which may provide further lessons for future toolkit users. 
By learning through practical use, and sharing lessons, users can help promote wider awareness of the GBV in Ag Toolkit as well as of other relevant resources and strategies that can support researchers and practitioners to address any cases of GBV they might encounter in their work.
References
Brief
Feed The Future, 2018. Pilot testing of the toolkit to address gender based violence in agriculture and market systems development: Learning brief
Other
Eckman, A.K., J. Williamson, K. Cheney, Z. Mesfin. "Toolkit to Address Gender-Based Violence in Agriculture and Market Systems Development." Prepared by EnCompass LLC for the United States Agency for International Development, 2022.