GENDER insights
Supporting agricultural researchers to better respond to gender-based violence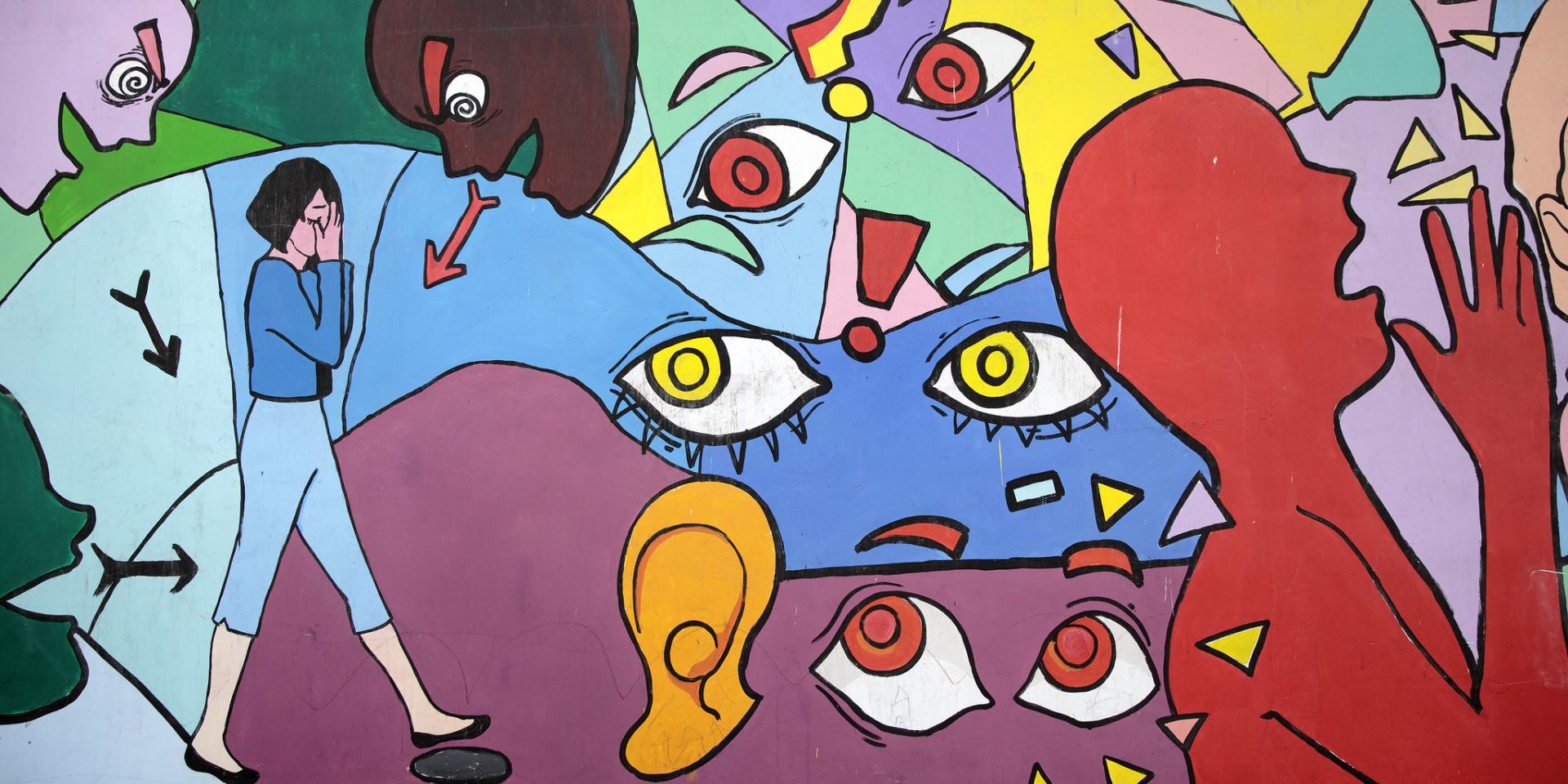 Gender-based violence is a significant barrier to gender equality, to thriving agri-food systems, and to women's benefits from such systems.
Gender-based violence (GBV) affects the physical, emotional, social and economic well-being of GBV survivors – predominantly women and girls – their families and their communities.
On March 7, 2023, the CGIAR GENDER Impact Platform in partnership with the USAID Feed the Future Advancing Women's Empowerment (AWE) Program held a virtual roundtable discussion on how food-systems research can address GBV:
Where does GBV occur in food systems?
What can researchers do to prevent, mitigate and address it when they encounter it?
This was a first step by the GENDER Impact Platform toward a more structured and intentional agenda within CGIAR on the issue.
A blindspot in agricultural research for development
The Alliances Module lead of the GENDER Impact Platform, Marlène Elias, opened the roundtable by acknowledging that GBV is widespread across food systems, but is given little attention in the context of agricultural research for development.
Elias said that the GENDER Impact Platform is partnering with AWE on this issue, in part to learn from AWE's recently produced toolkit to identify how and where GBV manifests within agriculture, markets, and market systems programming. This toolkit can support CGIAR scientists and partners in working with GBV in the context of food-systems research. The resource guides project staff and researchers in identifying entry points for GBV prevention, mitigation and responses in their project activities.
In her opening remarks, Nicoline de Haan, director of the GENDER Impact Platform, highlighted three important areas for discussion: how prevalent GBV is in agriculture, how CGIAR research can address GBV, and how researchers can adequately address GBV if and when it takes place in the context of their research.
"GBV has always been a blind spot for us in relation to our research on food systems in agriculture. This discussion will help us figure out how we can move the agenda forward from the CGIAR side," de Haan said.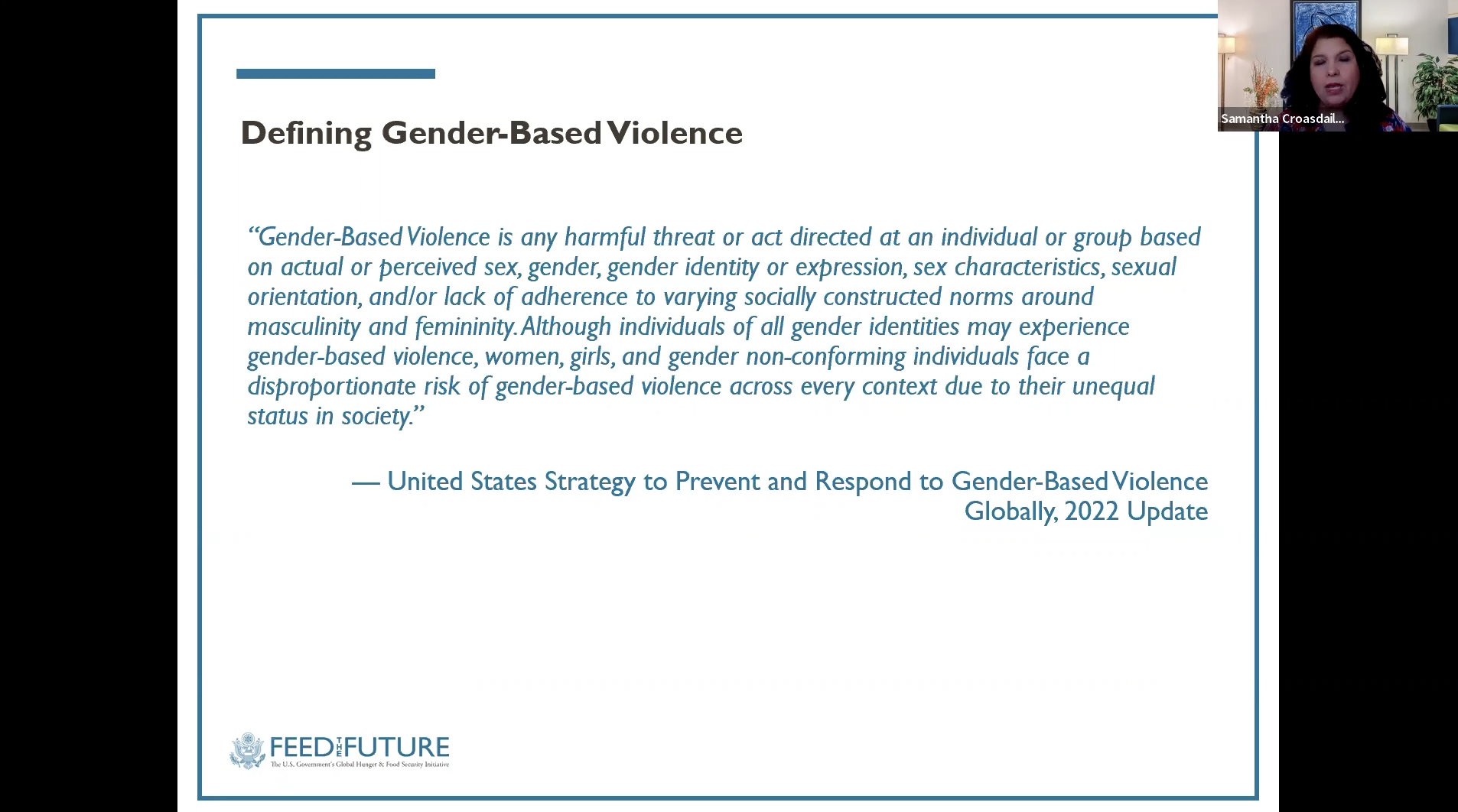 Practical tips, toolkit and pocket guide
While explaining the importance of addressing GBV in agriculture, Samantha Croasdaile, Senior Gender and Agriculture Specialist at EnCompass LLC, said that GBV negatively affects the well-being of the people who experience it, as well as the function of agriculture and market systems.
It does this by reducing:
agricultural productivity
workplace and worker productivity
workforce readiness
market competitiveness, stability and resilience.
Croasdaile mentioned that there are estimates that GBV in agriculture could be costing some countries up to two percent of their GDP.
"These are the reasons why we have created a toolkit to address GBV," she said.
Laura Courbois, an advisor on inclusive markets at MarketShare Associates, suggested that  GBV in agriculture can be addressed by: preventing GBV from occurring in the first place, reducing the risk of exacerbating or causing GBV, and responding to GBV after it has occurred.
Courbois listed practical tips and tools for responding to GBV survivors:
In the group discussion that ensued, participants had the opportunity to share their experiences with GBV in their work, to consider how CGIAR should engage with GBV in food systems, and to think about the resources and support they would need to address GBV in their work.
Participants suggested the need for: greater awareness within CGIAR of what GBV is, CGIAR Center-specific materials to guide researchers' engagement with GBV, and involvement of gender experts who can integrate GBV considerations into proposal development and program design.
Rounding off the meeting, Elias thanked participants for their valuable perspectives; and AWE partners for sharing their experiences, presenting their toolkit and showing how it can be used.
"We hope all participants will make use of the AWE toolkit in their work and provide feedback on their experience. We also welcome further collaboration with AWE as we continue this important work in CGIAR," Elias concluded.