GENDER insights
Cultivating women's entrepreneurship: the power of women-to-women networks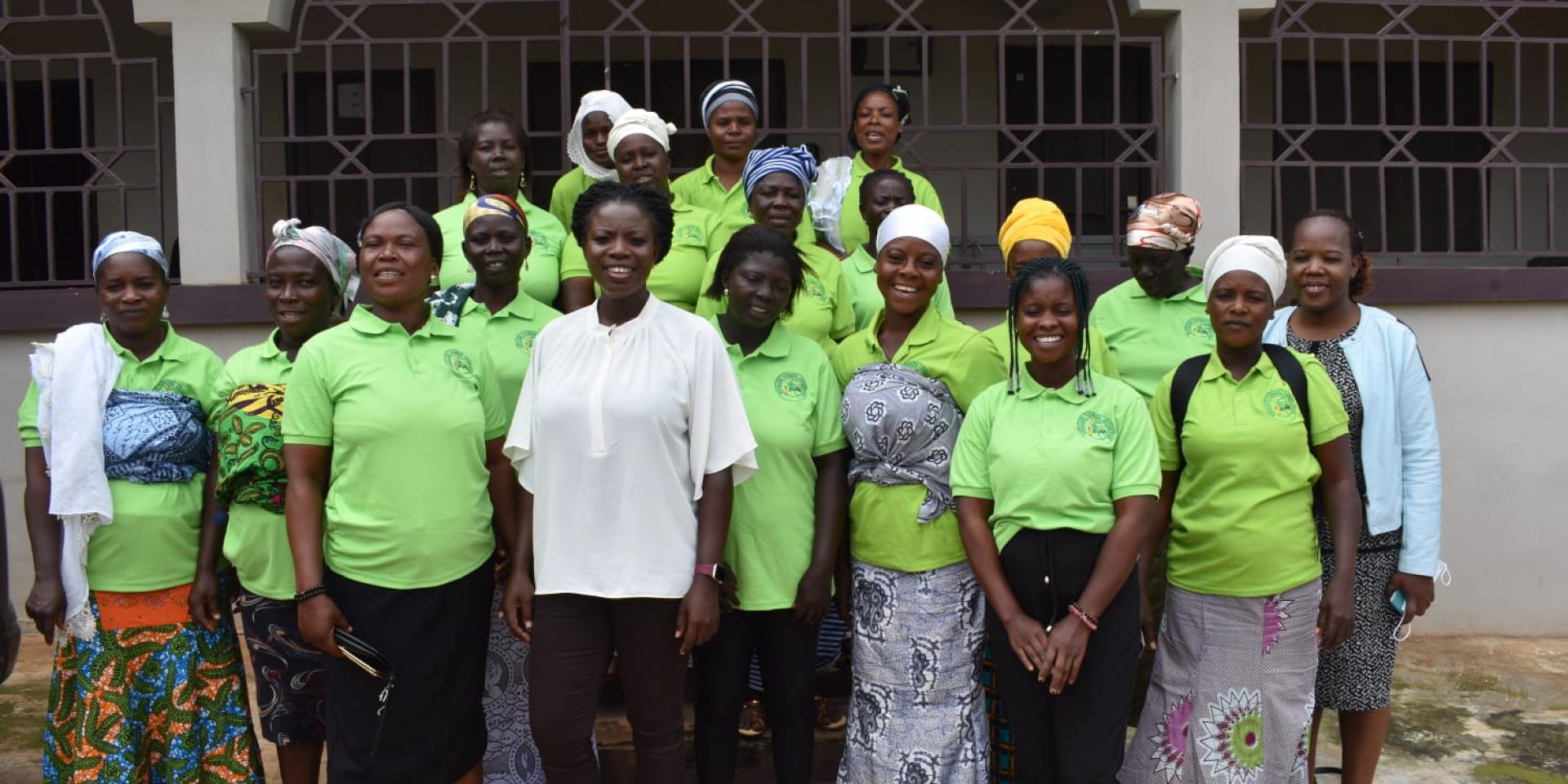 Women in food systems can do more than cook meals and yield hoes. Women can head up businesses, multiply their incomes and make choices for themselves—especially with the help of other women.
"We have been taught to document our transactions and issue invoices. We have been taught to manage our farming activities like real businesses," said Sallah Inusah, a farmer who supplies maize to Rockland Farms, a woman-led agribusiness located in Ankamado in the Sekyere Central District of Ghana.
Sallah and Rockland Farms took part in the pilot innovation grant of the AGRA' VALUE4HER initiative. This grant focused on building women-to-women supply chain networks and included 20 micro- and 400 nano-women entrepreneurs from nine African countries.
The initiative envisaged building supply chain networks among these women for sharing knowledge between each other, providing mentoring support, and helping to foster new market opportunities. Over a 10-month period, each of the 20 micro-entrepreneurs worked to mentor 20 nano-entrepreneurs and gave them training.
Farmers such as Sallah have increased their productivity as a result. From a low of 0.3 tons of maize per acre (average yield), the women farmers being supported by Rockland Farms now harvest an average of 1.2 tons per acre.
"Most of the women farmers are single mothers. When I met them, they said if you give us the input, we will produce the maize for you. But we realized they don't have the know-how. The 1.2 tons they get now—it's through the support of VALUE4HER," said Edith Akosah Wheatland, founder and CEO of Rockland Farms.
Under the CGIAR GENDER Impact Platform, the Evidence Module has collaborated with AGRA's VALUE4HER initiative to understand the short-term outcomes of their pilot to build women-to-women supply chain networks. While 10 months is a short time within which to expect significant changes, studying this pilot allowed us to begin to understand the changes and distill lessons for people interested in similar efforts at a larger scale.
One key insight is that while women's economic empowerment through entrepreneurship in food systems is well established, we now see that collective action and women-to-women networks help women circumvent multiple barriers they face in developing successful enterprises.
About VALUE4HER
VALUE4HER is AGRA's continental initiative, aimed at strengthening women's agribusiness enterprises and enhancing voice and advocacy across Africa. VALUE4HER is powered by VALUE4HERConnect, Africa's first Women in Agribusiness digital marketplace, offering integrated business solutions to women agribusinesses, to enable them build visibility, business networks and collective capital across the continent, while facilitating easier connections with buyers, financiers and other service providers. VALUE4HERConnect leverages the power of digital tools to bridge structural and gendered gaps in access to business resources, deliver real-time information, offer relevant knowledge, and amplify women's voices through advocacy.
Who are these women and what are they doing?
Most of the entrepreneurs in the VALUE4HER initiative were middle-aged, with experience in agriculture and with some access to resources. Lack of formal education did not restrict these women from engaging in agri-enterprises. They were mostly engaged in primary crop production, with limited market channels.
Most did not own land, but were able to access it. For most of the women entrepreneurs who were part of the pilot, land ownership mostly rests with their husbands or other family members. Some purchase or rent land, while some access it through custodial arrangements—which requires them to have financial resources, so tenure security becomes a challenge.
Through two surveys of a sample of the micro- and nano-entrepreneurs engaged in the pilot, we found that—when provided with access and appropriate training—these women use agricultural technologies extensively. Therefore, we found that training needs to be comprehensive. It should include business planning, financial skills, food processing and value addition, so the trainees can increase not just their productivity, but also their revenue and profit margins.
Several of the initiative's micro-entrepreneurs use mobile phones and internet for business purposes—and use business development services to access market linkages, input supply, training, and technical assistance.
The nano-entrepreneurs, on the other hand, are constrained by lack of devices, insufficient connectivity and limited literacy—limiting their ability to use digital technologies for those same business purposes. However, some have started new enterprises—because training and encouragement from their mentors enabled them to explore new markets and business opportunities, diversify their business products and increase their access to business loans.
Improving access to finance an important next step
All the women involved in VALUE4HER have an ambition to grow and diversify their businesses, but were hampered by financial constraints (limiting their working capital) and limited access to market information.
While women's access to financial services is getting better, there is a long way to go. The women rely significantly on their own wages and personal savings, and sources like self-help groups and microfinance institutions, to finance their businesses.
Facilitating better access to formal finance sources, such as banks, and helping women meet criteria for creditworthiness is important for them to further grow their businesses. However, the women have expressed a low appetite for risk, and their access to and use of risk-management products in agri-businesses is nascent.
This is an area that warrants major and urgent attention: designing risk-management products that work for women, providing information to raise awareness of their importance, and ensuring that women can access such products.
After participating in VALUE4HER training, the women entrepreneurs reported:
increased revenue from their enterprises after conducting market research, exploring new markets, diversifying products and reviewing their marketing strategies
increased profits due to higher yields, lower transportation costs, use of labor-saving equipment and more effective pricing strategies
Several of the countries in which VALUE4HER works have government programs that support agri-businesses and provide similar benefits. But women need better and more information about such programs and effective facilitation to access them. Half of the survey respondents benefited somewhat from government support or initiatives, but had challenges relating to bureaucracy, red tape, and unfavorable legal and regulatory environments.
Networks, groups and mentorship yield significant benefits
Our survey findings also underscore the critical role that social or agricultural networks and group membership played for the women. Most of the participating women were members of farmer groups, agricultural cooperatives, self-help groups or credit associations. These networks proved to be very important mechanisms for women to access information, training, business linkages and finance—but, interestingly, not technologies.
Women role models and peer interactions were also very influential. Most respondents knew at least one woman running an enterprise, and the women who interacted with their role models found the interactions useful.
 The network-building resulted in positive changes in the participating women's attitude to and perceptions of business growth:
Enabling factors mentioned were acquisition of business management skills, better communication skills and access to information about new opportunities.
Challenges that remain are women's lack of self-confidence and financial constraints.
A very refreshing and encouraging finding was that majority of the survey respondents said they experienced positive attitudes in their communities toward women's business engagement. They also receive family support during childbirth, child-rearing and with some household chores.
 A few found entrepreneurship demanding due to the unpaid domestic care burden, and safety concerns if it involved night-time travel, and their engagement in increased business operations without any assistance and additional supervision duties added to the work and time burden.
Few women reported that they needed permission from spouses and other male family members to go to markets, although unpaid care work and limited mobility impeded their access to formal markets and business linkages.
However, the women reported that they still have limited agency in household decision-making. They made decisions related to food, expenses for children's schooling and household medical needs, but not large household expenditures.
How can women's economic empowerment be boosted?
While the women-to-women network pilot clearly has yielded significant benefits for the participating women, several questions have emerged.
For example, one wonders whether—in the medium and long term—these women will achieve greater influence over household decisions as their businesses mature and grow, and they become more economically empowered.
At the same time, it is evident that trade-offs between business opportunities and additional demands on women's time and labor need to be carefully monitored.
To inform similar efforts at a larger scale, and ensure that they responsibly contribute to women's economic empowerment, other questions also require more research:
What opportunities exist to engage the young women who have limited access to resources and experience?
Is agricultural advisory service, input and market linkage facilitation provision the answer to economically empower more young women?
What opportunities are available for women who do not have access to land?
How can more women participate in parts of the value chain that have higher value addition and higher margins?
Finally, there is the question of how to ensure that similar efforts are sustainable and long term—beyond one-off grants and initiatives—so that more women like Sallah and Edith can benefit from driving their own economic empowerment.
The CGIAR GENDER Impact Platform gratefully acknowledges AGRA for its partnership and for providing case stories, quotes and photos for this post. Header photo credit: Evaline Obiero/AGRA.