GENDER insights
The GenderVision! Contest: Prizes won and lessons gained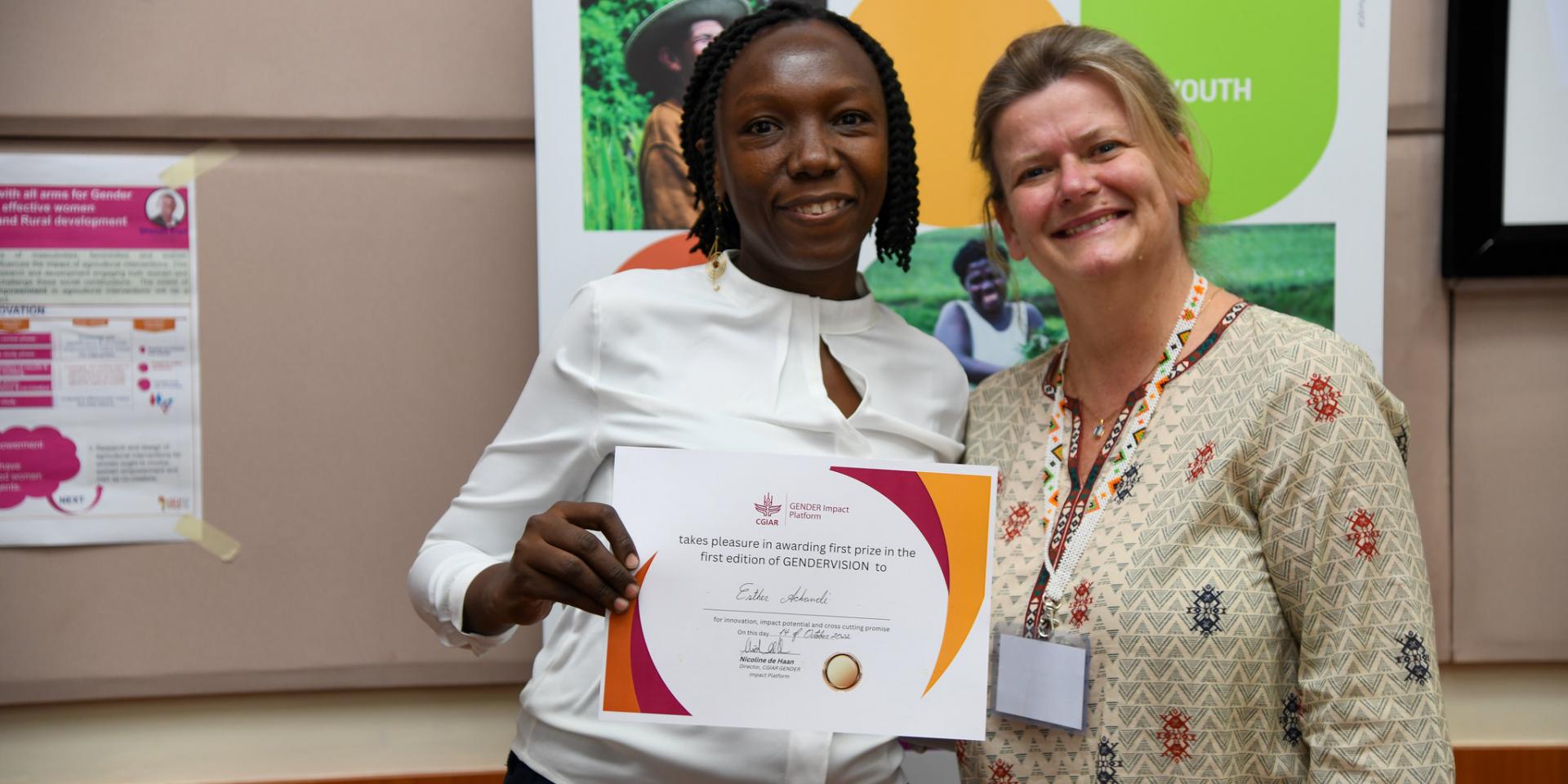 Five early-career researchers recently had the chance to pitch new gender research ideas, receive feedback from colleagues and win a prize to take their idea to the next step. 
It can be hard when you are starting out in international agricultural research. Nobody knows who you are, and you are not sure if your keenly loved ideas have merit. Added to that, it is hard to convince people that your ideas should be a priority when allocating scarce financial resources. 
To tackle these challenges, we invited five early-career researchers to put themselves forward for "GenderVision! The idea contest" at the CGIAR GENDER Science Exchange, organized by the CGIAR GENDER Impact Platform last month. Inspired by the song contest, Eurovision!, contestants pitched their research ideas in order to win USD 10,000 to take their dream project forward. 
A pitch for a context-specific understanding of 'empowerment'
The contest started out with each contestant delivering brief, two-minute pitches in front of a large audience. Then they moved to separate booths where their peers, including more experienced researchers, challenged them with tough questions, while also offering constructive feedback, contacts and resources. 
After 30 minutes of discussion, Science Exchange participants had the difficult task of voting for one winner based on pre-determined criteria. Once votes were cast and counted, Esther Achandi, postdoctoral fellow at the International Livestock Research Institute (ILRI), was announced the winner for her pitch to investigate context-specific definitions of 'empowerment' and explore their linkages to social and gender norms.
"'Empowerment' has become an elastic term in development dialogue, and the main focus of both conceptualization, understanding and measurement of empowerment has commonly been from a top-down perspective," said Achandi when interviewed after her win. But, she went on to argue, this take on 'empowerment' does not accurately reflect the bottom-up voices that make up a highly context-specific food system: "What's missing is zooming in on community-based aspects, such as religion, class and other characteristics that define identities." 
Achandi added that positioning of the empowerment concept within social and gender norms is needed, just as 'empowerment' within the context of fragile states, which layer additional weaknesses onto existing gender inequalities, also remains an extremely under-researched area.
When asked to explain the big dream behind her research idea, Achandi emphasized that local voices matter when it comes to empowerment:
"Local resources can be harnessed for empowerment, and local, achievable visions of empowerment are valid and should be listened to. Empowerment is a process that is continuously being negotiated! I would like to see the empowerment dialogue continuously reflecting these perspectives."
Finally, it was revealed during the prize announcements that Achandi got cold feet and tried to pull out of the contest the night before. When asked to comment, she said:
"I would advise early-career researchers not to shy away from facing big challenges; usually challenges are 'masked opportunities'. When you face them, you can never be on the losing side; you either win the prize or gain the lesson – no loss either way!"
Not just fun and games
Building capacity for gender and social science research is squarely within the CGIAR GENDER Impact Platform's mandate. But what is the value of practicing pitching?
"Pitching has several advantages: it forces us to think carefully about our main message, find the right fit to make it appeal to our audience and communicate it effectively and convincingly," explained Marlène Elias, lead of the Platform's Alliances module. "We often have very little time to pique the interest of our peers, decision-makers and funders – thus the importance of having a well-tuned 'elevator speech' when such opportunities arise."
Elias added that researchers tend to gain their skills—for example to be able to communicate ideas effectively and to speak to the issue of gender in food systems research—over time and by navigating the system that enables their research and their access to resources.
"Most senior researchers have gotten there over the years through some amount of trial and error, often with limited guidance, but some of that can be taught to ease the way for early-career researchers and give them a little push in those areas, to have more wind in their sails," Elias said.
The GENDER Impact Platform addresses many of the professional development needs of early-career gender researchers, including by supporting them to be and remain at the cutting-edge of concepts, theories, and methodologies in gender in food systems research.
"We believe that supporting early-career researchers to gain these professional and leadership skills will allow them to gain influence in the system to bring gender equality and social inclusion to the center of the food systems agenda," Elias said.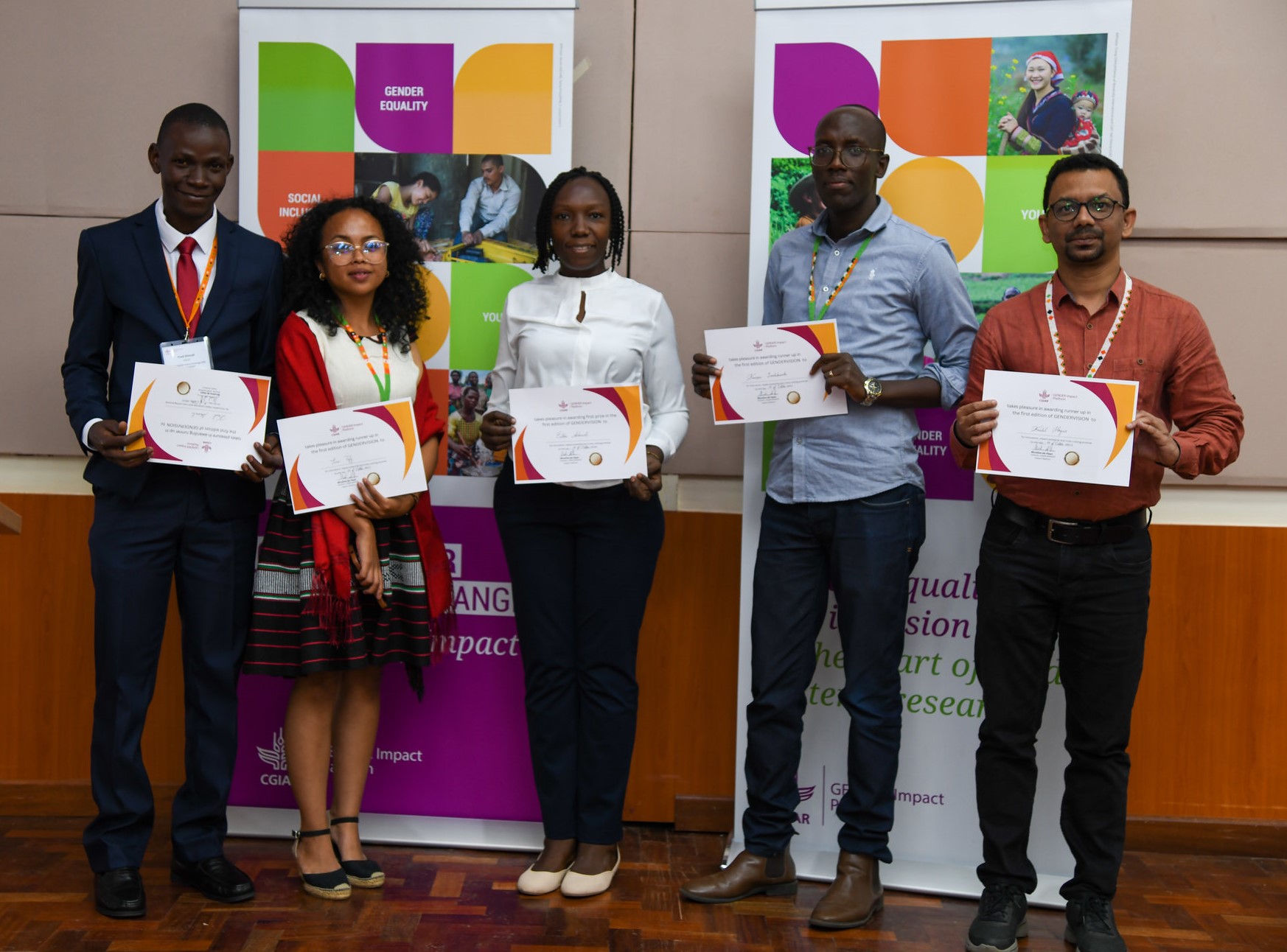 Four more gender research pitches 
Irina Tefy, AfricaRice, pitched a research idea to use visual elements involving video scenarios to better understand the complexity of decision-making at the level of a woman herself.
"Discussion with other gender researchers enriched my ideas so much and enlightened me on points I had not really thought about; and most importantly, I was able to get in touch with other researchers who are already using videos as a method of survey."
Fred Shimali, Makerere University (GREAT), pitched a holistic approach to empowerment with emphasis on having empowerment centered around research, having the right research teams in terms of knowledge, skills and gender composition, and working with both men and women as co-creators of projects. His advice to other early-career researchers:
"Early-career researchers ought to know that the solution to the current challenges lies within their hands and that every idea counts. It is high time early-career researchers boldly took up this challenge, knowing that a shared idea only grows to positively impact lives!"
Francois Iradukunda, Alliance of Bioversity and CIAT, pitched a tool for a rapid, participatory, stepwise diagnosis procedure to inform a best-fit gender approach.
"After the Gender Science Exchange, I attended the CGIAR Gender Researchers' Leadership and Mentoring Program, where I got an opportunity to pitch the idea to my mentor Dr. Celestin Niyongere from Institut des Sciences Agronomiques du Burundi, who was excited and accepted to include the piloting of the tool in his project."
Faridul Haque, WorldFish, pitched a scoping study to investigate current gender dynamics and how these shape the barriers and opportunities for men to engage with nutrition programs. His advice to other early-career researchers:
"Let's focus on generating knowledge that serves the purpose of helping people to survive in a challenging time."
See all pitches in the GenderVision! slide deck. 
Five pitches, five prizes
In the end, all five GenderVision! contestants were awarded for their impressive efforts and ideas. The CGIAR GENDER Impact Platform recognized the quality and appeal of all the pitches as well as contestants' efforts to respond to feedback. The Platform ultimately reached deep into its pockets to offer up to USD 2,000 to all GenderVision! participants to support their career development by enabling them to publish a paper, attend a conference or training, or pursue other capacity-strengthening opportunities.
In these ways, the GenderVision! contest helped further the professional development of early-career gender researchers, while also building connections and a sense of community.
"We want to support the creation of social capital and networks to allow researchers to find each other, collaborate, mentor and support each other – all of which is important for the collective impact of our research," concluded Elias.