GENDER insights
Agri-food systems: Transformations, livelihood challenges and building resilience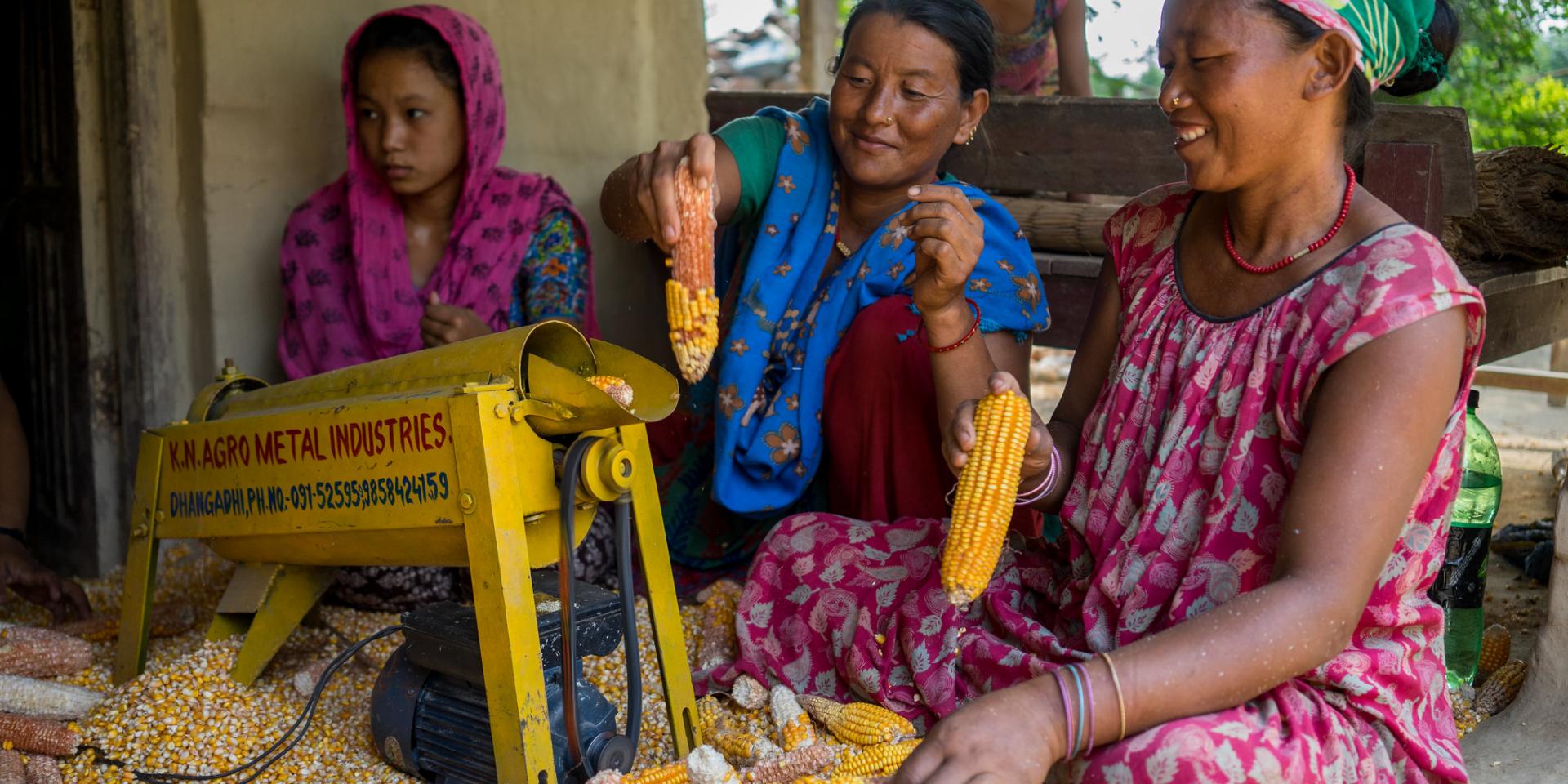 The pressure on women and youth's livelihoods in the agri-food system cannot be ignored.
As agri-food systems continue to experience transformation across the globe due to factors such as climate change, migration and urbanization, experts in agricultural and rural research and development continue to explore and recommend ways forward to promote inclusive and resilient livelihoods. The CGIAR GENDER Impact Platform and the International Rice Research Institute (IRRI) hosted a side event titled "Agri-food systems transformations in the Global South," during the 62nd Indian Society of Labour Economics Conference (ISLE) held on April 11-13, 2022, in India.
Crises reveal need for action to ease burdens for women and youth
"Agri-food systems are experiencing rapid transformations across the Global South. This has significant implications for women farmers and youth with limited employment and economic opportunities and women additionally burdened with care and domestic work, limited mobility and access to farm and non-farm inputs, services and resources," said Ranjitha Puskur, Leader of the CGIAR GENDER Impact Platform's Evidence Module.
Nicoline de Haan, Director of the CGIAR GENDER Impact Platform, said that women's role as agents of change to address the climate crisis should be emphasized and explored as a priority research area.
For efficient and effective time management, drudgery reduction, better returns on labor and support of women's own decision-making, de Haan noted that women farmers need access to climate-smart technologies.
"How can we get agricultural technologies and options into the hands of women? This is the time to act. Let's figure out how we can do that well," she asserted.
She further highlighted the Platform's work, which involves conducting strategic research to widen and deepen CGIAR's impacts on gender equality and to expand opportunities for youth in food systems.
"How far do women benefit from labor and time-saving agricultural technologies?" inquired Nozomi Kawarazuka, Social Scientist, International Potato Center (CIP) in Vietnam.
Women's agricultural and domestic work are considered one, hence their activities are not mechanized and prioritized.
"Both women and men spend more than eight hours in agriculture, but women spend four more hours on domestic work," added Kawarazuka.
Kawarazuka emphasized that women's non-economic (domestic) activities, such as household chores and care work, should be valued as they have a direct impact on women's empowerment and livelihood.
"Non-economic activities which strengthen family relations are equally important for women to sustain economic activities," she said. "Without addressing social provisioning for women, agricultural development alone cannot make agriculture resilient to on-going overlapping crises. Transdisciplinary approaches to research and development are required to understand non-economic, socially valuable activities for women," she advised.
Youth livelihoods and the rural transition pathways model
Sithembile Ndema Mwamakamba, Director of Policy Research and Analysis at the Food Agriculture and Natural Resources Policy Analysis Network (FANRPAN) stated that the demand for agricultural products is on the rise due to the growing global population. This has led to agriculture becoming the primary employment for most of the rural youth, who face numerous challenges including relatively underdeveloped rural markets and services, limited market access opportunities, scarce financial resources and weak policies among others.
She explained that rural transition pathways models for livelihoods indicate the possible trajectories for youth, including farming as a business, rural services entrepreneurship, rural labor and urban migration (driven partly by limited rural economic opportunities, both perceived and actual).
To create opportunities for the rural youth, Mwamakamba stressed that researchers and policy-makers need to match and address the challenges youth face based on the specific transition pathways they are pursuing. Youth, according to Mwamakamba, are mostly ignored but they can be an important resource by including their ideas and experiences, listening to and actively engaging them in agri-food systems:
"Youth can be powerful agents to shape agri-food systems toward more sustainable patterns. Their voices can help shape policies and decisions for the future."
The link between agriculture and migration
Priya Deshingkar, Professor of Migration and Development, University of Sussex, highlighted the need to understand how young people's aspirations shape their migration decisions influenced by intra-family negotiations around gender roles, life course, education and work, and youth's willingness to take up exploitative jobs as a steppingstone to better livelihoods.
"Support people in their decisions to reduce risks and costs of migration and create a win-win situation for migrants as well as agriculture. We need to pay attention to aspirations of young people and how that links to agriculture," she stated.
Sher Singh Verick, Research Fellow and Head, Employment Strategies Unit, International Labour Organization (ILO), Geneva, talked about the necessity to link rural women's paid and unpaid economic activities to propel structural changes and make them resilient.
"There is a complex relationship between women's participation in the labor force and development. COVID-19 led to a greater decline in women's employment around the world, especially among young women. But interestingly in India, women's participation increased in 2020, driven by their increased involvement in agriculture," Verick noted.
Adequate data to solve livelihood challenges in food systems
A panel of experts discussed further on the need for adequate data and evidence in agri-food systems to address challenges in livelihoods.
"The data we have for agri-food systems is incomplete, and we do not have adequate data on livestock and fisheries, for instance. Therefore, the need for primary data in agri-food systems is urgent. We need to take on both a value chain and intersectoral approach and from different contexts," said Vidya Vemireddy, Assistant Professor, Centre for Management in Agriculture, Indian Institute of Management Ahmedabad (IIMA), India.
Against this backdrop, Bidisha Barooah, Lead Evaluation Specialist & Leader, Gender & Livelihoods, International Initiative for Impact Evaluation (3ie), added,
"There is a huge demand for data and some data does exist; however, the research-generated data is often not accessible to the policy-makers, and the governments do not also have the capacity to use the data to inform decision-making."
Echoing the same sentiments from other speakers on the need for more robust data in food systems, Amrita Datta, Assistant professor, Department of Liberal Arts, Indian Institute of Technology Hyderabad, also affirmed the need for data "on village production systems and intra-household dynamics of migration." She highlighted the issue of undercounting women's work and the need for more disaggregated data.
The event underscored the importance and urgency to ensure gender equality and social inclusion take center stage in agricultural and rural research and development interventions and that major evidence and data gaps are filled.